Blogs
Get flash to fully experience Pearltrees
An Open Letter to Jon Bon Jovi On What's Really "Killing The Music Business" Hi Jon, When my wife—a huge and long-time Bon Jovi fan—asked me to spend over $300 for two floor seat tickets to your Valentine's Day show in Toronto, there were two reasons that I said yes.
One animal's cure can be another animal's poison. Take aspirin – it's one of the most popular drugs on the market and we readily use it as a painkiller. But cats are extremely sensitive to aspirin, and even a single extra-strength pill can trigger a fatal overdose. Vets will sometimes prescribe aspirin to cats but only under very controlled doses. The problem is that cats can't break down the drug effectively.
For the past few weeks, every time I saw an acronym or initials, I took a picture . You know the brands, authors, and pieces of legislation, but do you know what all those letters stand for? BMW means Bayerische Motoren Werke, which translates to "Bavarian Motor Works.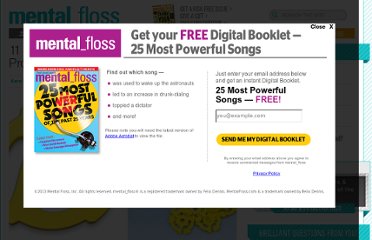 Even though I'm fairly ancient, I've never seen a Model T outside of a classic auto show. So I realize that there are many things that have been obsolete since the elastic waistband was invented and would confound anyone under age 70. But what about some common items that have come and gone within the last 30 or so years? See how many of these you recognize, and how many of them would puzzle your kids or grandkids.
With the New York Comic Con under way, we thought we'd remind you that these brilliant, geeky get-togethers can mean more than just costumes and coveted signatures on first-edition books. Here are a few of the scandals that rocked (or gently nudged) Comic Cons across the country this past year. God Hates Geeks in Superhero Costumes? At the massive Comic Con in San Diego last year, assembled geeks gave Fred Phelps' hate-mongering Westboro Baptist Church a run for its money.
YOU ARE HERE: The Daily What / TDW Geek / Charlie Brown Meets Cthulhu of the Day Newest Cheezburger Content Share: Share on twitter Share on google_plusone_share Share on pinterest_share Share on stumbleupon Share on email
YOU ARE HERE: The Daily What / TDW Geek / Gender-Bent Justice League of the Day Newest Cheezburger Content Share: