Karine Halpern
Projet pour Sciences PO Grenoble Master Transmedia (français) (Karine Halpern) - Academia.edu
CREATIVITY BOOSTERS * www.khgoblog.com * www.transmediaready.com Communication numérique * Médiation culturelle * Stratégies transmédia SKYPE KarineHalpern * CELL +33 (0)6 52 29 75 10 * EMAIL boosters@transmediaready.com @KHenthuZiasm * ziasme.com * Enthousiasme: du grec «en theos» inspiré, possédé, en présence divine Ziasme [zi-azm)n.: élément d'un processus créatif, grand zèle, idée qui germe, projet en gestation… SCIENCES PO GRENOBLE - MASTER TRANSMEDIA Proposition de Karine Halpern - 19 Juin 2012 Le jeu des « 7 familles transmédia » circule à travers un réseau international d'experts et chercheurs. Il a été conçu en tant qu'outil de coaching afin d'aider à l'appropriation du concept et pour optimiser la création. Il est basé sur 7 disciplines fondamentales à un projet transmédia de l'ère numérique. Ces 7 dimensions peuvent faire l'objet de 7 sujets d'étude et de cours pour les étudiants.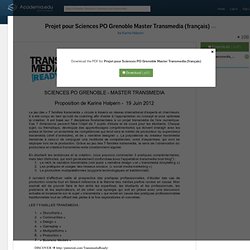 KHenthuZiasm : Mapping my next 20 years for Done! - Transmedia Diaries in English
I TWEET & SHOUT about those things. In English I can flow with the web. Editing webisodes on the RISE OF THE TRANSMEDIA COMMUNITY . Using some space here, some space there, but I could never decide whether I would write in English or in French.
KH is Transmedia Ready
KH (@KHenthuZiasm) sur Twitter
Are You @Transmedia Ready? (TransmediaReady) on about.me
Transmedia Ready and Studies
Transmedia Storytelling Around the World: Karine Halpern