Karine Halpern
Projet pour Sciences PO Grenoble Master Transmedia (français) (Karine Halpern) CREATIVITY BOOSTERS * www.khgoblog.com * www.transmediaready.comCommunication numérique * Médiation culturelle * Stratégies transmédiaSKYPE KarineHalpern * CELL +33 (0)6 52 29 75 10 * EMAIL boosters@transmediaready.com@KHenthuZiasm * ziasme.com * Enthousiasme: du grec «en theos» inspiré, possédé, en présence divineZiasme [zi-azm)n.: élément d'un processus créatif, grand zèle, idée qui germe, projet en gestation… SCIENCES PO GRENOBLE - MASTER TRANSMEDIAProposition de Karine Halpern - 19 Juin 2012 Le jeu des « 7 familles transmédia » circule à travers un réseau international d'experts et chercheurs.Il a été conçu en tant qu'outil de coaching afin d'aider à l'appropriation du concept et pour optimiser la création.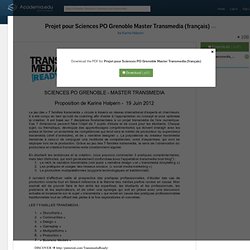 Il est basé sur 7 disciplines fondamentales à un projet transmédia de l'ère numérique.Ces 7 dimensions peuvent faire l'objet de 7 sujets d'étude et de cours pour les étudiants. KHenthuZiasm : Mapping my next 20 years for... Done! - Transmedia Diaries in English. KH is Transmedia Ready. KH (@KHenthuZiasm) sur Twitter. Are You @Transmedia Ready? (TransmediaReady) on about.me. Transmedia Ready and Studies. Transmedia Storytelling Around the World: Karine Halpern. Interview with digital and cultural communications consultant Karine Halpern about Transmedia Storytelling , especially in France, and the question "Why Transmedia?"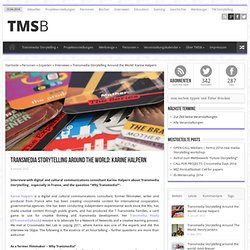 - Karine Halpern is a digital and cultural communications consultant, former filmmaker, writer and producer from France who has been creating crossmedia content for international cooperation governmental agencies. She has been conducting independent experimental work since the 90s, has made creative content through public grants, and has produced the 7 Transmedia Families, a card game to use for creative thinking and transmedia development. Her Transmedia Ready (@TransmediaReady) mission is to advocate for a Network of Networks and a creative learning process.
---