Advertising
Cannes: Jack Morton Worldwide to create documentary of this year's Lions Festival The film is designed to capture the experience of the Cannes Lions and will be launched online later this month, following the conclusion of the festival. Philip Thomas, the chief executive of Lions Festivals said: "Cannes Lions has an enormously far-reaching significance to the creative world. It is just one week, but for those involved it's an emotional and transformational journey that truly shapes the global creative industry. We are very excited about capturing this essence within the film."
Jack Morton Worldwide to create Cannes documentary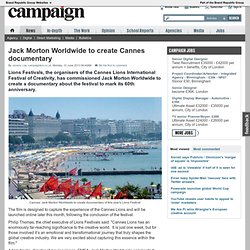 Photo by tphan91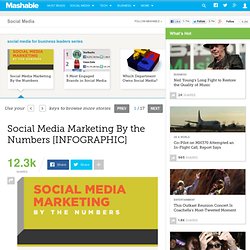 Donny Deutsch, the former adman and talk show host, once recounted a story about a Mitsubishi Super Bowl ad that was tagged with the URL seewhathappens.com. The ad got 600,000 clicks, Deutsch said, which prompted the carmaker to ask, "Is that good?" Deutsch answered: " We told the client it was great, so it was great! "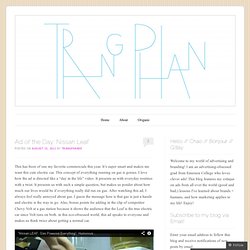 This has been of one my favorite commercials this year. It's super smart and makes me want this cute electric car. This concept of everything running on gas is genius.
Nissan Leaf
Tonight I watched the premiere of the new show called "Curiosity" on Discovery Channel. I'd been excited to watch this after all of the cool ads they kept running throughout SharkWeek (which btw was super awesome and extra graphic this year.) I recommend this show to everyone because it's so interesting and smart. Yes, I know this is a advertising blog, but I had to give credit where it's due because I love shows that make me feel smarter after I watch them!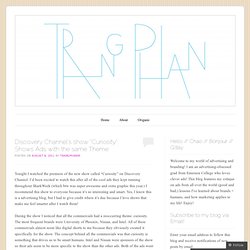 Discovery Channel's show "Curiosity" Shows Ads with the same Theme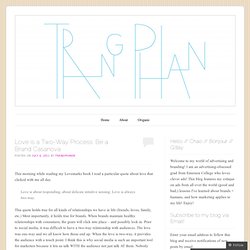 This morning while reading my Lovemarks book I read a particular quote about love that clicked with me all day. Love is about responding, about delicate intuitive sensing. Love is always two-way. This quote holds true for all kinds of relationships we have in life (friends, loves, family, etc.) Most importantly, it holds true for brands. When brands maintain healthy relationships with consumers, the gears will click into place – and possibly lock in.
Love is a Two-Way Process: Be a Brand Casanova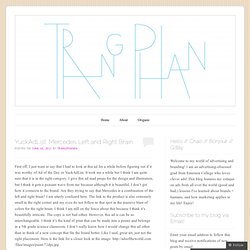 First off, I just want to say that I had to look at this ad for a while before figuring out if it was worthy of Ad of the Day or YuckAdList. It took me a while but I think I am quite sure that it is in the right category. I give this ad mad props for the design and illustration, but I think it gets a peasant wave from me because although it is beautiful, I don't get how it connects to the brand.
YuckAdList: Mercedes Left and Right Brain
Nike Gone Running
They were giving these clocks at the Nike store. I am always very impressed with every Nike campaign but this one is really awesome. More importantly, it's very inspiring. The ad goes beyond just getting your attention. This has inspired me to go running at least a couple times a week. I saw a Nike billboard that had the same concept that came out after new years and the copy said "Yesterday you said tomorrow."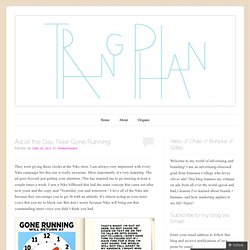 When I first saw this ad I thought to myself: whoever wrote this copy is now my new idol. It's simple, straight-forward, and clever. Nike is one of my "lovemarks" and I am always impressed with their ads. It always exudes a sense of inner-voice with a "get it done" attitude. The emotion I get from this ad is pride because I love the Mavs (I am from Dallas.) It's screaming "In your face!"
Nike Basketball Dirk Dreams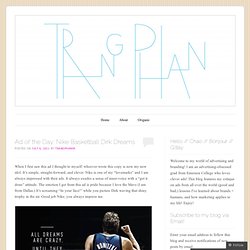 I am blazing through this Lovemarks book my Kevin Roberts. I definitely recommend everyone to read this awesome book. It has so much insight about brands, marketing, and life. Here's a quote that I read today.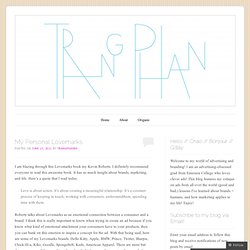 My Personal Lovemarks
Love is a Two-Way Process: Be a Brand Casanova
T-Mobile LIVE Angry Birds Game
Quick, think of at least three brands of laundry detergent! I'm pretty sure that Tide, Gain, or Downy was on your list. This is because of some miraculous thing we call a variety of brands. So many brands exist in order for us to have choices when we go to the grocery store. I think we benefit from brands trying to compete with each other.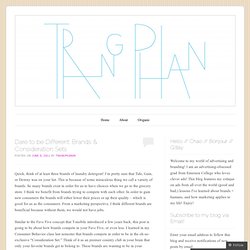 Dare to be Different: Brands & Consideration Sets
Google Parisian Love
Talk about ads that make you emotional! This premiered two years ago during the Superbowl. It's one of my favorite commercials ever.
Laughter is an Ad's Best Solution « acquired noise
Guerrilla marketing "works because it's simple to understand, easy to implement and outrageously inexpensive," says Jay Conrad Levinson , the man who coined the phrase. Consumers have grown immune to big budget advertising, but marketers that expend a bit of time and effort — rather than piles of money — can generate effective results with inexpensive, small-scale stunts. Take a look through our gallery of guerrilla and street marketing examples, where promotions costing no more than a few dollars can have a big impact on the consumers.
30 Creative Ads Using Oversized Objects
<iframe id="511b5ab353480" name="511b5ab353480" src="http://ox-d.bullfrog-digital.co.uk/w/1.0/afr?
5 Tips for People Going into Advertising « acquired noise
YuckAdList: Creepy Gerber Commercial « acquired noise
Marketing Has Its Perks: iPad trial while waiting at BMW Dealership. « acquired noise
Brainstorming on the Edge « acquired noise
Ads get threatening… « acquired noise
Ad of the Day – Economist Lightbulb Billboard « acquired noise
Upcoming Topics « acquired noise
Mascara Ad Relates to Real Life. « acquired noise
Lovemarks: The Future Beyond Brands « acquired noise
EC moves up 5 spots in top Social Media College List! « acquired noise