Innovation
Innovation Through Knowledge Transfer. Ideeeas | Keep and share insights with simplicity. Innovation de rupture : comment rechercher l'inimaginable - Blogs ParisTech Review. Au milieu des années 80, Garry Hamel, un des grands gourous californiens du management, avait jeté un pavé dans la mare : l'ère du progrès conventionnel et linéaire était révolue.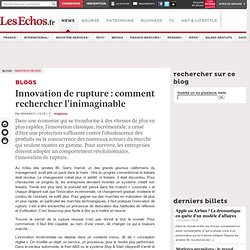 Le changement n'était plus ni additif, ni linéaire. Il était discontinu. Pour chevaucher ce progrès là, les entreprises devaient inventer un système créatif non linéaire. Trente ans plus tard, le postulat est passé dans les mœurs « corporate » et chaque dirigeant sait que l'innovation incrémentale, ce changement graduel, modeste et continu de l'existant, ne suffit plus.
Pour gagner sur des marchés en maturation de plus en plus rapide, en particulier les marchés technologiques, il faut pratiquer l'innovation de rupture, c'est à dire enclencher un processus de dislocation des habitudes de réflexion et d'utilisation. Business Model Generation.
---