Art
Founders Mosaic Promise Ale to benefit ArtPrize competition | BeerPulse. Press Release: (Grand Rapids, MI) – Founders Brewing Co. announced today that it will introduce Mosaic Promise, an ale brewed with a single malt and a single hop, this September.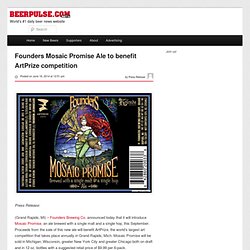 Proceeds from the sale of this new ale will benefit ArtPrize, the world's largest art competition that takes place annually in Grand Rapids, Mich. Mosaic Promise will be sold in Michigan, Wisconsin, greater New York City and greater Chicago both on draft and in 12 oz. bottles with a suggested retail price of $9.99 per 6-pack. In April 2013 the two organizations inked a deal that made Founders the official brewery of ArtPrize for the next five years. Tragicabbot : @amway @amwayhk #Artistry demo... @amway @amwayhk #Artistry demo at the Island Shop. Instagram. Let the wild #artprize rumpus begin! (at. Instagram. Finally - Campbell's Releases Andy Warhol-Inspired. Film Map - Original Open Edition.
H60 x W80cm A street map made up of over 900 film titles including cinema classics such as Lost Highway, On the Waterfront, Jurassic Park, Reservoir Dogs, Carlito's Way, Nightmare on Elm Street, Valley of the Dolls and Chinatown.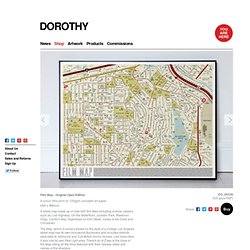 The Map, which is loosely based on the style of a vintage Los Angeles street map has its own Hollywood Boulevard and includes districts dedicated to Hitchcock and Cult British Horror movies. Get Ready for A Summer of Arts with The Space. The BBC and Arts Council England have teamed up to launch a new service for mobile, tablet, PC and connected TV called The Space.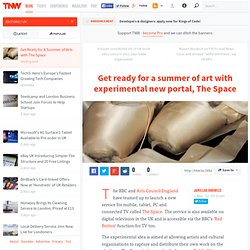 The service is also available on digital television in the UK and is accessible via the BBC's 'Red Button' function for TV too. The experimental idea is aimed at allowing artists and cultural organisations to capture and distribute their own work on the platform. The Space is the result of a four-year Public Value Partnership between the BBC and Arts Council England. The initial idea was to create 'a new era of public engagement in the arts', and to build digital capacity and skills within the arts sector. The Space | Arts 2012 – live, free and on demand.
The Space will be a place where anyone can engage with the world's best digital art as it is created.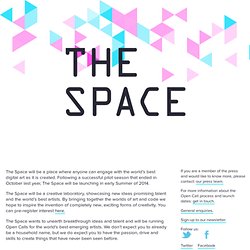 Following a successful pilot season that ended in October last year, The Space will be launching in early Summer of 2014. The Space will be a creative laboratory, showcasing new ideas promising talent and the world's best artists. By bringing together the worlds of art and code we hope to inspire the invention of completely new, exciting forms of creativity. You can pre-register interest here. The Space wants to unearth breakthrough ideas and talent and will be running Open Calls for the world's best emerging artists. The Whimsical Mailboxes of Treasure Island - Part. Take a Virtual Tour of The White House with Google. World's Largest Outdoor Art Gallery Summer 2012. Artistry Signs Teresa Palmer. SFMOMA Expansion Design Sketches One of my. Kickstarter: A pedestrian bridge in downtown. Is Sunti the World's Fastest Sculptor? He can. Majorcurator: The Senseless Drawing Bot was.
Nicholas Mynheer: 'Rigorous Simplicity in Stone, Radiohead in Grand Rapids? A longshot, but Calvin College puts in offer to land tour stop. AP PhotoAre the chances of Thom Yorke and Radiohead playing Grand Rapids better than winning the Lotto or getting struck by lightning?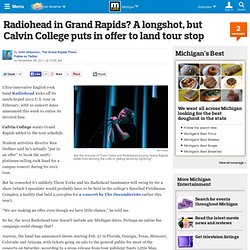 Ultra-innovative English rock band Radiohead kicks off its much-hyped 2012 U.S. tour in February, with 10 concert dates announced this week to entice its devoted fans. Calvin College wants Grand Rapids added to the tour schedule. Student activities director Ken Heffner said he's actually "put in an offer" to book the multi-platinum-selling rock band for a campus concert during its 2012 tour. But he conceded it's unlikely Thom Yorke and his Radiohead bandmates will swing by for a show (which I speculate would probably have to be held in the college's Spoelhof Fieldhouse Complex, a facility that held 2,100-plus for a concert by The Decemberists earlier this year).
Tiny People's Wonderful World. Leonard Weisgard's Stunning 1949 Alice in Wonderland Illustrations. By Maria Popova A vibrant mid-century homage to one of the most beloved children's books of all time.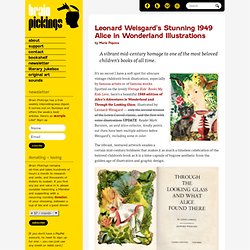 It's no secret I have a soft spot for obscure vintage children's book illustration, especially by famous artists or of famous works. Spotted on the lovely Vintage Kids' Books My Kids Love, here's a beautiful 1949 edition of Alice's Adventures in Wonderland and Through the Looking Glass, illustrated by Leonard Weisgard — only the second version of the Lewis Carroll classic, and the first with color illustrations UPDATE: Reader Mark Burstein, an avid Alice collector, kindly points out there have been multiple editions before Weisgard's, including some in color. U-Ram Choe's 'Guardian of the Hole' The Korean. Face Swap! Incredible Photoshop Identity Theft. Face Swap!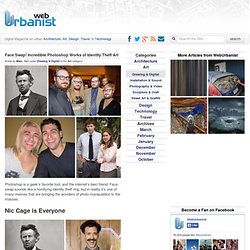 Incredible Photoshop Works of Identity Theft Art Article by Marc, filed under Drawing & Digital in the Art category. Photoshop is a geek's favorite tool, and the internet's best friend. Face swap sounds like a horrifying identity theft ring, but in reality it's one of many memes that are bringing the wonders of photo manipulation to the masses.
---