Ipads
Procedural Writing Unit with iPad Integration ~ Mrs. Wideen's Classroom Blog. Last week we began our Procedural Writing Unit.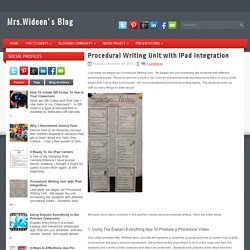 We began the unit immersing the students with different procedural books. Students went on a hunt in our room for procedural texts and they found them in many of the books they had in their book boxes. We also brainstormed procedural writing topics. The students came up with so many things to write about! Adelaidelad's iPad apps. iPads for Education | Case Studies | Ringwood North Primary School.
IPads. iPad Resources iCan Use. IPAD Activities Examples. Ipadschools - home. iPads in Schools.
---