DIY
Wall Clip | LABORATORY 424
Video games are awesome, but the "tangly mess" of controllers on the floor isn't. So, we created an inexpensive, easy to use device to store all our Wii, Xbox, and PlayStation controllers on walls, cabinets, or any other vertical surface. Wall Clips 10 colors to pick from.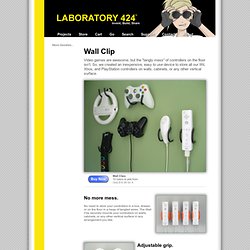 Make a propane-powered forge in your garage and get your hammer and anvil ready Propane Forge The forge, assembled. Vin Marshall Forging steel is significant for several reasons. It's one of the oldest metal-forming operations in existence.
Get Medieval: How to Build a Metal Forge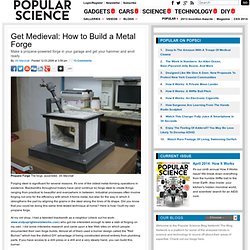 Farmhouse table and benches | Do It Yourself Home Projects from Ana White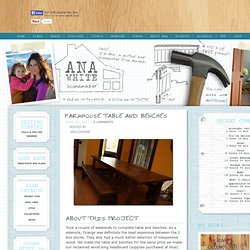 Took a couple of weekends to complete table and benches. As a sidenote, Orange was definitely the least expensive between the 2 box stores. They also had a much better selection of inexpensive wood. We made the table and benches for the same price we made our reclaimed wood king headboard (supplies purchased at blue). Wood conditioner then one coat of dark walnut stain and poly. Top of table and benches got 3 coats of poly with light sanding between each coat.
Terri Chiao's marvellous shedlike Cabin in a Loft is built within a two-bedroom loft in Brooklyn. The concept is a house within a house with the shed and 'treehouse' as separate sleeping quarters with their own gardens away from the main shared living space. Marvellous photos by Shawn Connell and lots more at the Flickr site.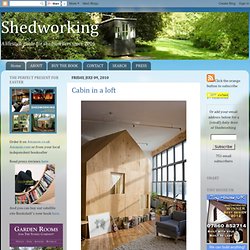 Cabin in a loft
AT NY -Timber loft in London.jpg (JPEG Image, 450 × 450 pixels)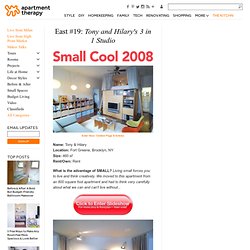 East #19: Tony and Hilary's 3 in 1 Studio
Name: Tony & Hilary Location: Fort Greene, Brooklyn, NY Size: 460 sf Rent/Own: Rent What is the advantage of SMALL? Living small forces you to live and think creatively. We moved to this apartment from an 800 square foot apartment and had to think very carefully about what we can and can't live without... What is the advantage of SMALL? CONT'D
Meet Interior Designer Robin Sillau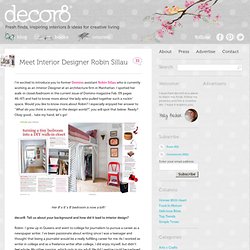 I'm excited to introduce you to former Domino assistant Robin Sillau who is currently working as an Interior Designer at an architecture firm in Manhattan. I spotted her walk-in closet/bedroom in the current issue of Domino magazine Feb. 09 pages 46-47) and had to know more about the lady who pulled together such a rockin' space. Would you like to know more about Robin? I especially enjoyed her answer to " What do you think is missing in the design world?" , you will spot that below.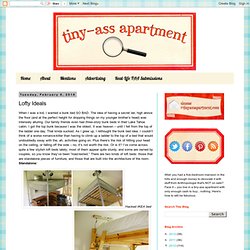 Lofty Ideals
When I was a kid, I wanted a bunk bed SO BAD. The idea of having a secret lair, high above the floor (and at the perfect height for dropping things on my younger brother's head) was intensely alluring. Our family friends even had three-story bunk beds in their Lake Tahoe cabin. I got the top bunk because I was the oldest. It was heaven – until I fell from the top of the ladder one day.
When my sister Johanna moved into a tiny studio apartment back in 2004, she wanted a loft for a bed so that at least she could get the bed out of the way. The apartment had a 10'6" (3.2 meter) high ceiling, so there was ample height for a workable sleeping loft. I decided to build a platform above the kitchen end of the apartment, with the top of the platform at a height of 7 ' (2.1 meters). This still gave her about 3' 6" (105 cm) of height for he loft, enough to sit up.
Building a bed loft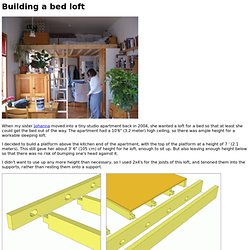 Steampunk goggles
I built these for the shop bot challenge if you like them please vote! From the start I would like to acknowledge Gogglerman for his exceptional work it was the basis for my desire to make these. The whole process took at least 4 weeks at about 6 hours a day, I will not attempt to show all the work, but hope to explain how I made the super thin Iris in the goggles, the final product has an additional lens and filter which was not needed if you only wanted an Iris pair of glasses.
Steampunk Goggles Iris with interchangable lenses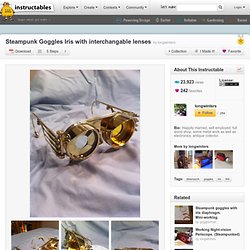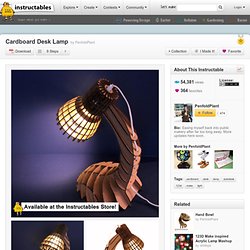 I started by designing a 3D model of the lamp using Autodesk 123D , which is freely available online. To make a cross section of the lampshade, I used the Draw tool and the 3-Point Arc tool. Notice the grooves on the inside of the lamp; they're carefully sized to hold the electrical lamp components in place once the lamp is assembled. Everything else was just roughly estimated and tweaked as needed. To turn the cross section into a 3D object, I used the Revolve tool.
Cardboard Desk Lamp
A Five-Minute Shadow Box
Our new house was built in 1920 and is the oldest house I've ever owned. I feel like I should turn in my Yankee credentials to admit that fact, but there it is. My childhood homes near Hartford, CT were built in the 1940s and 1980s, respectively. When my husband and I bought our first place, we chose a 1982 townhouse with great light and bad light fixtures. And now here we are in a house that's nearly 100 years old!
DIY Roundup: 10 Fab Revamped Dressers
Looking to hunker down with a great DIY project this winter? There's no better time. We were awestruck by some of these hand painted recycled children's dressers. Each dresser completely changes the room they are in.
Before & After: $60 Galley Kitchen Transformation Circa Dee
Dana and her boyfriend Ryan love their beach getaway at Cape May, but nothing could make them love its outdated galley kitchen. From the mixed wood tones to the plastic backsplash, this 1980s kitchen was not the rustic coastal kitchen they knew their vacation home deserved. Despite the tiny budget, they managed to make big changes that capture the relaxed attitude every beach home should exude. Painting the cabinets cream instantly helped to change the look and feel of the kitchen, and ushering in a more relaxed coastal vibe. The star of this makeover however is definitely the new backsplash, created out of reclaimed wood that started life as a shipping pallet. After cutting and cleaning the boards, Dana and Ryan glued them right onto the old plastic covered wall, mixing light and dark boards to add visual interest.
Ich habe "La(ck) Cuisine" in schwarz mit silbernem Innenleben gemacht. Es gibt den LACK-Tisch aber auch in vielen anderen Farben. Auch das Innenleben kann man farblich individuell gestalten und schlussendlich mit verschiedenen Stoffen für Utensilios und Stoffkörbe individuelle Akzente setzen. Also bevor es zum Einkaufen geht, bitte gut überlegen, wie Eure ganz individuelle "La(ck) Cuisine" aussehen soll. Vielleicht habt Ihr auch jemanden, der Euch hilft? Ich hatte Hilfe von unserem Kaninchen Vegas.
Einkaufsliste und Montageanleitung
jennys hus - Bord av lastpallar.
DIY
DIY: Olabisi Wine Tasting Room Pallet Shelving