DIY
Wall Clip | LABORATORY 424. Video games are awesome, but the "tangly mess" of controllers on the floor isn't.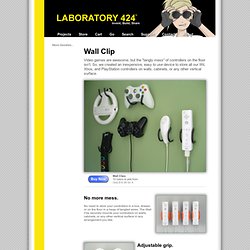 So, we created an inexpensive, easy to use device to store all our Wii, Xbox, and PlayStation controllers on walls, cabinets, or any other vertical surface. Wall Clips10 colors to pick from.Only $10.95 for 4. Get Medieval: How to Build a Metal Forge. Forging steel is significant for several reasons.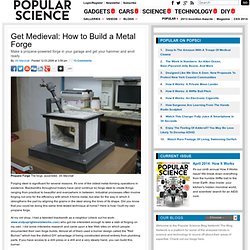 It's one of the oldest metal-forming operations in existence. Blacksmiths throughout history have (and continue to) forge steel to create things ranging from practical to beautiful and everywhere in between. Industrial processes often involve forging not only for the efficiency with which it forms metal, but also for the way in which it strengthens the part by aligning the grains in the steel along the lines of its shape. Did you know that you could be doing this same time-tested technique at home?
Pipe furniture
Working out. Farmhouse table and benches. Cabin in a loft. Terri Chiao's marvellous shedlike Cabin in a Loft is built within a two-bedroom loft in Brooklyn.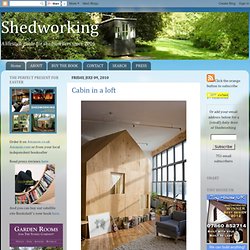 The concept is a house within a house with the shed and 'treehouse' as separate sleeping quarters with their own gardens away from the main shared living space. Marvellous photos by Shawn Connell and lots more at the Flickr site. AT NY -Timber loft in London.jpg (JPEG Image, 450 × 450 pixels) East #19: Tony and Hilary's 3 in 1 Studio. Name: Tony & HilaryLocation: Fort Greene, Brooklyn, NYSize: 460 sfRent/Own: Rent What is the advantage of SMALL?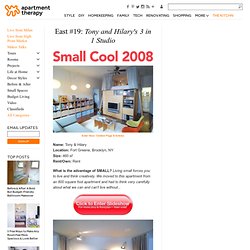 Living small forces you to live and think creatively. We moved to this apartment from an 800 square foot apartment and had to think very carefully about what we can and can't live without... What is the advantage of SMALL? CONT'D. Meet Interior Designer Robin Sillau. I'm excited to introduce you to former Domino assistant Robin Sillau who is currently working as an Interior Designer at an architecture firm in Manhattan.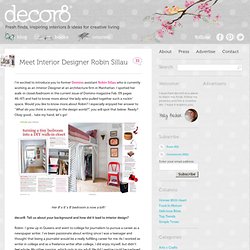 I spotted her walk-in closet/bedroom in the current issue of Domino magazine Feb. 09 pages 46-47) and had to know more about the lady who pulled together such a rockin' space. Would you like to know more about Robin? I especially enjoyed her answer to "What do you think is missing in the design world?" , you will spot that below.
Lofty Ideals. When I was a kid, I wanted a bunk bed SO BAD.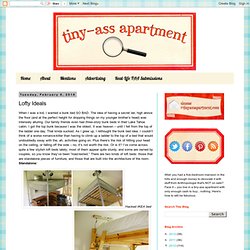 The idea of having a secret lair, high above the floor (and at the perfect height for dropping things on my younger brother's head) was intensely alluring. Our family friends even had three-story bunk beds in their Lake Tahoe cabin. I got the top bunk because I was the oldest. It was heaven – until I fell from the top of the ladder one day. Building a bed loft. When my sister Johanna moved into a tiny studio apartment back in 2004, she wanted a loft for a bed so that at least she could get the bed out of the way.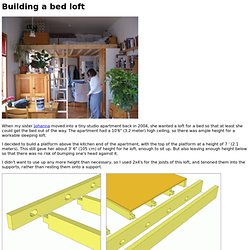 The apartment had a 10'6" (3.2 meter) high ceiling, so there was ample height for a workable sleeping loft. I decided to build a platform above the kitchen end of the apartment, with the top of the platform at a height of 7 ' (2.1 meters). This still gave her about 3' 6" (105 cm) of height for he loft, enough to sit up.
Steampunk goggles. Steampunk Goggles Iris with interchangable lenses. These shots show me thinking through the way to set up a thin iris, there are two rings one inside the other, as the outer turns it pushes the posts on the bottom of the shutters.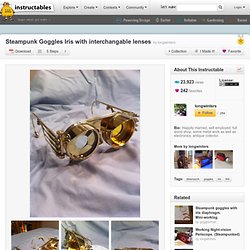 The outer ring must have elongated holes because the pivot points move slightly away from the outside edge as the shutter closes. I did not use an eight shutter design as I tried in the cardboard test model. the pictures are proof of concept they are straight in the picture but will end up as circular in the finished product. you can see from those pics the iris need only be 3 layers of metal thick. about 1/4 inch including the pivot posts. Cardboard Desk Lamp. I started by designing a 3D model of the lamp using Autodesk 123D, which is freely available online.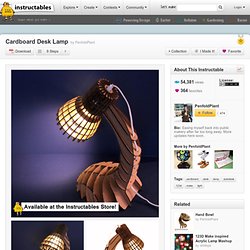 To make a cross section of the lampshade, I used the Draw tool and the 3-Point Arc tool. Notice the grooves on the inside of the lamp; they're carefully sized to hold the electrical lamp components in place once the lamp is assembled. Everything else was just roughly estimated and tweaked as needed. To turn the cross section into a 3D object, I used the Revolve tool. A Five-Minute Shadow Box. Our new house was built in 1920 and is the oldest house I've ever owned.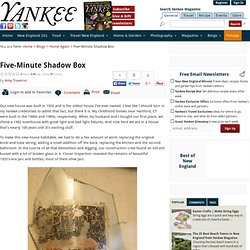 I feel like I should turn in my Yankee credentials to admit that fact, but there it is. My childhood homes near Hartford, CT were built in the 1940s and 1980s, respectively. DIY Roundup: 10 Fab Revamped Dressers. Before & After: $60 Galley Kitchen Transformation Circa Dee. Einkaufsliste und Montageanleitung. Ich habe "La(ck) Cuisine" in schwarz mit silbernem Innenleben gemacht.
Es gibt den LACK-Tisch aber auch in vielen anderen Farben. Auch das Innenleben kann man farblich individuell gestalten und schlussendlich mit verschiedenen Stoffen für Utensilios und Stoffkörbe individuelle Akzente setzen. Also bevor es zum Einkaufen geht, bitte gut überlegen, wie Eure ganz individuelle "La(ck) Cuisine" aussehen soll.
Vielleicht habt Ihr auch jemanden, der Euch hilft? Ich hatte Hilfe von unserem Kaninchen Vegas. Recycled Wood Dining Table. Do-it-yourself decorating allows you to customize your home, apartment, condo, or room with DIY accents that transform your space on a budget without completing a full-scale remodel. Whether you're a beginner or an expert, we guide you… read more Do-it-yourself decorating allows you to customize your home, apartment, condo, or room with DIY accents that transform your space on a budget without completing a full-scale remodel. Whether you're a beginner or an expert, we guide you with instructions, tutorials, and step-by-step photos for indoor and outdoor projects and room makeovers.
We have tips, techniques, and tools to get you started on paint projects, the easiest way to freshen up a space or decor item. 21 ways of turning pallets into unique pieces of furniture. Wood pallets have been around for decades as mechanisms for shipping and storing larger items (among other things). Recently, however, wooden pallets have become much more than a once-and-done packaging piece. They've become a useful resource in home décor and design. Used by beginner to professional DIYers in projects from wall coverings to large and small furniture pieces to home décor accessories, wood pallets can be disassembled into wood planks that can be used for any number of projects.
DIY. Sometimes all you need is a basic stretchy headband. I personally use one daily when washing my face or doing my makeup, so I know how handy they come in! I had purchased a set of 2 of them recently and after looking at how it was made, I thought to myself "I could have just made this myself". DIY: Olabisi Wine Tasting Room Pallet Shelving.
Kid fun.
---