USB
Bluemind Is an Ultra-Lightweight Mind Mapping Application. Not fully portable, as it uses .NET 2.0 Also, it can read but not save as .mm format.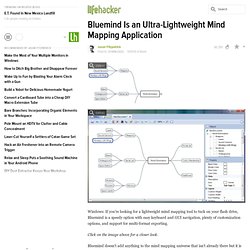 Too bad on the latter. The Basic Guide to Troubleshooting Common Windows PC Problems. This is a fantastic list, even for the experienced.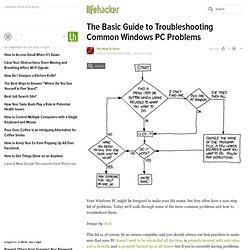 Often times when troubleshooting - I'll be the first to admit it, I forget the basics. My only addition is for viruses: there is no such thing as overkill when cleaning. My preferred method is this, when noticing a system is seriously infected: 1.) ProEject Disconnects USB Drives Cleanly and Safely. Why would you not eject the drive?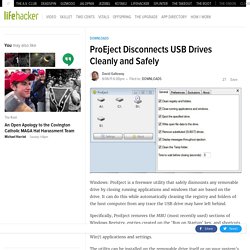 What benefit does it serve? NTFS is resilient but not immune to corruption, I don't see why you'd take that risk unless the data has no importance whatsoever to you. Top 10 USB Thumb Drive Tricks. How to Fix Your Relatives' Terrible Computer. HOLY CRAP.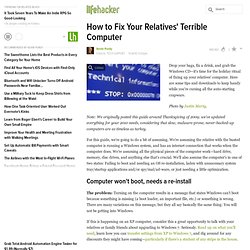 Windows CDs are possibly the most dangerous things a person could get their hands on. I work in a computer repair shop and a good percentage of the system problems we have are caused by morons that installed Windows OVER their recovery partition (I mean, yes, into an ~8gb partition, with their original Windows inactive in the big 150gb partition next to it that they're unaware of), or tried "repairing" it with an old XP Pro Corp CD they had laying around. Turn Your Spare Thumb Drives Into Feature-Packed Giveaway Drives.
Run Your Personal Wikipedia from a USB Stick. If you are looking for portability across platforms, I can recommend the setup Jetty [www.mortbay.org] and JAMWiki [jamwiki.org] Jetty is a light-weight, Java web-server.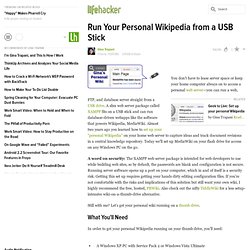 JAMWiki is Java-port of MediaWiki, that ships with an internal database. The installation can pretty much be narrowed down to the following: 1. Download Jetty and JAMWiki. Platform and Suite Support. Many of the most common issues that arise when using PortableApps.com Platform and PortableApps.com Suite are addressed here.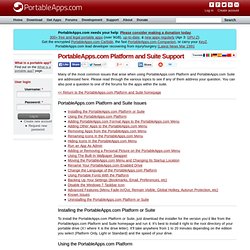 Please read through the various topics to see if any of them address your question. You can also post a question to one of the forums for the apps within the suite. << Return to the PortableApps.com Platform and Suite homepage PortableApps.com Platform and Suite Issues Installing the PortableApps.com Platform or Suite. USB Flash Drive Comparison part 2 – FAT32 vs NTFS vs ExFAT. Ok, a little while back I ran a somewhat large USB Flash Drive Comparison with 21 drives compared, today I got part two of that comparison.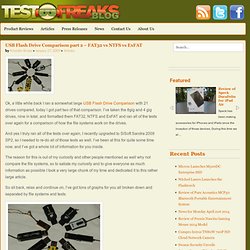 I've taken the 8gig and 4 gig drives, nine in total, and formatted them FAT32, NTFS and ExFAT and ran all of the tests over again for a comparison of how the file systems work on the drives. And yes I truly ran all of the tests over again, I recently upgraded to SiSoft Sandra 2009 SP2, so I needed to re-do all of those tests as well. Geek to Live: Carry your life on a thumb drive (or iPod)
---