USB
Windows: If you're looking for a lightweight mind mapping tool to tuck on your flash drive, Bluemind is a speedy option with easy keyboard and GUI navigation, plenty of customization options, and support for multi-format exporting. Click on the image above for a closer look. Bluemind doesn't add anything to the mind mapping universe that isn't already there but it is very speedy.
Bluemind Is an Ultra-Lightweight Mind Mapping Application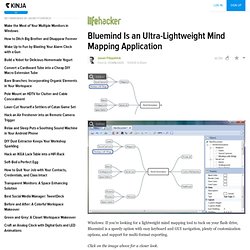 Your Windows PC might be designed to make your life easier, but they often have a non-stop list of problems. Today we'll walk through some of the more common problems and how to troubleshoot them. Image by xkcd This list is, of course, by no means complete, and you should always use best practices to make sure that your PC doesn't need to be reinstalled all the time , is properly secured with anti-virus and a firewall , and is properly backed up at all times —but if you're currently having problems, keep reading for a list of common problems and troubleshooting techniques. PC Won't Boot Into Windows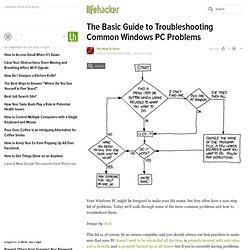 The Basic Guide to Troubleshooting Common Windows PC Problems
ProEject Disconnects USB Drives Cleanly and Safely
Windows: ProEject is a freeware utility that safely dismounts any removable drive by closing running applications and windows that are based on the drive. It can do this while automatically cleaning the registry and folders of the host computer from any trace the USB drive may have left behind. Specifically, ProEject removes the MRU (most recently used) sections of Windows Registry, entries created on the 'Run on Startup' key, and shortcuts created in SendTo, Recent, Quick Launch, Windows Firewall, and Pinned (for Win7) applications and settings.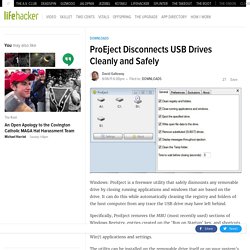 Top 10 USB Thumb Drive Tricks
Drop your bags, fix a drink, and grab the Windows CD—it's time for the holiday ritual of fixing up your relatives' computer. Here are some tips and downloads to keep handy while you're cursing all the auto-starting crapware. Photo by Justin Marty .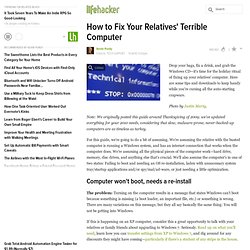 Flash drives aren't quite a dime a dozen, but it's pretty easy to amass a bunch of them in your office drawer. This guide helps you turn them into software-packed giveaway drives. Many readers were curious about the giveaway flash drives in my laptop bag . Why give flash drives away? I found that despite only using a single flash drive, I had a drawer full of them in my office.
Turn Your Spare Thumb Drives Into Feature-Packed Giveaway Drives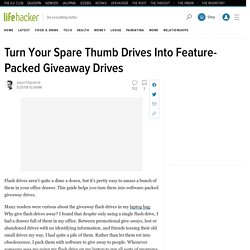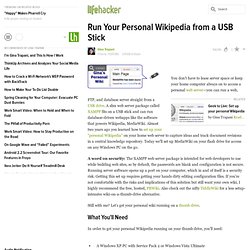 You don't have to lease server space or keep your home computer always on to access a personal web server —you can run a web, FTP, and database server straight from a USB drive . A slim web server package called XAMPP fits on a USB stick and can run database-driven webapps like the software that powers Wikipedia, MediaWiki. Almost two years ago you learned how to set up your "personal Wikipedia" on your home web server to capture ideas and track document revisions in a central knowledge repository. Today we'll set up MediaWiki on your flash drive for access on any Windows PC on the go. A word on security: The XAMPP web server package is intended for web developers to use while building web sites, so by default, the passwords are blank and configuration is not secure. Running server software opens up a port on your computer, which in and of itself is a security risk.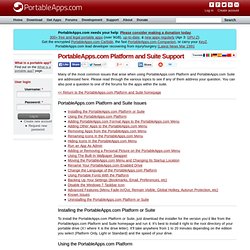 Platform and Suite Support
Many of the most common issues that arise when using PortableApps.com Platform and PortableApps.com Suite are addressed here. Please read through the various topics to see if any of them address your question. You can also post a question to one of the forums for the apps within the suite. << Return to the PortableApps.com Platform and Suite homepage PortableApps.com Platform and Suite Issues Installing the PortableApps.com Platform or Suite
USB Flash Drive Comparison part 2 – FAT32 vs NTFS vs ExFAT
Ok, a little while back I ran a somewhat large USB Flash Drive Comparison with 21 drives compared, today I got part two of that comparison. I've taken the 8gig and 4 gig drives, nine in total, and formatted them FAT32, NTFS and ExFAT and ran all of the tests over again for a comparison of how the file systems work on the drives. And yes I truly ran all of the tests over again, I recently upgraded to SiSoft Sandra 2009 SP2, so I needed to re-do all of those tests as well.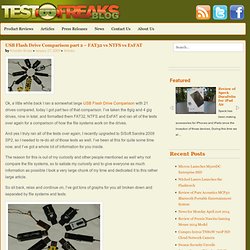 Geek to Live: Carry your life on a thumb drive (or iPod)
by Gina Trapani When I think back to the first computer I had with a hard drive bigger than a gigabyte ("I'll never run out of space now!") I have to laugh. Nowadays you can get 8 gigabytes of disk hanging on your key ring, not to mention all the gigabytage we tote around on our iPods . Portable applications and creative uses for USB drives and other external hard drives have come a long way in the last year or so. Today I'll go over some of the more practical uses and techniques for managing your data on the go with a portable drive.