Généralistes
Pôle emploi international. Picking Jobs - the international job site linking employers with seasonal workers. Find Summer Jobs, Internships, Vacation Jobs and Seasonal Employment with SummerJobs.com™ Job-eu. Expat-job.com - International jobs online!
Expatriation, Recrutement international, emploi, travailler a letranger, offres d'emploi a l'etranger, Pôle emploi international. Eurosummerjobs. Les offres de jobs étudiants (baby sitting, vendanges, animation.) sur Studyrama-Jobs. 4847 postes de jobs étudiants Candidats / Recruteurs Échec de l'identification !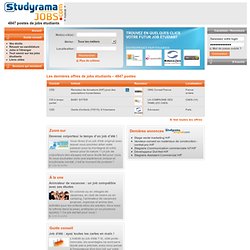 Retour. Club TELI. EURES - le Portail européen sur la mobilité de l'emploi. Anywork Anywhere - Jobs & Resources For Work & Travel Worldwide. Campings met stacaravan of tent. Kamperen - Vacansoleil. Travel Jobs, Resort Jobs, Ski Jobs, Jobs Abroad & more - Adventure Jobs.
---