STREET ART
2508695615_7361d11105_o. STREET ARTISTS of 2013 | The VandalList. A list of 2013′s Street Artists featured on The VandalList.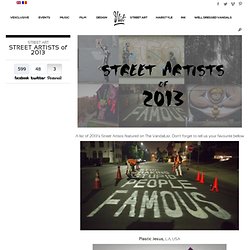 Don't forget to tell us your favourite bellow Plastic Jesus, L.A, USA Case, german street artist WILD DRAWING, Athens, Greece. WD street art. Disparition de Pavel 183, surnommé le Bansky russe. Www.183art.ru. Art de rue: entre peinture 3D et effet d'optique (35 photos) | Un gars Ordinaire. La peinture 3D, c'est le nom moderne pour désigner ces dessins à la craie sur les sols ou plafonds.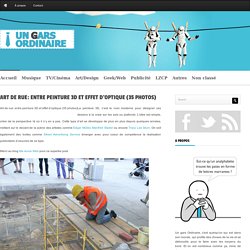 L'idée est simple, créer de la perspective là où il n'y en a pas. Cette type d'art se développe de plus en plus depuis quelques années, mettant sur le devant de la scène des artistes comme Edgar Müller, Manfred Stader ou encore Tracy Lee Stum. On voit également des boites comme Street Advertising Service émerger avec pour coeur de compétence la réalisation publicitaire d'oeuvres de ce type. News, Augmented » Articles avec le tag » In Pictures. In Pictures: The Art of Surveillance. Since the mid-90s several informal collectives have been addressing the issue of video surveillance in public places, particularly in the United States.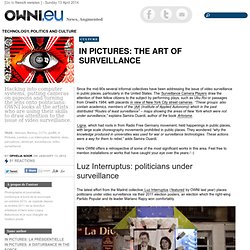 The Surveillance Camera Players draw the attention of their fellow citizens to the subject by performing plays, such as Ubu Roi or passages from Orwell's 1984, with placards in view of New York City street cameras. "These groups also contain academics, members of the IAA (Institute of Applied Autonomy) which in the past distributed "Routes of least surveillance" – maps showing the areas of New York which were not under surveillance," explains Samira Ouardi, author of the book Artivisme. Galleries / Street Art / New Delhi Streets. Banksy osterich-cctv. Banksy-cctv-mural-e1323962685604.jpg (Image JPEG, 640x956 pixels) The Antics Roadshow. Parental Control HistoryCloseSign in to get the most from 4oD History View your own personal 4oD history, useful if you share a computerKeep track of the last 50 shows you watched or started watchingResume unfinished shows from the point you stopped watching FavouritesCloseStart using Favourites today Look out for the add to Favourites button as you browse the siteUse the buttons to create a list of all your favourite showsNew 4oD episodes are flagged here so you don't miss out FIRST BROADCAST: 10.45PM Sat 13 August 2011C4 Duration: 47:14 An hour-long special made by Banksy charting the history of behaving badly in public, from anarchists and activists to attention seeking eccentrics.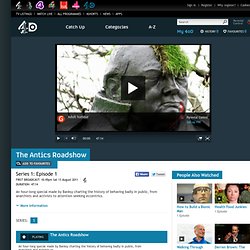 In French. Videos. Art de rue. Art(street art) Street Art. Street happening. Banksy. Street Art. Zevs. Banksy (faiteslemur): ses vidéos sur Dailymotion.
---