Humour
Les dialogues ciselés par Michel Audiard dans les "Tontons flingueurs", le plus grand succès de Georges Lautner, mort vendredi 22 novembre à 87 ans, sont pour beaucoup dans l'immense succès populaire rencontré par le film. Les répliques et les tirades des "Tontons flingueurs", qui a fêté ses 50 ans au début du mois de novembre, sont rentrées dans la culture populaire tant elles ont été récitées, déclamées et apprises par cœur. Voilà une courte liste des meilleures citations de ce film culte (vos suggestions dans les commentaires sont les bienvenues). 1 – "Les cons, ça ose tout, c'est même à ça qu'on les reconnaît."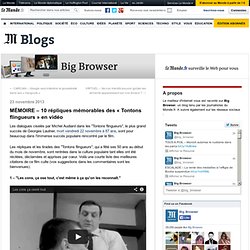 MÉMOIRE – 10 répliques mémorables des « Tontons flingueurs » en vidéo
In the Loop
Un article de Wikipédia, l'encyclopédie libre. In the Loop est un film britannique réalisé par Armando Iannucci, sorti en 2009. Il décrit à travers une vision loufoque mais pleine d'observations réelles comment le camp des pacifistes a perdu la bataille de la guerre d'Irak. Le spin doctor Malcolm Tucker est inspiré d'Alastair Campbell, le conseiller en communication de Tony Blair entre 1997 et 2003[1]. Le film est dérivé de la série britannique The Thick of It, créée en 2005 par Iannucci. To be in the Loop signifie en anglais « être dans le coup » ou « être au courant », en référence aux difficultés de communication et aux imbroglios du scénario.
Regarder "In the loop"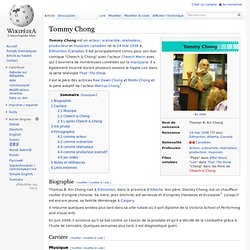 Tommy Chong
Un article de Wikipédia, l'encyclopédie libre. Il est le père des actrices Rae Dawn Chong et Robbi Chong et le père adoptif de l'acteur Marcus Chong[1]. Biographie[modifier | modifier le code] Thomas B. Kin Chong nait à Edmonton, dans la province d'Alberta.
Cheech & Chong "Up In Smoke" V.O
Faut trouver le joint (Cheech & Chong)VF
Dogma
Air America
Dailymotion Connexion Air America Playlist created by .