En Vrac Occupy
www.la-bas.org - Naomi Klein à Wall Street
Jusqu'à présent, les fichiers de membres d'associations devaient être déclarés auprès de la CNIL sous une forme simplifiée en référence à la norme 23. Lors de sa séance du 9 mai 2006, la CNIL a décidé de simplifier davantage les procédures en choisissant de dispenser de déclaration les fichiers de membres d'associations. La loi informatique et libertés lui permet, en effet, de dispenser de déclaration certains traitements qui ne sont pas susceptibles, dans le cadre de leur utilisation régulière, de porter atteinte à la vie privée ou aux libertés des personnes.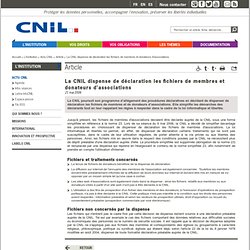 Déposer une déclaration de demande de manifestation publique France Nepal - Nepal France info
Voici les quelques principes à connaître : Quand, comment et où déclarer une manifestation publique Une manifestation publique est un droit constitutionnel (différent de la déclaration des droits de l'homme dont un article stipule le droit de désobéissance civile en cas de nécessité). Donc il n'y a pas d'autorisation à attendre. Il s'agit en fait d'un événement qui est un droit, soumis à une déclaration obligatoire selon des modalités pouvant changer d'une commune à l'autre et d'une région à l'autre, surtout selon les actualités locales et les décrets municipaux concernant l'ordre public.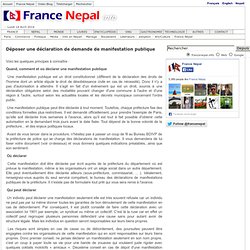 unnamed pearl
Vidéo WAPALA Mag N°35 : Surf Volcom Pipe Pro, Windsurf en Afrique, portrait de Matt Meolia de Wapala (Sport - Wapala
More Tagging tips: A tag is a way to search for this diary. If someone is searching for "Barack Obama," is this a diary they'd be trying to find? Use a person's full name, without any title. Senator Obama may become President Obama, and Michelle Obama might run for office.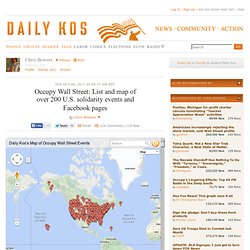 Occupy movement goes global - in pictures | World news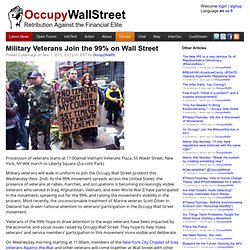 Posted 2 years ago on Nov. 1, 2011, 2:27 p.m. EST by OccupyWallSt Procession of veterans starts at 11:00amat Vietnam Veterans Plaza, 55 Water Street, New York, NY Will march to Liberty Square (Zuccotti Park)
Military Veterans Join the 99% on Wall Street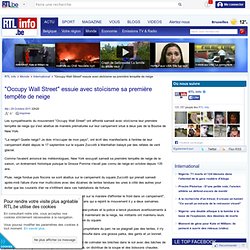 "Occupy Wall Street" essuie avec stoïcisme sa première tempête de neige
Les sympathisants du mouvement "Occupy Wall Street" ont affronté samedi avec stoïcisme leur première tempête de neige qui s'est abattue de manière prématurée sur leur campement situé à deux pas de la Bourse de New York. "La neige? Quelle neige? Je dois m'occuper de mon pays", ont écrit des manifestants à l'entrée de leur campement établi depuis le 17 septembre sur le square Zuccotti à Manhattan balayé par des rafales de vent glacial.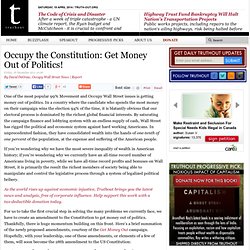 Occupy the Constitution: Get Money Out of Politics! | Truthout
One of the most popular 99% Movement and Occupy Wall Street issues is getting money out of politics. In a country where the candidate who spends the most money on their campaign wins the election 94% of the time, it is blatantly obvious that our electoral process is dominated by the richest global financial interests. By saturating the campaign finance and lobbying system with an endless supply of cash, Wall Street has rigged the political and economic system against hard working Americans. In unprecedented fashion, they have consolidated wealth into the hands of one-tenth of one percent of the population, at the expense and suffering of the American people.
forum feedback pearltrees
Groupe de travail sur une Assemblée Constituante
‪Inside Outside - trailer 2‬‏