Japonés
JLPT Level N5 Study Page
大戸屋
Kirai – Un geek en Japón by Héctor García — Comida
Caja de cerezas de 100 euros No todo es carísimo en Japón pero a veces te encuentras con sorpresas como por ejemplo esta caja de cerezas de Yamagata por 15.000 yenes, unos 106 euros al cambio. Seguir leyendo »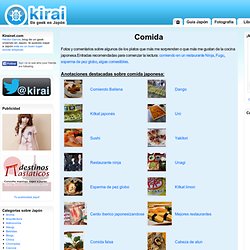 Supongo que sabrán por las noticias que, a partir del 1 de abril subirá el impuesto al consumo del 5% al 8%, la primera vez en 15 años. Me puse a pensar en lo que pasaría si vamos a comprar a una de esas tiendas abiertas las 24 horas del día conocidas como tiendas de conveniencia (konbini) el día 31 de marzo a las 11:59 y pagamos a las 12:01 del día 1 de abril. Como soy muy curiosa y me gusta averiguar, me puse a buscar por internet y encontré artículos muy interesantes sobre lo que decidieron hacer algunas empresas cuando cambia el día. Tiendas de conveniencia (konbini) Las cajas registradoras de todos los konbinis del país (Lawson, Seven Eleven, Family Mart), cambian automáticamente del 5% al 8% a partir de las 12:00 del 1 de abril. Por ejemplo, voy a la caja con mis compras a eso de las 11:59.
Una japonesa en Japón ー ある帰国子女のブログ
Teach yourself - Get Started Japanese Audio Course Download from Fileserve - Audiocourse - FLAC - 320mb The complete package for absolute beginners in Japanese language The beginner's course for a fun and effective way to learn Japanese .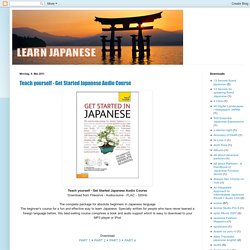 JLPT Study :: View topic - Genki Resources
I just thought I'd share this with this with everyone. When I was going through Genki I, I found these links to be very helpful in reinforcing all the vocabulary and kanji that I have learned. These are webpages that contain activities that are based on the Genki books. Since I was merely studying by myself, every single resource helps. http://www.lyon.edu/webdata/users/mpeek/japanwebpages/GenkiExercises.htm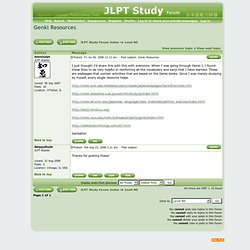 MLC JLPT Page - MLC Japanese Language School in Meguro, Tokyo
2010日语一级答案_日语二级答案_日语一级成绩查询_日语二级成绩查询_日语能力考(JLPT)专题_沪江日语
JLPT Study :: View Forum - Level N5
Come chat about asian tv drama series and artist or just hang out on D-Addicts IRC channel #d-addicts @ irc.rizon.net Click here for an IRC tutorial You must login to the forum before using the shoutbox Who is Online In total there are users online :: 10 Registered, 2 Hidden and 391 Guests [ Board Founder ] [ Administrator ] [ Moderator ] [ User ] Most users ever online was on Tue Mar 17, 2009 2:31 pm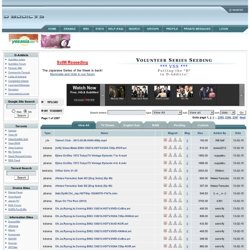 Online Japanese School - Learn Japanese Online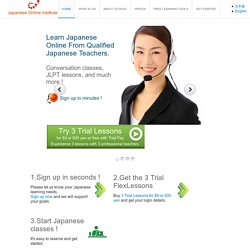 Simple to use software Our goal is to provide a top-quality learning Japanese environment.Our software is custom designed and simple to use. ■ ClassroomWe do not use Skype or free learning software, JOI uses eLecta Live's classroom software.Its really easy - just click and go ! Compatible with all Windows PCs (including 8) ,MAC, Linux, as well as Android and iPad mobile devices Please test out our classroom
The Nanzan Institute for Religion and Culture was founded in 1976 and incorporated into Nanzan University in 1979. Through its symposia, colloquia, research projects, and a wide array of publications, the community of scholars that make up the Institute is dedicated to promoting dialogue among religions, philosophies, and cultures East and West. Its ample facilities and resource materials continue to attract scholars young and old from within Japan and around the world.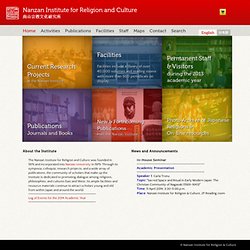 White Rabbit Japan Learning kanji? Put them on your wall! Premium kanji posters for the motivated Japanese learner - whether you're studying for the JLPT, or through Remembering the Kanji. Buy the JLPT kanji poster See product details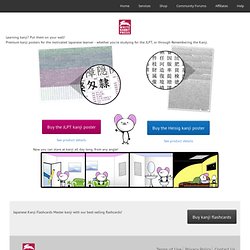 Mighty Kanji T Shirt from Kanji Posters
Suchergebnisse für minna no nihongo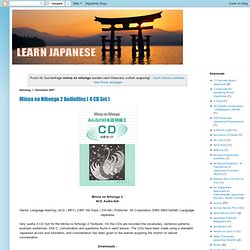 Still underconstruction, some Japanese Books, I will post them sorted with pictures later,for those who know whats about, feel free, download them now :Some of the bigger files ( more parts ) include the CDs & Audiofiles. Zakennayo http://www.megaupload.com/?d=C0XG3CCS A Guide to write Kanji and Kana http://www.megaupload.com/?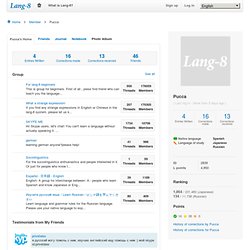 For lang-8 beginners This is group for beginners. First of all , plese find friend who can teach you the language... SKYPE ME All Skype users, let's chat! You can't learn a language without actually speaking it. ... german learning german anyone?
My Home [Lang-8]
朝、会社でテレビを見るのは毎日の恒例です。もっとも、本気で見てるのはおばちゃんで、私は見たり見なかったり。そこで…むちゃくちゃ気分悪い事を耳にし、画面を一瞬見た… 外国だけどね、どこだかも聞いてない。
nyan-nyan
En esta noticia que a mi me llena de sorpresa,el grupo Idol Yumeki Angels se alejara de los escenarios otaku durante algun tiempo;asi lo dio a conocer su productor Yumeki-San en un comunicado en su pagina Yumeki Entertainment Agency, dicho comunicado dice asi:Primera etapa: terminadaYumeki Angels FanclubEscrito por yumeki domingo, 03 febrero 2008Con la presentación de "Yumeki Angels" en "TNT GT2 World Trade Center" éste lunes 4 de febrero concluye la etapa de formación del grupo, para dar lugar a la segunda etapa que es la de consolidación. "Yumeki Angels" se ausentarán temporalmente del medio otaku para inclursionar en el medio externo de la población común, así como para realizar el proceso de entrenamiento para su "major debut" y lanzamiento en español y japonés.
wotaku
Home :: Ippatsu! @ japanesetesting.com
Learning Japanese will let you speak with interesting people, enjoy Japanese culture, and help your career prospects. However, most people don't know how to . Ippatsu provides you the resources to do so: Flashcards Practice Tests
KanjiBox
Tuttle Publishing sent me four books to review so without further ado, here we go. The first one on the list is Japanese Kanji and Kana by Wolfgang Hadamitzky & Mark Spahn. According to the preface, this book is useful as "both a textbook and a reference work" and it "serves beginners as well as those who want to look up individual kanji". So let's take a look at what purpose this book serves. Introductory Chapters
Tae Kim's Blog - Japanese, Chinese, and a dash of Korean
男らしい: For the questions that bug ya!
WWWJDIC: Example File Browsing
NHK WORLD Spanish
(♪となりのトトロ)の歌詞、英語も^O^ My Neighbor Totoro Lyrics!|英語ペラになれるブログ~みんな大
(♪となりのトトロ)の歌詞、英語も^O^ My Neighbor Totoro Lyrics!|英語ペラになれるブログ~みんな大
(♪さんぽ)の歌詞、英語も^-^ Stroll Lyrics!|英語ペラになれるブログ~みんな大好き~
Japanese Lessons | NHK WORLD Online