Analytics
"What's the ROI of your mother?" a presentation about ROI and Social Media. ROI: pour Return On Ignoring | Marketing opérationnel et Médias Sociaux Hubert-SENANT.com. The Truth About Conversion Rates: What You Really Need To Analyze. Last updated by Rich Page | 7 Comments SEO used to be the big buzzword online.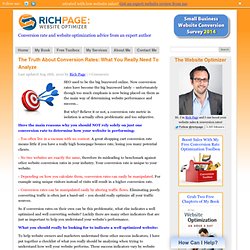 Now conversion rates have become the big buzzword lately – unfortunately though too much emphasis is now being placed on them as the main way of determining website performance and success… But why? Believe it or not, a conversion rate metric in isolation is actually often problematic and too subjective. Here the main reasons why you should NOT rely solely on just one conversion rate to determine how your website is performing:
Social Media ROI. Olivier Blanchard Basics Of Social Media Roi. Médias sociaux > 3 approches différentes des social media analytics. J'ai déjà eu l'occasion de vous parler de social scoring et des indicateurs-clés des médias sociaux que l'IAB tente de standardiser.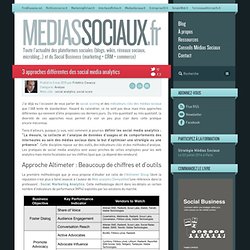 Hasard du calendrier, ce ne sont pas deux mais trois approches différentes qui viennent d'être proposées ces derniers jours. Du très quantitatif au très qualitatif, la diversité de ces approches nous permet d'y voir un peu plus clair dans cette pratique encore méconnue. Tiens d'ailleurs, puisque j'y suis, voici comment je pourrais définir les social media analytics : "La mesure, la collecte et l'analyse de données d'usages et de comportements des internautes au sein des médias sociaux dans le but d'optimiser une stratégie ou une présence".
---