Python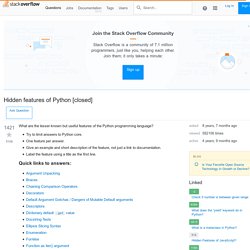 They're the magic behind a whole bunch of core Python features. When you use dotted access to look up a member (eg, x.y), Python first looks for the member in the instance dictionary. If it's not found, it looks for it in the class dictionary. If it finds it in the class dictionary, and the object implements the descriptor protocol, instead of just returning it, Python executes it. A descriptor is any class that implements the __get__, __set__, or __delete__ methods.
SciPy -
All, We have achingly sad news today. Our friend, colleague, and author of matplotlib , John Hunter, passed away on August 28, 2012 at 10am.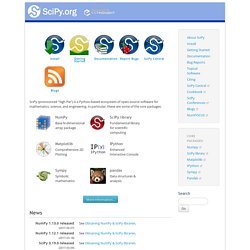 Main Page - NLTK
Audio Podcasts from PyCon 2009 ShowMeDo's Learning Path Tutorials Setting Up Python Beginning Python Programming Intermediate Python Python for Strong Pythonistas Full Projects in Python pyGame for Python Games Python 3.0 Introduction Scientific Python Programming Python GUI Programming Beginner Python Web Programming Beginner Django Programming Python IDEs and Tools New Stuff Create Python GUIs using HTML Online Videos from PyCon 2009 Functional Testing of GUI Applications Metaclasses in Five Minutes Easy AI with Python by Richard Hettinger Generator Tricks for Systems Programmers A Curious Course on Coroutines and Concurrency Monads in Python Python 3.0 Tutorial Short Intro to Python by Alex Martelli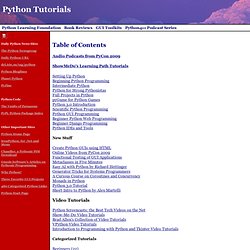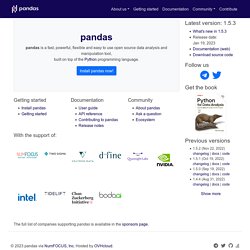 pandas is an open source, BSD-licensed library providing high-performance, easy-to-use data structures and data analysis tools for the Python programming language. 0.13.0 released (January 15, 2014) The new major 0.13 release is out. This includes the usual large slate of bug fixes and performance improvements, and many new important (and some experimental) features. See the What's New to read all about it.