Audiovisuales
- StumbleUpon. Creating an Interactive Portfolio with InDesign. Up until now, whenever I'd mention creating an interactive document with InDesign, the first thing most people would think is, "He must be talking about making a PDF."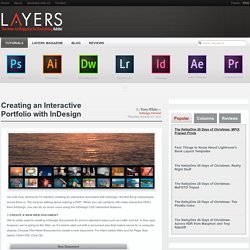 While you can certainly still make interactive PDFs from InDesign, you can do so much more using the InDesign CS5 interactive features. 1 CREATE A NEW WEB DOCUMENTWe're pretty used to creating InDesign documents for print in standard sizes such as Letter and A4. - StumbleUpon. Think Invisible - Posters That Will Make You Think | Daily Inspiration. About the author Hi, my name is Houke de Kwant.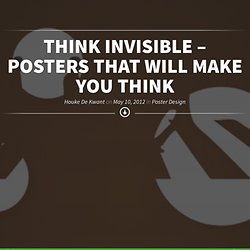 I'm a 24 year old communication & multimedia design graduate from the Netherlands and I'm the creator of Daily Inspiration, which I started as a school project a few years ago. I am currently working as a frond-end developer at Ivaldi, an internet agency in Rotterdam, the Netherlands. - StumbleUpon. "Pájaro enjaulado" Like Snowflakes, No Two Of These Complex Fractal Puzzles Are Completely Alike. Fotos del muro. We should.. Kate MccGwire | www.katemccgwire.com | Home.
The Book Surgeon (15 pieces) Using knives, tweezers and surgical tools, Brian Dettmer carves one page at a time.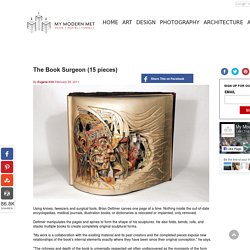 Nothing inside the out-of-date encyclopedias, medical journals, illustration books, or dictionaries is relocated or implanted, only removed. Dettmer manipulates the pages and spines to form the shape of his sculptures. - StumbleUpon. 12:31. Drawings made on the floor - Carl Krull. Vai avanti .com by rafa&l rozendaal, 2006 - StumbleUpon.
- StumbleUpon. The Cathedral - Oscar Nominated Science Fiction Animated Short Movie. Polish science fiction author Jacek Dukaj wrote a short story, Katedra, in 2000.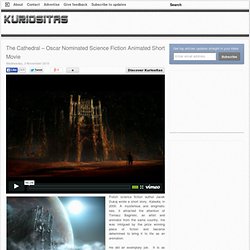 A mysterious and enigmatic tale, it attracted the attention of Tomasz Bagiński, an artist and animator from the same country. He was intrigued by the prize winning piece of fiction and became determined to bring it to life as an animation. He did an exemplary job. It is as powerful as the original story. Creativity Lessons From Charles Dickens and Steve Jobs | Wired Opinion. Creativity is the most essential skill for navigating an increasingly complex world — or so said 1,500 CEOs across 60 countries in a recent survey by IBM.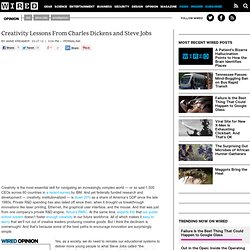 And yet federally funded research and development — creativity, institutionalized — is down 20% as a share of America's GDP since the late 1980s. Private R&D spending has also tailed off since then, when it brought us breakthrough innovations like laser printing, Ethernet, the graphical user interface, and the mouse. And that was just from one company's private R&D engine, Xerox's PARC. At the same time, experts fret that our public school system doesn't foster enough creativity in our future workforce. All of which makes it easy to worry that we'll run out of creative leaders producing creative goods. Tomas de Urraza's Likes. Paper CD case. [VIDEO] - StumbleUpon. Gwom.
Lifaros experimental flash gallery 2003-2009. I Have a (Puzzling) Dream.
---