Foundry
Fontcase | Elegant font management
– November 15, 2011 Posted in: Retired Two months ago Mozilla launched a campaign called Webify Me. The campaign was rooted in the idea that although there is one Web that we use, we all have different interactions with it, which makes the Web both unique and personal for each individual. Webify Me is a site that builds a fun, visual manifestation of the user's personal Web. Users answered a series of fun questions on how they use the Web.
3D Text CSS
Memoriam Pro
Handpicked Typefaces Archive
Colvert, Achieving Harmony Through Diversity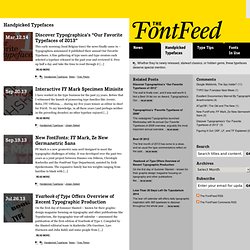 Village Version 2.0
Looking for the best free grunge fonts out there? We have found all of them and they are trapped in this post. If you think this collection is as awesome as we do, please help spread the word by giving us some Digg love! Its better than us asking for a donation, and cheaper!
Underware
OG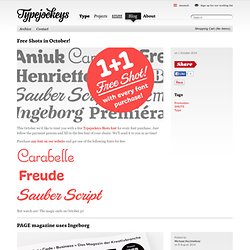 One of our most (spatially) extensive and biggest projects till now – 16,000 square meters (!) – has just been finished after about a year of work: Business Park Vienna's P2 Carpark has a new look. Nana Architektur picked us to be part of the team to design a concept for the Redevelopment of P2.
Hoefler & Frere-Jones
Fonts
typeface directory