LITERATURE
Christopher Hitchens' wit and warmth remembered as New York pays tribute. "Little Keith" called him a suffering auto-contrarian and likened him to Houdini; Graydon Carter said he was a "bit of a scallywag" but an editor's dream; and the doctor who treated him for the cancer of the oesophagus that killed him said he was a "pioneer at the frontier".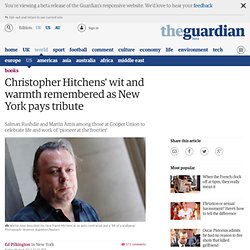 Unsurprisingly, though, it was Christopher Hitchens who had the funniest and the most apposite words with which to describe himself at his own memorial in New York on Friday. He was, he said of himself in posthumous film clips and readings, a "radical freelance scribbler" who had devoted his life to curiosity, irony, debunking, disputation, drinking, love and hate (though of all those things, it was hate that got him out of bed in the morning). "The cause of my life," Hitchens said in one snippet included in a compilation put together by the Oscar-winning documentary maker Alex Dibney, "has been to oppose superstition. It's a battle you can't hope to win – it's a battle that's going to go on forever. Toni Morrison: 'I want to feel what I feel. Even if it's not happiness' I first met Toni Morrison about 15 years ago, to talk about her seventh novel, Paradise, an encounter I remember largely for its number of terrifying pauses.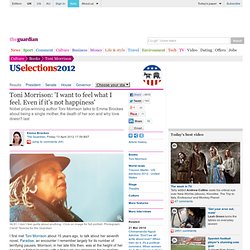 Morrison, in her late 60s then, was at the height of her powers, a Nobel laureate with a famously low tolerance for journalists and critics, and a personal style as distinctive as her prose: silver dreadlocks, sharp, unwavering eye contact and a manner of speech – when she did speak – that, to her annoyance, people were wont to call poetry. Now she sits in her publisher's office in New York, the city laid out beneath her.
She looks as grand as ever, but there have been changes. It is right after lunch when, says Morrison, she is accustomed to napping. Literally, the wrong use of the word | Politics. The Today programme on Radio 4 had a fascinating debate on the misuse of the word literally.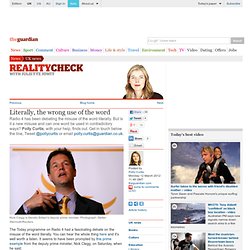 You can hear the whole thing here and it's well worth a listen. It seems to have been prompted by this prime example from the deputy prime minister, Nick Clegg, on Saturday, when he said: A Point of View: Mourning the loss of the written word. 3 February 2012Last updated at 18:42 The modernist writer Virginia Woolf called letter writing "the humane art, which owes its origins in the love of friends".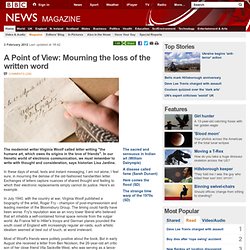 In our frenetic world of electronic communication, we must remember to write with thought and consideration, says historian Lisa Jardine. In these days of email, texts and instant messaging, I am not alone, I feel sure, in mourning the demise of the old-fashioned handwritten letter. Will Self's book, Cock and Bull | John Baker's Blog. These two postmodern stories from 1993 have remained under my radar until now.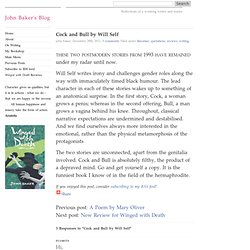 Will Self writes irony and challenges gender roles along the way with immaculately timed black humour. The lead character in each of these stories wakes up to something of an anatomical surprise. Winged with Death - a review | John Baker's Blog. Winged With Death by John Baker, Flambard Press (2009) ISBN 978-1906601027, 291pp £8.98 'It was 1972 and I was eighteen years old.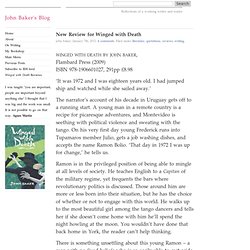 I had jumped ship and watched while she sailed away.' The narrator's account of his decade in Uruguay gets off to a running start. A young man in a remote country is a recipe for picaresque adventures, and Montevideo is seething with political violence and sweating with the tango. On his very first day young Frederick runs into Tupamaros member Julio, gets a job washing dishes, and accepts the name Ramon Bolio. The French women who defied the Nazis and survived Auschwitz. A flabby mass of clichés.
Soon Chandler was let go; his drafts largely discarded.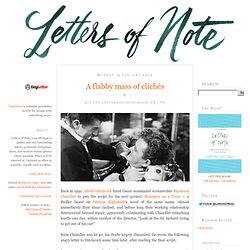 He wrote the following angry letter to Hitchcock some time later, after reading the final script. (Source: The Raymond Chandler Papers (2000); Image: A Certain Cinema.) Letters of Note. Christopher Hitchens quotes: the writer's most memorable bons mots. "The four most overrated things in life are champagne, lobster, anal sex and picnics.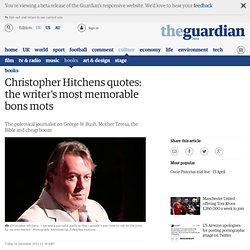 " – the New Yorker, 2006 "[George W Bush] is lucky to be governor of Texas. He is unusually incurious, abnormally unintelligent, amazingly inarticulate, fantastically uncultured, extraordinarily uneducated, and apparently quite proud of all these things. " – Hardball with Chris Matthews, NBC, 2000 "'Bombing Afghanistan back into the Stone Age' was quite a favourite headline for some wobbly liberals. The slogan does all the work. John Baker's Blog | Reflections of a working writer and reader. Haruki Murakami: How a Japanese writer conquered the world. 17 October 2011Last updated at 12:26 By Stephanie Hegarty BBC World Service At midnight in London, and the same time next week in America, bookshops will open their doors to sell Haruki Murakami's latest novel to eager fans.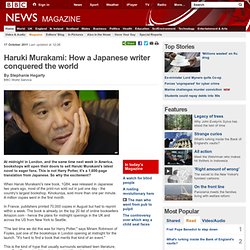 This is not Harry Potter, it's a 1,600-page translation from Japanese. So why the excitement?
Haruki Murakami: 'I took a gamble and survived' 1Q84, Haruki Murakami's new novel, is 1,000 pages long and is published in three volumes.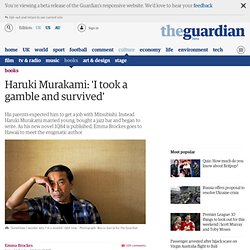 It took the author three years to write and it is possible, on an 11-hour flight from New York to Honolulu, to get through about half of it. Murakami looks crestfallen on receipt of this news – the ratio of writing to reading time is never very encouraging for a writer – and yet if anything tests a novel's power to transport, it is reading it at the back of economy on a full flight over long haul.
---