LITERATURE
Martin Amis described his close friend Hitchens as an auto-contrarian and a 'bit of a scallywag'. Photograph: Shannon Stapleton/Reuters "Little Keith" called him a suffering auto-contrarian and likened him to Houdini; Graydon Carter said he was a "bit of a scallywag" but an editor's dream; and the doctor who treated him for the cancer of the oesophagus that killed him said he was a "pioneer at the frontier".
Christopher Hitchens' wit and warmth remembered as New York pays tribute | Books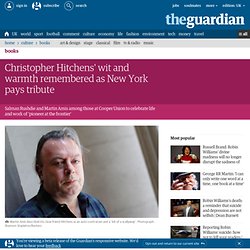 I first met Toni Morrison about 15 years ago, to talk about her seventh novel, Paradise , an encounter I remember largely for its number of terrifying pauses. Morrison, in her late 60s then, was at the height of her powers, a Nobel laureate with a famously low tolerance for journalists and critics, and a personal style as distinctive as her prose: silver dreadlocks, sharp, unwavering eye contact and a manner of speech – when she did speak – that, to her annoyance, people were wont to call poetry. Now she sits in her publisher's office in New York, the city laid out beneath her.
Toni Morrison: 'I want to feel what I feel. Even if it's not happiness' | Books
Literally, the wrong use of the word | Politics
The Today programme on Radio 4 had a fascinating debate on the misuse of the word literally.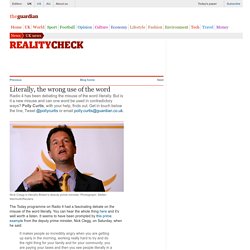 Reading Czesław Miłosz in Bangladesh | Alone in Babel: On Books and the Publication Industry
3 February 2012 Last updated at 13:42 ET
A Point of View: Mourning the loss of the written word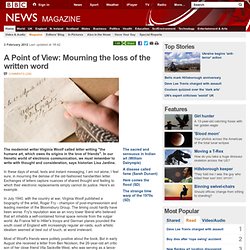 These two postmodern stories from 1993 have remained under my radar until now. Will Self writes irony and challenges gender roles along the way with immaculately timed black humour. The lead character in each of these stories wakes up to something of an anatomical surprise.
Will Self's book, Cock and Bull | John Baker's Blog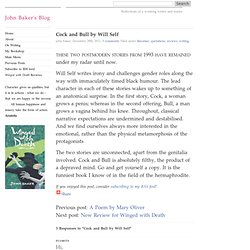 Winged with Death - a review | John Baker's Blog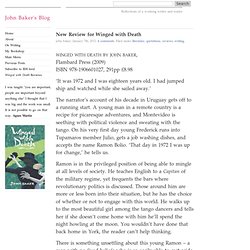 Winged With Death by John Baker, Flambard Press (2009) ISBN 978-1906601027, 291pp £8.98 'It was 1972 and I was eighteen years old.
The French women who defied the Nazis and survived Auschwitz
Back in 1950, Alfred Hitchcock hired Oscar-nominated screenwriter Raymond Chandler to pen the script for his next project, Strangers on a Train — a thriller based on Patricia Highsmith 's novel of the same name. Almost immediately their ideas clashed, and before long their working relationship deteriorated beyond repair, apparently culminating with Chandler remarking loudly one day, within earshot of the director, "Look at the fat bastard trying to get out of his car!" Soon Chandler was let go; his drafts largely discarded.
A flabby mass of clichés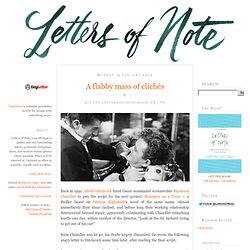 Christopher Hitchens quotes: the writer's most memorable bons mots | Books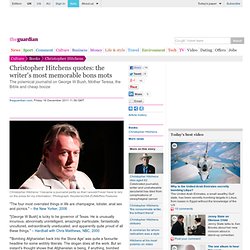 Christopher Hitchens: 'I became a journalist partly so that I wouldn't ever have to rely on the press for my information.' Photograph: KeystoneUSA-ZUMA/Rex Features
John Baker's Blog | Reflections of a working writer and reader
This Side of the Pond | Beckett's Reading List
Samuel Beckett's letters are full of the literary names he encountered through his work: authors he wrote about (Proust), poets he translated (Apollinaire), peers he monitored (Ionesco), and predecessors he admired (Joyce). But, in his non-professional life, Beckett was also an avid reader, discussing his favorite reads (and not-so-favorite) with many of his correspondents. What did Beckett read in his spare time?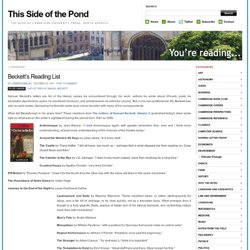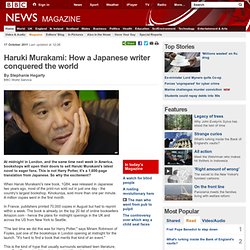 Haruki Murakami: How a Japanese writer conquered the world
17 October 2011 Last updated at 11:26 GMT By Stephanie Hegarty BBC World Service
1Q84, Haruki Murakami 's new novel, is 1,000 pages long and is published in three volumes. It took the author three years to write and it is possible, on an 11-hour flight from New York to Honolulu, to get through about half of it. Murakami looks crestfallen on receipt of this news – the ratio of writing to reading time is never very encouraging for a writer – and yet if anything tests a novel's power to transport, it is reading it at the back of economy on a full flight over long haul.
Haruki Murakami: 'I took a gamble and survived' | Books