Tomfreedom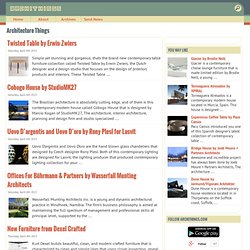 Twisted Table by Erwin Zwiers Saturday, April 6th 2013 Simple yet stunning and gorgeous, thats the brand new contemporary table furniture collection called Twisted Table by Erwin Zwiers, the Dutch designer and a design studio that focuses on the design of (interior) products and interiors.
This article by Marc Kristal from Metropolis Magazine, originally titled "Digital Details," looks at the work of NRI, a New York company that is leading the way when it comes to 3D Printing (or rather, additive manufacturing) – finding that there is a craft in these machine-produced models after all. First things first: The term "3-D printing" is a misnomer according to Arthur Young-Spivey, the digital fabrication specialist at NRI—a 116-year-old, New York–headquartered supplier of reprographic services to architects and their tradespeople. "The correct term is 'additive manufacturing,'" he explains. "People call it 3-D printing because it enables you to wrap your head around it, but in some ways it's confusing." Young-Spivey has a point, as the process by which a digital file is converted into an object isn't "printing" in the commonly understood sense of applying pigment on a substrate. With 3-D printing, he says, "Instead of using paper, you're printing with powder or plastics.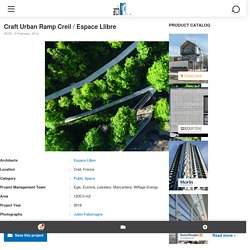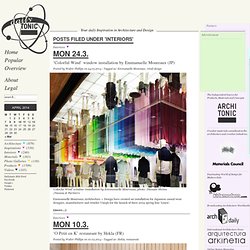 Posts filed under 'Interiors' 'Colorful Wind' window installation by Emmanuelle Moureaux, photo: Daisuke Shima /Nacasa & Partners Emmanuelle Moureaux Architecture + Design have created an installation for Japanese casual wear designer, manufacturer and retailer Uniqlo for the launch of their 2014 spring line 'Linen'.
Interiors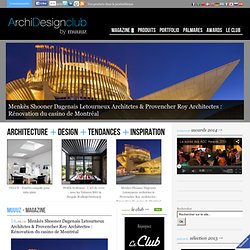 Etalé sur 4 ans, la rénovation et le réaménagement du Casino de Montréal a été confié aux agences Menkès Shooner Dagenais Letourneux Architctes & Provencher Roy Architectes. Le Casino, installé dans l'emblématique ancien pavillon de la France de l'Exposition universelle de 1967, manquait d'unité thématique et devait réorganiser de façon globale l'ensemble des circulations et de résoudre du même coup certains problèmes fonctionnels.
More than 400 invited guests attended the opening event of The Art Hunter in Sydney on Tuesday night. The Art Hunter launch is a collaboration between The Cool Hunter and Jaguar, and the opening night was also the Australian debut of the spectacular Jaguar C-X17 concept car. To present The Art Hunter, we engaged our dream team of collaborators, led by the incomparable Natalie Longeon and Peter Pengly from The Artistry (they designed and executed our Summer Lovers Rotate store as well), to transform a 500 m2 warehouse in Alexandria into a genuinely exciting, temporary three-week art exhibition experience. The Art Hunter is not a white-walled space where you quietly walk past pieces of art. Instead, it is an eclectic and vibrant environment where every wall is a different color (by our paint sponsor Taubmans), where there is no natural light and where the work of more than 40 artists, curated by us, is not only on display but also for sale.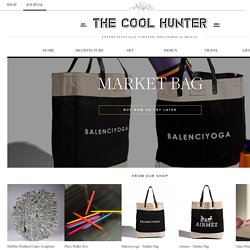 We've selected 20 business and marketing ideas that we believe will provide entrepreneurs with plenty of opportunities in 2011. We hope that you'll find these concepts as inspiring as we do, and that you'll be able to apply them to your own company, brand or work in the coming year! 1. Pop-up 'MedCottage' enables senior care at home As the massive baby-boomer generation enters its senior years, a strain on long-term care facilities seems inevitable. Aiming to offer an alternative mode of senior care, Virginia-based N2Care has come up with the MedCottage, a pop-up, medically equipped suite that families can use on their property to care for seniors at home.
Top 20 business ideas & opportunities for 2011 - Springwise