Tomfreedom
ArchiThings.Com - Architecture – Real Estate – Construction – Home Improvement. ArchDaily | Broadcasting Architecture Worldwide. Interiors. Posts filed under 'Interiors' 'Colorful Wind' window installation by Emmanuelle Moureaux, photo: Daisuke Shima /Nacasa & Partners Emmanuelle Moureaux Architecture + Design have created an installation for Japanese casual wear designer, manufacturer and retailer Uniqlo for the launch of their 2014 spring line 'Linen'.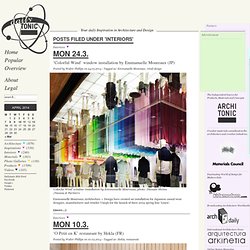 Fluctuat : actu, chroniques et dossiers. Fubiz™ Muuuz - Webzine Architecture & Design. Welcome. w3sh : Lifestyle magazine. Design, fashion, gadgets, art, tendan. Dezeen architecture and design magazine. Top 20 business ideas & opportunities for 2011 - Springwise. We've selected 20 business and marketing ideas that we believe will provide entrepreneurs with plenty of opportunities in 2011.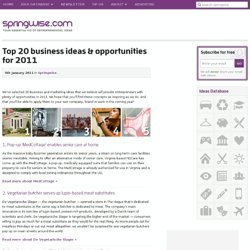 We hope that you'll find these concepts as inspiring as we do, and that you'll be able to apply them to your own company, brand or work in the coming year! 1. Pop-up 'MedCottage' enables senior care at home As the massive baby-boomer generation enters its senior years, a strain on long-term care facilities seems inevitable. Aiming to offer an alternative mode of senior care, Virginia-based N2Care has come up with the MedCottage, a pop-up, medically equipped suite that families can use on their property to care for seniors at home.
TrendsNow - Future Trends Magazine.
Vidéos Pearltrees
Démarrer.
---