Advertising
40 Handpicked Free Fonts For Graphic Designers | TutorialChip
I know everybody and their brother does logo roundups so you're probably sick of them, but I don't believe I've ever done one and there is a particularly impressive brand of logo design that I wanted to point out. Today we'll look at 50 logos that are the result of going beyond the typical thought process and injecting a little wit and hidden symbolism into the design process. What Makes a Logo Clever? To explain what I mean by "clever" logo design, let's take a look at a typical logo, (i.e. one that isn't clever).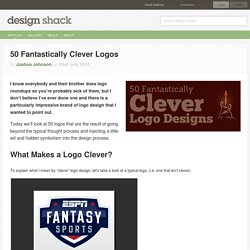 A great way to gain exposure for your product or service is to advertise at bus stops. People have to wait until the bus arrives and do not have too much to do besides waiting. But also drivers and pedestrians get attracted by bus stop advertisements. This month I have selected the most creative bus stop advertisements that make you look twice! View all bus stop advertisements after the jump.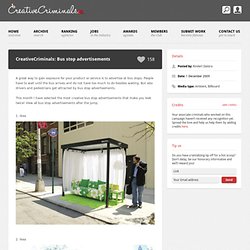 Creative bus stop advertisements | Creative Criminals
Today, let's take a closer look at magazine advertising. You can consider it as more focused, therefore more expensive, alternative to newspaper advertising. Magazine advertising not only allows you to reach highly targeted audiences, as you can choose magazines that specializes in topics of interest to your audience but also tends to have a higher reader involvement which means that more attention is being paid to your advertisement. Also, you shouldn't forget to make use of a better print quality, which is more suitable when advertising premium products. Finally, magazines have a much longer life compared to newspapers which are usually thrown away the same day they are bought. However, long lead times means you have to make plans weeks or months in advance.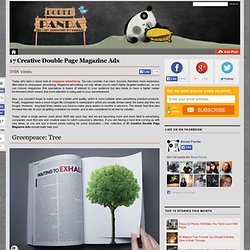 21 Creative Double Page Magazine Ads
Creative Ideas for Modern Business Card Design&|&Kreative Loop - StumbleUpon