Twitter
Twitter Adder – Professional Twitter Marketing Tools – Automatic Twitter Software – Automate Twitter Posts, Auto Twitter Follow, Automate Unfollow, Mass Tweets, Twitter Search, more .. 5 Ways Businesses Blow it on Twitter. For businesses both large and small, Twitter is a very strange beast.
Nothing in the history of advertising and public relations has been quite like Twitter and, even as social networking is becoming a better-understood field for business promotion, Twitter stands apart for many reasons. So as businesses stumble onto Twitter, many are using the new medium to find innovative ways to fall on their face. Though not every business or personal brand has been making a mess of Twitter, many have probably done more to hurt their image than help it. On that note, here's five ways I've observed businesses blowing it on Twitter and how to avoid it yourself. 27 Twitter Tools To Help You Find And Manage Followers. This is my first Twitter related article, I am using Twitter a lot lately so it is really unforgivable not even have one article related to Twitter.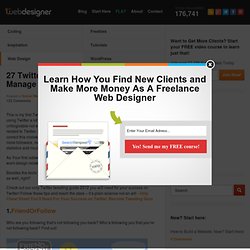 Now I am starting to correct this mistake and here comes list with 27 Twitter tools, which will help You find more followers, manage them, find who doesn't follow You back, who stops following, statistics and much, much more. As Your first added follower on this list You should follow @1stwebdesigner, if You want design related tweet links. Besides the tools you definitely could use guide how to tweet and build your followers as well, right? Check out our only Twitter tweeting guide 2012 you will need for your success on Twitter! COMMS corner: The Complete Twitter 'Follow / Unfollow' Toolkit. 7 Insanely Useful Ways to Search Twitter for Marketing. In Social Media, Twitter is Just the Start « SocialSteve's Blog. Twitter is all the rage, but it does not represent a winning social media strategy.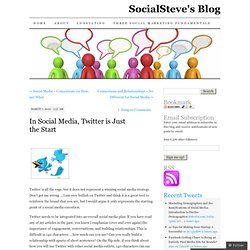 Don't get me wrong … I am very bullish on Twitter and think it is a great tool to reinforce the brand that you are, but I would argue it only represents the starting point of a social media execution. Twitter needs to be integrated into an overall social media plan. If you have read any of my articles in the past, you know I emphasize (over and over again) the importance of engagement, conversations, and building relationships. This is difficult in 140 characters … how much can you say? 50 of the Best Twitter Guides, Stats, Tips and Tools of 2010 (So Far) While a dwindling number of business executives still dismiss Twitter as a waste of time, recent research suggests it is one of the most valuable social networks for business.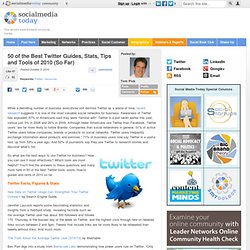 Awareness of Twitter has exploded; 87% of Americans said they were "familiar with" Twitter in a poll taken earlier this year, versus just 5% in 2008 and 26% in 2009. Although fewer Americans use Twitter than Facebook, Twitter users "are far more likely to follow Brands/ Companies than social networkers in general. 51% of active Twitter users follow companies, brands or products on social networks. Twitter users frequently exchange information about products and services." 71% of business users now say Twitter is a useful tool, up from 59% a year ago. And 52% of journalists say they use Twitter to research stories and discover what's hot. @antoninleonard. Tips for Searching Twitalyzer To get the most from Twitalyzer's search functionality consider the following: You can prefix your search with "@" to indicate a Twitter user You can prefix your search with "#" to indicate a Twitter hashtag.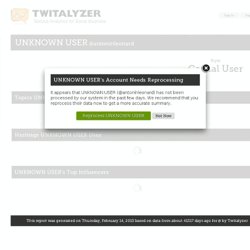 Status. 10 Simple Ideas for Setting-Up a New Twitter Business Account. 5 Twitter Tools for Analyzing Your Tweets. Envato Studio is an online marketplace for freelance services focused on design and web-development.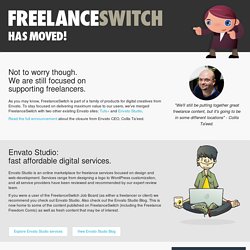 Services range from designing a logo to WordPress customization, and all service providers have been reviewed and recommended by our expert review team. If you were a user of the FreelanceSwitch Job Board (as either a freelancer or client) we recommend you check out Envato Studio. Also check out the Envato Studio Blog. This is now home to some of the content published on FreelanceSwitch (including the Freelance Freedom Comic) as well as fresh content that may be of interest.
---