MoreNordoMedia
Akdoide. 13 Idea-Starters for Stuck Bloggers. The dreaded "writer's block" afflicts us all from time to time.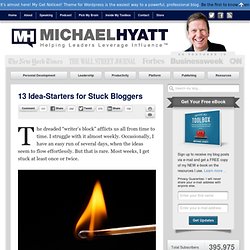 I struggle with it almost weekly. Occasionally, I have an easy run of several days, when the ideas seem to flow effortlessly. But that is rare. The Social Media Publishing Schedule Every Marketer Needs [Template] We have a 9 a.m. meeting?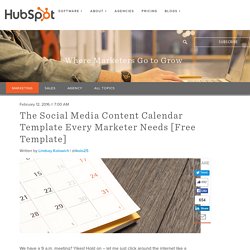 Hold on, let me just click around the internet like a maniac trying to find something for the morning tweet. Who schedules 9 a.m. meetings, anyway? I digress. The point of that little scenario is that things come up. We have meetings. How To Write Your Social Media Plan in 8 Steps. Maybe it's because you're in marketing.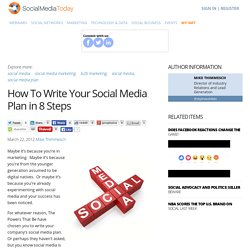 Maybe it's because you're from the younger generation assumed to be digital natives. Or maybe it's because you're already experimenting with social media and your success has been noticed. For whatever reason, The Powers That Be have chosen you to write your company's social media plan. 5 Key Tips for a Successful Social Media Content Strategy. Frank Marquardt is director of Content Strategy at The Barbarian Group, a digital services and creation company with an almost radical devotion to Internet culture and nice red Swedish Fish™.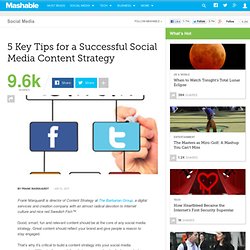 Good, smart, fun and relevant content should be at the core of any social media strategy. Great content should reflect your brand and give people a reason to stay engaged. That's why it's critical to build a content strategy into your social media campaign. 4 Steps to Integrate Social Media in Your Company. In the past 6 months Dado Van Peteghem and I have interviewed 25 companies on whether or not they integrate social media in their marketing and company processes.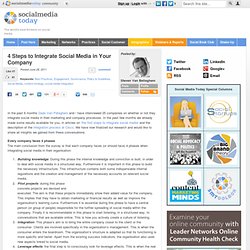 In the past few months we already made some results available for you, in articles on 'the first steps to integrate social media' and the description of the integration process at Cisco. We have now finalized our research and would like to share all insights we gained from these conversations. Every company faces 4 phasesThe main conclusion from the survey is that each company faces (or should face) 4 phases when integrating social media in their organisation: Building knowledge: During this phase the internal knowledge and conviction is built, in order to deal with social media in a structured way.
How to Build and Operate a Content Marketing Machine. Content Marketing is hot.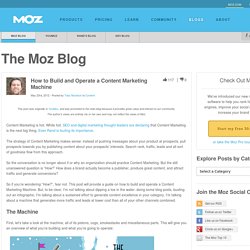 White hot. SEO and digital marketing thought leaders are declaring that Content Marketing is the next big thing. 10+ Best Apps For Your Dropbox. If you've been using Dropbox for a while, you may not have noticed that a whole ecosystem of applications have been built up to use the service.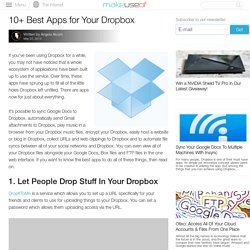 Over time, these apps have sprung up to fill all of the little holes Dropbox left unfilled. There are apps now for just about everything. It's possible to sync Google Docs to Dropbox, automatically send Gmail attachments to Dropbox, play music in a browser from your Dropbox music files, encrypt your Dropbox, easily host a website or blog in Dropbox, collect URLs and web clippings to Dropbox and to automate file syncs between all of your social networks and Dropbox. What Is the Point of: #Hashtags? Whenever a new Web trend comes along, there are people who ask, "What is the point of this?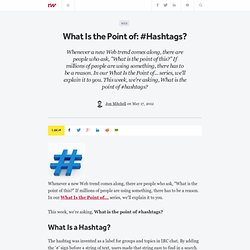 " If millions of people are using something, there has to be a reason. In our What Is the Point of... series, we'll explain it to you. This week, we're asking, What is the point of #hashtags? Editing Text On Your iPad? Speed Up The Process With SwipeSelection. More than a few people have been clamoring for Daniel Hooper's thoughtful iPad text editing concept to become a real thing since his video started making the rounds, and now all you mobile text editors have reason to celebrate.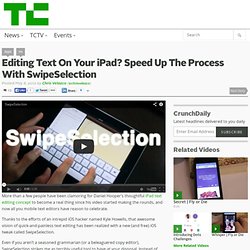 Thanks to the efforts of an intrepid iOS hacker named Kyle Howells, that awesome vision of quick-and-painless text editing has been realized with a new (and free) iOS tweak called SwipeSelection. Even if you aren't a seasoned grammarian (or a beleaguered copy editor), SwipeSelection strikes me as terribly useful tool to have at your disposal. How Often Should I Charge My Gadget's Battery to Prolong Its Lifespan? But most phones now don't use lithium ion, but lithium polymer, which I've heard prefers to be fully charged.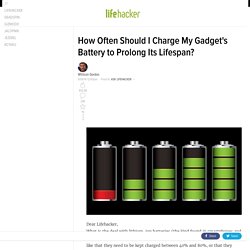 How about some relevant info? You sure? Just checked mine, it's lithium ion. And it's an HTC Thunderbolt, fairly recent phone. The 10 Commandments Of Social Media Content Marketing. It was in 2002 that the first social media network emerged with the funky name of Friendster, which to my ear sort of sounds like a hybrid cross between a "Friend" and a "Hamster". As with any good idea it was quickly copied ("ripped off" is another phrase that comes to mind) and MySpace was created and launched in 2003. This social media network dominated for the next 5 years as teenagers became addicted to the interactive and multimedia rich, self publishing web platform that allowed them to share music, content and information with their friends.
Creating original content remains top issue for B2B marketers | Industry News - KoMarketing Associates. Written by Industry News on January 6th, 2012 According to MarketingProfs and the Content Marketing Insitute's recent study, titled B2B Content Marketing: 2012 Benchmarks, Budgets, and Trends, about one-quarter of marketers' annual budgets is spent on content marketing. In addition, nine out of 10 B2B marketers are currently using content marketing to grow their businesses, while around 60 percent plan to increase spend in the area over the next 12 months. Starting in Social Media? The 5 P's of a Perfect Program. So you are new in this Social Media revolution. You may or may not have been an innovator or early adapter – or perhaps you are still cautiously implementing Social Media into your business. This article isn't going to convince you WHY to use Social Media, but rather teach you HOW to best use it.
What Does It Take To Be a Social Strategist? [INFOGRAPHIC] Looking to break into a social media career? Here's pretty much everything you need to know about the job and the people who do it every day. Nearly 80% of corporations use social media, so there's plenty of opportunity for aspiring strategists — especially as the other 20% get on board.
Step 1: Get a Twitter account — 100% of social media managers represented in the survey have one, and you have to know the lay of the land if you're going to innovate and build a brand on said land. Social Media Management Tools. The 5 Models Of Content Curation. March 31, 2011 | 36 Comments Curation has always been an underrated form of creation.
The Getty Center in Los Angeles is one of the most frequently visited museums in America – and started as a private art collection from one man (J. Paul Getty) who had a passion for art. Aside from a few well known examples like this one, however, the term curation has rarely been used outside of the world of art … until now. One of the hottest trends in social media right now is content curation – thanks in no small part to the leading efforts of several thought leaders actively promoting the idea.
How to Become a Freelance Hard-Ass and Get Paid What You're Worth. 10 Social Media Tips for Bloggers. 11 Social Media Marketing Lessons from the Old Spice Campaign. Social Media Strategy for Nonprofits and Businesses. Which Blogging Platform Should I Use? Help. How to use Pinterest.
Starting Your First Blog? 29 Tips, Tutorials and Resources for New Bloggers. 5 Tips To Make Your Blog Posts More Social. 26 Tips for Writing Great Blog Posts. 7 (More) Reasons Why No One is Reading Your Blog. Email Notifications Getting Out of Control? Zap 'em With This Handy Tool. SOPA.
---