Web Administration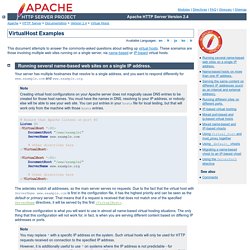 This document attempts to answer the commonly-asked questions about setting up virtual hosts. These scenarios are those involving multiple web sites running on a single server, via name-based or IP-based virtual hosts. Running several name-based web sites on a single IP address. Your server has a single IP address, and multiple aliases (CNAMES) point to this machine in DNS.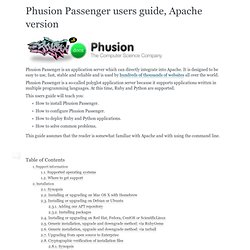 Phusion Passenger users guide
2.1. Synopsis Because Phusion Passenger is designed to run in a wide variety of operating systems and configurations, there are multiple ways to install it. Most users — especially first-time users — will prefer OS-specific installation instructions.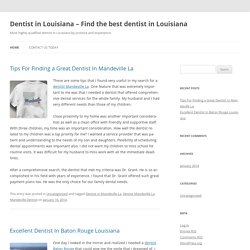 These are some tips that I found very useful in my search for a dentist Mandeville La. One feature that was extremely important to me was that I needed a dentist that offered comprehensive dental services for the whole family. My husband and I had very different needs than those of my children. Close proximity to my home was another important consideration as well as a clean office with friendly and supportive staff.
How to install configure Apache, MySQL and PHP on Mac OS X 10.7 Lion | OS X 10.6 Snow Leopard
Posted by smoe on 04/18/2009 One of the great things about using Passenger rather than Mongrel is the simple Apache configuration that gets you started. You don't need to manage ports, decide how many processes an application is going to need, or edit a second configuration file for the application servers. At this time passenger 2.2.0 is the newest release, and it works great with mod_rewrite and every other Apache module I use. This is the virtual host entry from the Phusion Passenger Apache Users Guide
My Apache Configuration for Ruby on Rails with Passenger