Webdesign
Get flash to fully experience Pearltrees
As you probably know, cross-browser testing is an important part of any developer's routine. As the number of browsers increase, and they certainly have in recent years, the need for automatic tools that can assist us in the process becomes ever greater. In this article, we present an overview of different cross-browser testing applications and services. Surely, you are already familiar with some of them, and you may have even stumbled across another overview article, but this one takes a different approach. This is not just a list of available tools, but rather a comprehensive analysis based on my experience with each of them. For the impatient among you, a summary table is at the end summarizing key metrics and unique features for each service.
Tell us where you're using Spritely If you start using spritely to sprite up your web pages, please send us a URL via our contact form , and we'll pop some examples up here. You must be happy for us to publish your site on this page, but we reserve the right not to! If we really like your site we might tell people about it via our twitter page . Some sites using Spritely:
This post is a continuation of my previous post Bootstrap tutorial for blog design and already explained about fluid page design. Today let's look at the form HTML elements that comes with Twitter Bootstrap toolkit using these I made a rich registration/sign up form with validation in 10 mins . Bootstrap helps you to produce clean and highly usable applications, it will reduce larger engineering efforts and gives uniform application solutions.
A responsive WordPress theme is a theme build to adapt with the purpose of giving tablet and smartphone users a great experience.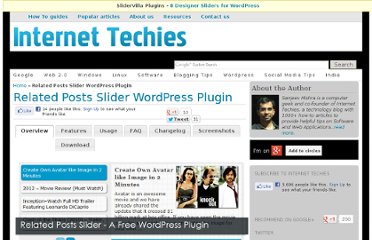 List of related posts at the end of content or in sidebar let the visitors explorer similar posts from the blog. What if those listed posts appear in a slideshow with image from those posts.