Tmurphy
Screencasts
Help. Friends. S Miscellany. INTERVIEWER You talk about exploring and experimenting under prevailing conditions.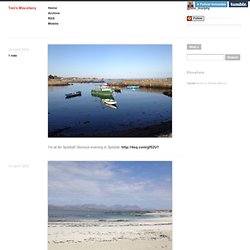 If the studios are in control, will they let that happen? SOUTHERN They're relenting all the time, because they're losing ground. Television is the thing, you see—its existence puts movies in a position of having to do something different. Tmurphy's posterous - Home. 10 lessons from a failed startup. A year and a half ago, my co-founder Dev Nag and I started an internet TV network for games called PlayCafe.
Our ambitious plan was to run highly interactive game shows in which everyone was a contestant. Players could watch our hosts, answer questions, win prizes, form teams, call our studio, live chat, and run their own games. It was a huge undertaking, but despite great engagement — users watched for 87 minutes per session and 40 percent returned within a week — we didn't reach enough users. Web Strategy by Jeremiah Owyang | Social Media, Web Marketing. Slideshare: Embed or Download this ReportThe Collaborative Economy Movement Changes Business This report offers critical insight for big brands who are grappling with the emergence of the Collaborative Economy, and for the startups that are driving this growth.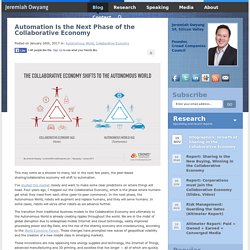 For those new to the term, the collaborative economy is a powerful, if nascent, movement in which people are getting the things from each other, it's a combination of trends like the sharing economy, maker movement, and co-innovation. That means that people go to a site like LendingClub to get funding for their new project, rather than a traditional bank. Or, they may go to a site like Etsy or Shapeways to get custom made goods, or go to a site like eBay to buy pre-owned goods, instead of buying new products from retailers. In each of these cases, the crowd is self-empowered to get what they need from each other.
---
tmurphy Apr 13 2010

Thank @tomferemski for bringing me back here.

PED Nov 18 2009

Hi Tom, welcome on Pearltrees and congratulations for your first pearls! I look forward to read your first pearltrees! If you want more information about Pearltrees, dont hesitate to leave a note on my account or click on the « help » tab. Enjoy your discovery! PED
---