Blogs
waldorf school
Jobethsteel's Posterous - Home
ELT Professionals Around The World Group News
Does Size (in a classroom) Matter?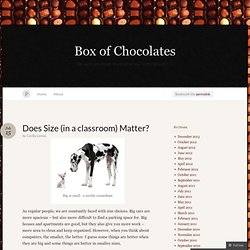 Big or small - a sizable conundrum As regular people, we are constantly faced with size choices. Big cars are more spacious – but also more difficult to find a parking space for. Big houses and apartments are good, but they also give you more work – more area to clean and keep organized. However, when you think about computers, the smaller, the better.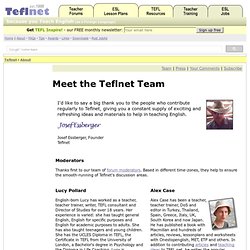 Lucy Pollard English-born Lucy has worked as a teacher, teacher trainer, writer, TEFL consultant and Director of Studies for over 18 years. Her experience is varied: she has taught general English, English for specific purposes and English for academic purposes to adults. She has also taught teenagers and young children. She has the UCLES Diploma in TEFL, the Certificate in TEFL from the University of London, a Bachelor's degree in Psychology and the Diploma in Life Coaching. Lucy is passionate about teaching and learning and has shared her knowledge with students, teachers and colleagues for many years.
tastic
M is for..... Image by @gemmateaches at eltpics Multi-tasking.
The 'm' word. | macappella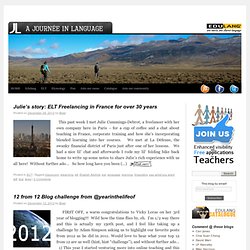 Julie's story: ELT Freelancing in France for over 30 years This past week I met Julie Cummings-Debrot, a freelancer with her own company here in Paris – for a cup of coffee and a chat about teaching in France, corporate training and how she's incorporating blended learning into her courses. We met at La Défense, the swanky financial district of Paris just after one of her lessons. We had a nice lil' chat and afterwards I rode my lil' folding bike back home to write up some notes to share Julie's rich experience with us all here!
Blog | 4C in ELT | community * collaborate * connect * contribute
So, on to part two of me talking about myself, thanks to Carol Goodey, Shelly Terrell, Divya Madhavan and Michael Stout. In this instalment, I'll be answering questions she posed to the 11 bloggers she tagged, asking some of my enthusiastic PLN to participate and asking them 11 questions. Are you one of them?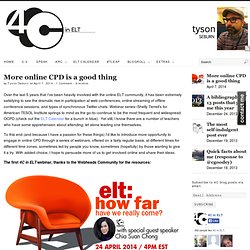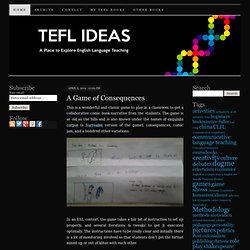 teflideas.com
A Myopic Mode of Teaching Here's a post I recently put on WeChat (a sort of Chinese Facebook) bemoaning this common preference. "I frequently meet people who say they want 1-to-1 English classes for their child, or for themselves. But why?? One-on-one classes are NOT the best way to learn.1.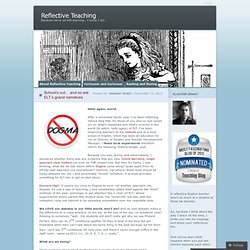 Hello again, world. After a somewhat hectic year, I've been reflecting (hence blog title, for those of you who've just joined us) on what's happened and what's evolved in the world (to which, hello again) of ELT. I've been observing teachers at my institute and at a local school of English, which has been an education for me as Director of Studies and Teacher Development Manager – these local experiences therefore inform the following, feature-length, post. Because you see, during said observations, I wondered whether there was any evidence that any new, Grand Narrative, single-approach style method can ever be THE chosen one.
Reflective Teaching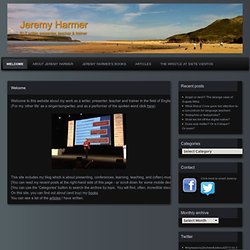 Welcome Welcome to this website about my work as a writer, presenter, teacher and trainer in the field of English Language Teaching (ELT). (For my 'other life' as a singer/songwriter, and as a performer of the spoken word click here) This site includes my blog which is about presenting, conferences, learning, teaching, and (often) music – and anything else related, however tenuously, to the world of training and teaching. [You can read my recent posts at the right-hand side of this page - or scroll down for some mobile devices] [You can use the 'Categories' button to search the archive by topic.
Jeremy Harmer's Blog
So this is it, folks: I'm closing down the blog for the summer… and for good. After 3 years, 150 posts, nearly 7000 comments, and innumerable hits, visits, views, however you want to describe and count them, plus one e-book spin-off (but no sign of a second edition of An A-Z!), I think it's time to call it a day. But that's not the end of blogging. In the autumn (or in the spring, if that's your orientation) I'll be resuming with an altogether different theme and format, provisionally titled The (De-)Fossilization Diaries.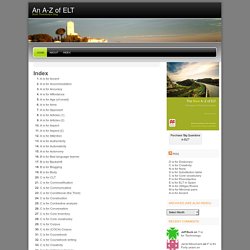 Teacher Training Videos now on YOUTUBE You can now find many of the most popular teacher training videos on YOUTUBE. TeacherTrainingVideos is now on youTube Teacher Training Videos wins third award for online training courses Russell's 'WEBWATCHER' articles in the English Language Teaching Professional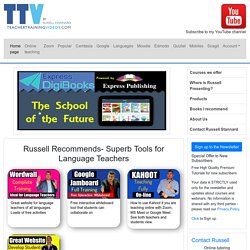 i 2 Votes Like the cuckoo heralding spring, the first #ELTChat of the year has arrived. As many teachers around the world are getting ready for their first lessons with new classes, this chat aimed at sharing ideas and strategies for starting things off on the right foot. Taking part in a lively conversation were …. ….. and apologies to anyone who's been missed out!
A correspondent writes, having heard my talk on the language of Dickens at this week's Hay Festival, to ask if it is to be published. No. My Hay talks – I've been doing them for about fifteen years now - are always very informal, and they don't 'translate' well into published prose. (Hay does sometimes make recordings of events available in their Archive .) But a blog post is the perfect medium to enable the data of the talk to be made available, so this and the subsequent two posts will do just that. For my first theme, I talked about the lexical items which have their first recorded use in Dickens, as established by the .
This is a guest post from Samantha Morra of EdTechTeacher.org, an advertiser on Free Technology for Teachers. Many of us using technology in the classroom find ourselves caught between two worlds: Apple and Google. Apple's iPad is a fantastic tool in the classroom which provides students with various opportunities to consume, create, and communicate. Similar to a swiss-army knife, it is only limited by how we choose to use it. At the same time, Google apps provide students with cloud-based services, from search to document creation and sharing, that work seamlessly on iPad.