Blogs
Waldorf school. Jobethsteel's Posterous - Home. Does Size (in a classroom) Matter? Big or small - a sizable conundrum As regular people, we are constantly faced with size choices.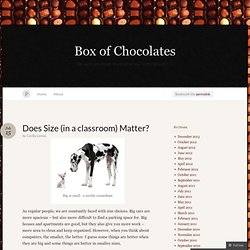 Big cars are more spacious – but also more difficult to find a parking space for. Big houses and apartments are good, but they also give you more work – more area to clean and keep organized. However, when you think about computers, the smaller, the better. Tastic. Lucy Pollard English-born Lucy has worked as a teacher, teacher trainer, writer, TEFL consultant and Director of Studies for over 18 years.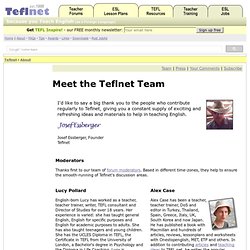 Her experience is varied: she has taught general English, English for specific purposes and English for academic purposes to adults. She has also taught teenagers and young children. She has the UCLES Diploma in TEFL, the Certificate in TEFL from the University of London, a Bachelor's degree in Psychology and the Diploma in Life Coaching. Lucy is passionate about teaching and learning and has shared her knowledge with students, teachers and colleagues for many years. The 'm' word. | macappella. M is for.....
Image by @gemmateaches at eltpics Multi-tasking.
Challenges
A journée in language. Julie's story: ELT Freelancing in France for over 30 years This past week I met Julie Cummings-Debrot, a freelancer with her own company here in Paris – for a cup of coffee and a chat about teaching in France, corporate training and how she's incorporating blended learning into her courses.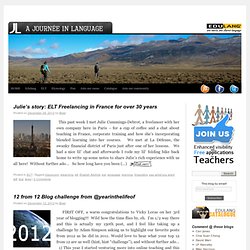 We met at La Défense, the swanky financial district of Paris just after one of her lessons. We had a nice lil' chat and afterwards I rode my lil' folding bike back home to write up some notes to share Julie's rich experience with us all here! Blog | 4C in ELT | community * collaborate * connect * contribute. So, on to part two of me talking about myself, thanks to Carol Goodey, Shelly Terrell, Divya Madhavan and Michael Stout.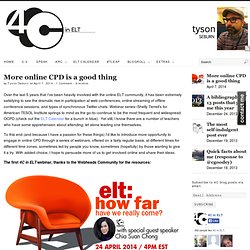 In this instalment, I'll be answering questions she posed to the 11 bloggers she tagged, asking some of my enthusiastic PLN to participate and asking them 11 questions. Are you one of them? Teflideas.com. Reflective Teaching. Jeremy Harmer's Blog. An A-Z of ELT. TEFL training videos.
Teflgeek. DCblog. Free Technology for Teachers.
---