Costuming
Katherine's Dress Site: Reproduction Historic Fashion and Fashion History
How to Add Ears by ~clearkid
Base Fleece Hat Tutorial --> [link]If you want to wire your ears so they stand up: [link]Part 2 of making a Typhlosion hat and the patterns for this: [link] So this is actually part one of three tutorials centered on this new Typhlosion hat I made, and now you can learn to make it too. Don't feel limited to ears either, this can be used for anything that you want to put through a seam! Bonus tip: If you're using a sewing machine, use your reverse function to sew back first and then forward. This will keep your stitches from unraveling.
Lace Patterns
16th Century Costume Links
Demonstrations>Pattern Development>Basic Pattern Drafting Does the thought of making your own patterns leave you in a cold sweat? Does the thought of making patterns for other people make your hands clammy? Are you working from a pattern that you've gotten to fit by changing it over a number of failed tries and mistakes in good fabric?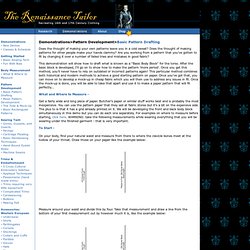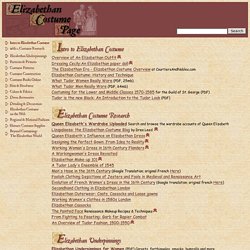 Overview of An Elizabethan Outfit Dressing Cecily:An Elizabethan paper doll The Elizabethan Era - Elizabethan Costume Overview at CourtiersAndNobles.com Elizabethan Costume: History and Technique What Tudor Women Really Wore (PDF, 25mb) What Tudor Men Really Wore (PDF, 64mb) Costuming for the Lower and Middle Classes 1570-1585 for the Guild of St. George (PDF) Tudor is the new Black: An Introduction to the Tudor Look (PDF) Queen Elizabeth's Wardrobe Uploaded Search and browse the wardrobe accounts of Queen Elizabeth Lizapalooza: the Elizabethan Costume Blog by Drea Leed Queen Elizabeth's Influence on Elizabethan Dress
For 1578, the look for most women should approximate that shown on the right, which is taken from the "Wedding at Bermondsey". Most women should wear a smock with a high collar and ruffles (low status) or seperate, starched ruffs (middling to high) at neck and wrists. Over this is worn a long skirt pleated to a waistband, with a contrast coloured bodice over the top. The bodice is front laced, with a point at centre front.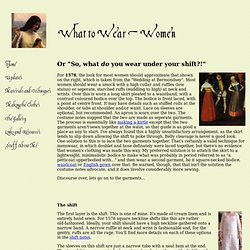 The Tudor Costume Page
Sewing Central Historical Patterns - The Renaissance
A Gable Hood