Lifehacking
You only get one chance to be a beginner
When you're new to something, all the pain is out in the open.
30 Days to a More Organized Life
How Beginner's Luck Works and How You Can Reproduce It Anytime (Even If You're Not a Beginner)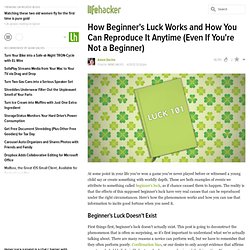 From my experience, I would boil it all down to one thing: don't overthink it. As Nike's tagline says, just do it. I play a bunch of videogames and I am always amazed how easily I manage to tackle difficult challenges on my first try, but when I try to recreate it later on, it becomes a frustrating exercise because I overthink it.