Lifehacking
You only get one chance to be a beginner
When you're new to something, all the pain is out in the open. You stub your toes until they're black and blue on things the veterans have all learned to avoid. This is both a curse and a gift. A curse because it's hard to make progress when you're constantly getting snagged. Frustration is high and defeat feels scarily near.
30 Days to a More Organized Life
How Beginner's Luck Works and How You Can Reproduce It Anytime (Even If You're Not a Beginner)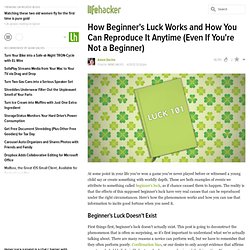 From my experience, I would boil it all down to one thing: don't overthink it. As Nike's tagline says, just do it. I play a bunch of videogames and I am always amazed how easily I manage to tackle difficult challenges on my first try, but when I try to recreate it later on, it becomes a frustrating exercise because I overthink it.