Lifehacking
You only get one chance to be a beginner
When you're new to something, all the pain is out in the open.
30 Days to a More Organized Life
How Beginner's Luck Works and How You Can Reproduce It Anytime (Even If You're Not a Beginner)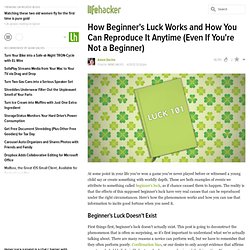 At some point in your life you've won a game you've never played before or witnessed a young child say or create something with worldly depth. These are both examples of events we attribute to something called beginner's luck , as if chance caused them to happen. The reality is that the effects of this supposed beginner's luck have very real causes that can be reproduced under the right circumstances.