Just Plain Yummy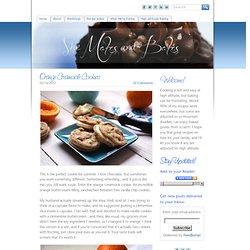 Orange Creamsicle Cookies - She Makes and Bakes
This is the perfect cookie for summer. I love chocolate, but sometimes you want something different. Something refreshing...and if you're like me, you still want sugar. Enter the orange creamsicle cookie. An incredible orange buttercream filling sandwiched between two vanilla chip cookies. My husband actually dreamed up this idea.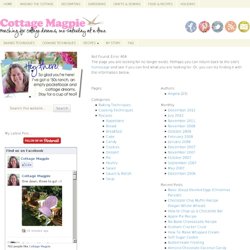 No-Bake Cheesecake Recipe
Cottage Magpie Food & Recipes
cheesy-tortilla-soup-002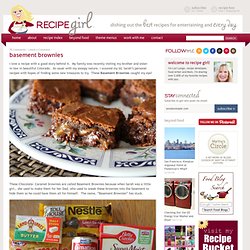 Basement Brownies
Basement Brownies I love a recipe with a good story behind it. My family was recently visiting my brother and sister-in-law in beautiful Colorado. As usual with my snoopy nature, I scoured my SIL Sarah's personal recipes with hopes of finding some new treasures to try. These Basement Brownies caught my eye!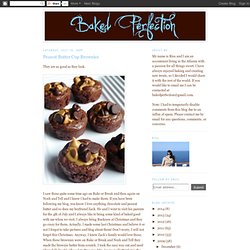 They are as good as they look. I saw these quite some time ago on Bake or Break and then again on Nosh and Tell and I knew I had to make them. If you have been following my blog, you know I love anything chocolate and peanut butter and so does my boyfriend Zack.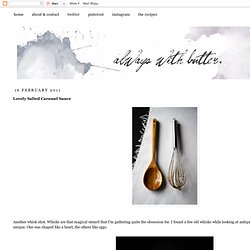 Lovely Salted Caramel Sauce
Another whisk shot. Whisks are that magical utensil that I'm gathering quite the obsession for. I found a few old whisks while looking at antique shops on a trip and they were all so unique. One was shaped like a heart, the others like eggs. So you probably assume that this recipe is to accompany some kind of cake, ice cream or something like that? Well that would have probably been a good idea but we just ate it straight out of the jar.
baked kueh keria (sweet potato doughnuts)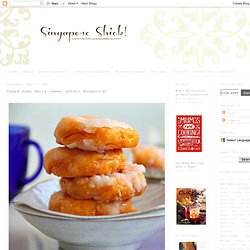 Hi All! I hope you haven't forgotten that my book launch is coming up next Saturday, 21 July from 2pm - 3 pm at Kinokuniya, Level 3 Takashimaya Shopping Centre . My official e-vite finally came last week and it's so adorable, I just have to show you what it looks like : I'm really looking forward to it and hope to meet as many of you there, as possible. The event is open to all and if you'd like to take a friend or two or three along, go right ahead! Now let's get on with today's post.....
Recipe Archives
I may just have a new favorite dessert. Oatmeal cookie dough streusel crust with a thick creamy and a luscious lemon filling, sprinkled with more oatmeal cookie dough streusel on top…. so dang good! My good friend Caitlin requested I make a fresh lemon-y dessert to ring in the warmer weather a few weeks.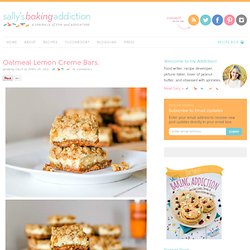 oatmeal lemon creme bars.
With the 4th of July holiday approaching, here is the perfect take along dessert (keep chilled) for picnics or backyard bbq's. The creamy texture of the mascarpone and the tangy lemon are a great combo. Shortbread base Ingredients: 1 1/2 sticks unsalted butter 2 cups flour 1/2 cup brown sugar 1/2 tsp. kosher salt Method:
Studio 5 - Lemon Mascarpone Cheesecake Bars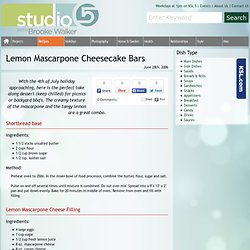 Avocado Fries
Stephen Fries| On The Food Scene
February 7 2013 text potato chip cookies and Mascarpone Limoncello Cheesecake
Pina Colada Smoothie
Diet Tips: Food Flips for Weight Loss
Real Women of Philadelphia
Dark Chocolate Cupcakes with Peanut Butter Frosting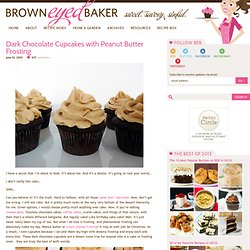 I have a secret that I'm about to blab. It's about me. And it's a doozie. It's going to rock your world…
Fruit-Filled Puff Pastry Donuts with Lemon Glaze There seems to be this sudden craze for homemade donuts in the food blogging world, and it's got me craving them BAD. But since I don't have any of the fancy equipment needed to bake or fry them properly, I wanted to try to make these decadent little breakfast treats in a different way.
Fruit-Filled Puff Pastry Donuts with Lemon Glaze
Lemony Lemon Brownies - Becky Charms
As a child, I went through phases of short-lived obsessions. In my early years of elementary school, I spent every minute of free time playing with my sister and our neighbor, inventing fantastical adventures for our dolls. Most days we played outside, building for them houses out of rocks and leaves while they sat a safe distance away, sheltered from our dirty messes. The next morning, after a night of rainfall, our handiwork palaces would be washed away.
Buttermilk Pound Cake « Bittersweet Baker
Matcha is what I used to make the marbled part of this bundt cake green. Matcha is a fine powdered green tea used in Japanese tea ceremonies or, in this case used to help me celebrate an Irish Holiday. (Happy St. Pat's everyone!) Makes sense to me. I mean it is green.
Bundt, what's matcha?
Baked Brie Dip Recipe
Cream cheese monkey bread
Chocolate Chip Banana Cake
Orange Creamsicle Cupcakes
Little B Cooks: Chronicles from a Vermont foodie
Baked Lime Tortilla Chips
Lemon Beignets with Strawberry Sauce
Soft Pretzels
Lemon Olive Oil Cake
Portuguese Orange-Olive Oil Cake Recipe
Recipe Index
One Very Moist Banana Cake…
Lemon Cupcakes with Fresh Raspberry Curd Filling for a Memorial Day Virtual Potluck Party
Praline Peach Cobbler Classic Southern Peach Cobbler Recipe | Friends Drift Inn Recipes Gardening & Hot Flashes | Recipes Gardening and Hot Flashes
Pancakes and Pinterest
Lady Behind the Curtain » What's For Dessert?
IMG_1762-1152
Apple Fritters |
The Sisters Cafe
Lemons, Lemons, Lemons…Lemon Pudding Cake! | A Foodie Affair
100 Ways to Use an Apple
American Mini Fried Apple Pies
How to Make Chocolate Covered Bananas
Senorita Banana Fritters | Cook (almost) Anything at Least Once
Salisbury Steak with Caramelized Onion Gravy
Vanilla Buttermilk Pound Cake with Lemon Glaze
New York Times Chocolate Chip Cookies Recipe
Stirring the Pot - Lemon Fudge
Orange Sweet Rolls
MALAYSIAN SWEET POTATO DOUGHNUTS ~ KUIH KERIA
Mantou 饅頭 (Chinese Steamed Buns)
Breakfast #33: Nutella Croissant French Toast
Lara Ferroni (Food Photographer & Writer, Seattle, Washintgon) » Blog Archive » Pumpkin Drop Doughnuts
Lemon Scented Pull-Apart Coffee Cake | The Whimsical Cupcake
Journey Kitchen: Masala Chai - Indian Spiced Milk Tea
Lime & ricotta baked doughnuts
Buona Fine e Buon Principio!
The Month of Bread: Perfect Pretzels
Raspberry Jam Bomboloni Recipe - Kate Neumann
Nutella: The World Needs You