Objetos y experiencias
Flying seed Level Primary Concept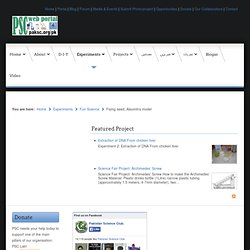 Flying seed, Alsomitra model
Ania and Naoise's Wind Turbine Experiment
Discovery Channel - Wind Powered Vehicle
Wind Powered Vehicle Comp. 1+1=3
lego wind power car mini 30 pcs nachapon100328.AVI
Wind powered robot
Arduino Solar Powered Robot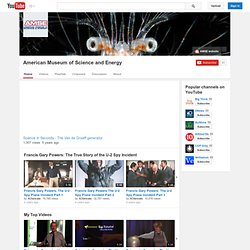 Welcome to YouTube! The location filter shows you popular videos from the selected country or region on lists like Most Viewed and in search results.To change your location filter, please use the links in the footer at the bottom of the page. Click "OK" to accept this setting, or click "Cancel" to set your location filter to "Worldwide". The location filter shows you popular videos from the selected country or region on lists like Most Viewed and in search results.
Canal de AMSEweb
Philip S. Miller Library
The Wind From Your Breath
Wind Power Generator Set ループウイング風力発電工作セット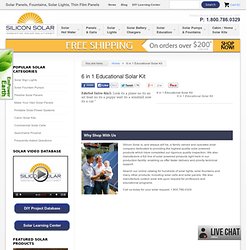 6 in 1 Educational Solar Kit
6 in 1 Educational Solar Kit EduSol Intro 6in1: Look its a plane no its an air boat no its a puppy wait its a windmill now its a car." Silicon Solar is, and always will be, a family owned and operated solar company dedicated to providing the highest quality solar powered products which have completed our rigorous quality inspection. We also manufacture a full line of solar powered products right here in our production facility; enabling us offer faster delivery and priority technical support. Search our online catalog for hundreds of solar lights, solar fountains and many other products, including solar cells and solar panels. We also manufacture custom solar kits upon request for professors and educational programs.
12 year old boy genius invents new type of solar
Our selection of educational solar kits makes it easy for kids and adults who are new to solar energy to learn about the basics (and more advanced techniques) of solar power in a safe, fun and rewarding way. Our educational solar kits range includes: Educational solar kits from Silicon Solar are great for:
Educational Solar Kits
Course Description: Participants in this wind power training workshop will learn design and install principles for residential wind systems that range from 10 to 70 feet in diameter and produce 1 to 100 kWh per day. The workshop will cover site analysis, system design, installation and safety issues, and hardware specification. Learn about the different available residential wind turbines, how they work, and the advantages and disadvantages of each. This wind energy training is worth 40 educational hours towards the NABCEP Small Wind Installer Certification and is ISPQ (Institute for Sustainable Power Quality) accredited. This course is based on standards set by NABCEP (North American Board of Certified Energy Practitioners). The standards, referred to as the Objectives and Task Analysis for a Professional Small Wind Energy System Installer can be accessed online at http://irecusa.org/wp-content/uploads/2011/03/2010_Small-Wind-Task-Analysis.pdf.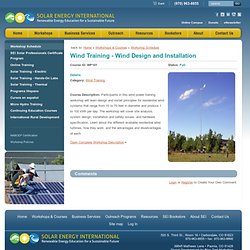 Wind Training - Wind Design & Installation - Solar Energy International
Kidwind Wind Turbine
EcoStyle Ltd | Renewable Energy Kits
The Mariah Project
The Wind Energy Experience Center The Wind Energy Experience Center is under construction. Check back here in early 2014 for up to date drawings and photos of the new exhibits. A VESTAS Model V47 Wind Turbine (completed), installation of a 1.2KW, 2.5KW and 10KW home size wind turbine, and Interior Wind Power Exhibits.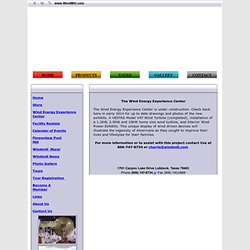 ESPEC makes rain and spray testing easier by offering a standard chamber capable of published and OEM proprietary test methods. The standardized design can be configured for the rain/spray tests you need, eliminating the guesswork in buying a chamber. The system is based on the JIS/SAE specification requirements, and can also accomplish individual automaker's tests, as well as electrical-enclosure tests. Our Design ESPEC's modular design allows you to add on additional features, depending on the number and type of tests required. One possible choice is to integrate the spray system with a regular temperature and humidity chamber to save money and floor space, while also creating an opportunity to simulate actual operating conditions your product may experience.
Applications | Automotive | Rain Simulation Chamber | ESPEC North America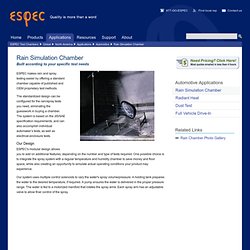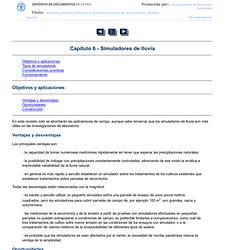 Capítulo 6 - Simuladores de lluvia
Objetivos y aplicaciones Tipos de simuladores Consideraciones practicas Funcionamiento Objetivos y aplicaciones Ventajas y desventajas Oportunidades Construcción En esta revisión sólo se abordarán las aplicaciones de campo, aunque cabe remarcar que los simuladores de lluvia son más útiles en las investigaciones de laboratorio. Ventajas y desventajas
Linterna que funciona con energía eólica
La energía eólica se aprovecha gracias a grandes turbinas que hoy día puedes encontrar instaladas en muchas partes del mundo, pero eso no quita que la misma tecnología no pueda aplicarse a pequeña escala. En este caso la escala es tan pequeña como un mini-rotor que más bien parece un pequeño ventilador. Puedes accionar sus aspas soplando directamente sobre él o bien aprovechar cualquier corriente de aire que tengas cerca. El movimiento de las aspas se convierte en electricidad que sirve para alimentar una linterna. Una buena idea para esas veces que vas de acampada o incluso para llevar en el coche y no tener que preocuparte de que las pilas que tengas a mano estén gastadas. Vía yanko