Arduino
Ar...
tutoriales manuales y ejercicios
Web Server DIY
From wiki http://en.wikipedia.org/wiki/Web_server In 1989 Tim Berners-Lee proposed a new project to his employer CERN , with the goal of easing the exchange of information between scientists by using a hypertext system. The project resulted in Berners-Lee writing two programs in 1990: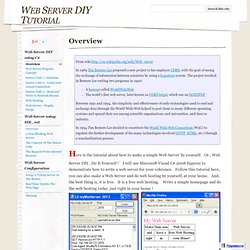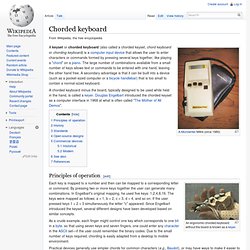 A keyset or chorded keyboard (also called a chorded keyset, chord keyboard or chording keyboard ) is a computer input device that allows the user to enter characters or commands formed by pressing several keys together, like playing a " chord " on a piano . The large number of combinations available from a small number of keys allows text or commands to be entered with one hand, leaving the other hand free. A secondary advantage is that it can be built into a device (such as a pocket-sized computer or a bicycle handlebar ) that is too small to contain a normal-sized keyboard. A chorded keyboard minus the board, typically designed to be used while held in the hand, is called a keyer . Douglas Engelbart introduced the chorded keyset as a computer interface in 1968 at what is often called " The Mother of All Demos ". [ edit ] Principles of operation
Chorded keyboard
Touch-Typing Keyboad Glove by ERGO-ELECTRONICS
El rey Arduino y yo
Or: how to turn this.. into this.. I was given a lovely glowing cube by the generous people at Linden Labs as a freebie at a job fair yesterday, and I decided that it was far too attractive to simply sit there on a shelf, pulsating forlornly until its batteries went flat. How about making it useful , while maintaining its visual appeal?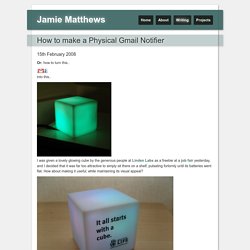 How to make a Physical Gmail Notifier - Blog - Jamie Matthews
Teuthis Home
ALL ART BURNS