Framework
Component
Seaside. Grizzly. Jcyclone. Project Darkstar Community - Technology Roadmap. Skip to Content Sun and Oracle Community Voices How to Buy Log In United States [Change] English Sun Labs is no longer providing active support for Project Darkstar and the projectdarkstar.com web site.
Activity is continuing in other forms and other venues such as the RedDwarf Server project that has been established as a community fork of Project Darkstar. Sun Labs would like to thank all those who have supported the activities of Project Darkstar over the years, and we extend our best wishes to community members for future success in all their endeavors. Wicket and scala. Apache Wicket is a cool web framework to develop with.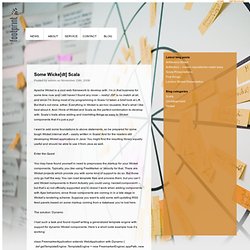 I'm in that business for some time now and I still haven't found any nicer – really! JSF is no match at all, and since I'm doing most of my programming in Scala I'd taken a brief look at Lift. But that's not mine, either. Everything in Wicket is ad-hoc reusable, that's what I like best about it. Quick-Start Tutorial — blueprint-css — GitHub. The Pylons Book. Blueprint: A CSS Framework | Spend your time innovating, not rep.
---