Sermons
[Note: This is the third article in an occasional series on apologetics and worldview analysis.] I've shaken my fist in anger at stalled cars, storm clouds, and incompetent meterologists. I've even, on one terrible day that included a dead alternator, a blaring blaring tornado-warning siren, and a horrifically wrong weather forecast, cursed all three at once.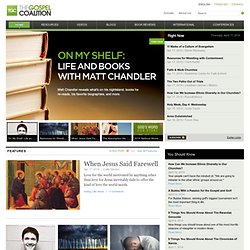 God Is Finishing His Mission Now Or browse by Scripture, Topic or Language. Blog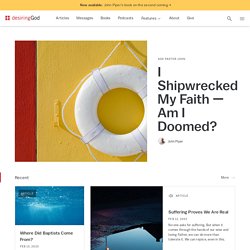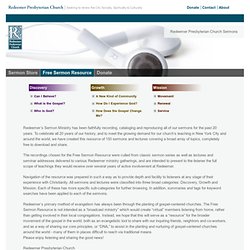 Redeemer's Sermon Ministry has been faithfully recording, cataloging and reproducing all of our sermons for the past 20 years. To celebrate all 20 years of our history, and to meet the growing demand for our church's teaching in New York City and around the world, we have created this resource of 150 sermons and lectures covering a broad array of topics, completely free to download and share. The recordings chosen for the Free Sermon Resource were culled from classic sermon series as well as lectures and seminar addresses delivered to various Redeemer ministry gatherings, and are intended to present to the listener the full scope of teachings they would receive over several years of active involvement at Redeemer. Navigation of the resource was prepared in such a way as to provide depth and facility to listeners at any stage of their experience with Christianity. All sermons and lectures were classified into three broad categories: Discovery, Growth and Mission.
Redeemer Free Sermon Resource | Redeemer Sermons
The Reformation in France and the Amyraldian Controversy The Reformation initially reached France through the influence of Luther's writings. Protestants there were severely persecuted, the culmination of which came in the infamous St. Bartholomew's Day massacre (August 23-24, 1572) when nearly 20,000 were martyred. The Edict of Nantes granted toleration in 1598. Our concern is with the man Moise Amyraut (also read as Moses Amyraldus) (1596-1664).
Enjoying God Ministries