Trivial nonesense
Ten Most Extreme Substances Known to Man | Ten Most. - StumbleUpon. Famous World Ideologies, as explained by references to Cows | Deshoda - StumbleUpon. How To&#8230; - StumbleUpon. Embed This Infographic <a href= ‎"><img src=" title="10 How Tos" alt="How To Infographic" border="0" class="nopin" /></a><br />Source: <a href=' title='Interesting Facts'><a href=' title='Interesting Facts'>Today I Found Out</a></a>
SCHOPENHAUERS 38 STRATAGEMS, OR 38 WAYS TO WIN AN ARGUMENT - StumbleUpon. Arthur Schopenhauer (1788-1860), was a brilliant German philosopher.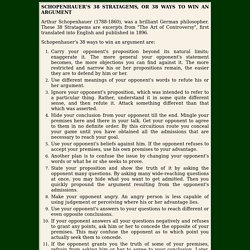 These 38 Stratagems are excerpts from "The Art of Controversy", first translated into English and published in 1896. Carry your opponent's proposition beyond its natural limits; exaggerate it. The more general your opponent's statement becomes, the more objections you can find against it. The more restricted and narrow his or her propositions remain, the easier they are to defend by him or her.
Use different meanings of your opponent's words to refute his or her argument.
---