Informationen
Das Labor für Entrepreneurship Einführung Erfolgreich zu gründen braucht gute und intensive Vorbereitung. Von anderen wirtschaftliche Initiative zu erwarten, Optimismus zu propagieren, Risikobereitschaft zu fordern, Fördermittel zu verteilen und ein paar eingängige Parolen zu formulieren reichen dafür jedenfalls nicht. Hier Beispiele dazu – aus einer Sendereihe des Deutschlandradio,- wie es Ihnen sonst gehen kann: Deutschlandfunk: Tolle Idee! Was daraus wurde? Das Labor für Entrepreneurship zeigt – in Interviews mit Gründern – Wege auf, wie wir systematisch aus einer Anfangsidee ausgereifte und in allen notwendigen, auch betriebswirtschaftlichen Aspekten durchdachte Business Modelle entwickeln können, wie unsere Praxisbeispiele beweisen.
the Art and Science of Entrepreneurship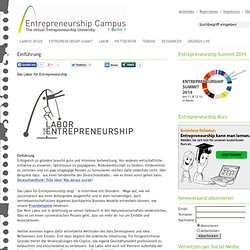 Deutscher Bundestag: Petitionen
Future Foundation - Home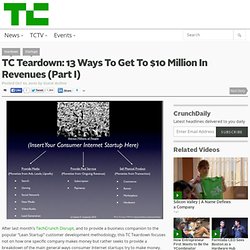 After last month's TechCrunch Disrupt, and to provide a business companion to the popular "Lean Startup" customer development methodology, this TC Teardown focuses not on how one specific company makes money but rather seeks to provide a breakdown of the main general ways consumer Internet startups try to make money. Consider it a guide to Internet business models.
TC Teardown: 13 Ways To Get To $10 Million In Revenues (Part I)
Deutsch | LEAP 2020
Pearltrees
Home