Informationen
Das Labor für Entrepreneurship Einführung Erfolgreich zu gründen braucht gute und intensive Vorbereitung. Von anderen wirtschaftliche Initiative zu erwarten, Optimismus zu propagieren, Risikobereitschaft zu fordern, Fördermittel zu verteilen und ein paar eingängige Parolen zu formulieren reichen dafür jedenfalls nicht. Hier Beispiele dazu – aus einer Sendereihe des Deutschlandradio,- wie es Ihnen sonst gehen kann: Deutschlandfunk: Tolle Idee! Was daraus wurde? Das Labor für Entrepreneurship zeigt – in Interviews mit Gründern – Wege auf, wie wir systematisch aus einer Anfangsidee ausgereifte und in allen notwendigen, auch betriebswirtschaftlichen Aspekten durchdachte Business Modelle entwickeln können, wie unsere Praxisbeispiele beweisen.
the Art and Science of Entrepreneurship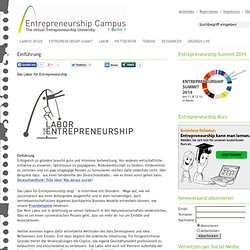 World Affairs 1914 Revisited? Joseph S. Nye 1914 Revisited? Deutscher Bundestag: Petitionen
Future Foundation - Home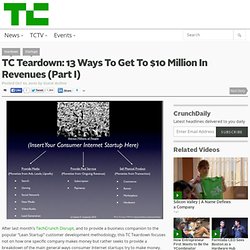 After last month's TechCrunch Disrupt, and to provide a business companion to the popular "Lean Startup" customer development methodology, this TC Teardown focuses not on how one specific company makes money but rather seeks to provide a breakdown of the main general ways consumer Internet startups try to make money. Consider it a guide to Internet business models. If you are currently thinking about or are in the process of developing your own consumer startup idea, these key business models will help give you a working knowledge of what it takes to get to $10 million in revenues (assuming you have a good product that the market wants). (Before you post in the comments about how unique your startup is, this list is not meant to capture every consumer business permutation. There are always going to be exceptions. And the breakaway companies like Zynga, Groupon, Facebook, Twitter, and Foursquare, to name just a few, inevitably introduce nuances to pre-existing models.)
TC Teardown: 13 Ways To Get To $10 Million In Revenues (Part I)
Deutsch | LEAP 2020
Pearltrees
TreeHugger The top ten posts of the week, all lit up with LEDs Keep warm with scarves in comfy tents or tiny apartments.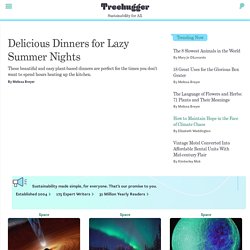 Rallye Dakar Malysz ist der Adler in den Anden Der frühere Skisprung-Star Adam Malysz kämpft bei der Rallye Dakar um Anerkennung als Motorsportler. Inzwischen hat sich der polnische Quereinsteiger einen Namen gemacht. Mehr Von Leonhard Kazda, Calama 2 Sport kompakt "Mehr als eine Million Prozent"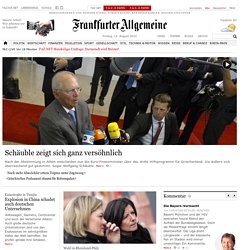 Die große kicker-Umfrage Jetzt sind Sie gefragt Ist den Bayern der Titel noch zu nehmen?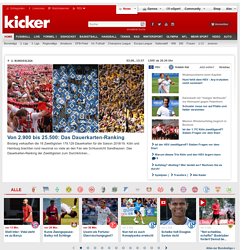 Home
Peña Nieto detiene al 'número dos' del Gobierno de Michoacán El exgobernador interino Jesús Reyna García está siendo investigado en la Fiscalía de México. Las autodefensas lo habían acusado de proteger al cartel de Los Caballeros Templarios Panamá inaugura el primer metro de Centroamérica