ART&IMAGES
BBC iPlayer - Listen live - BBC Radio 1. Carved Book Landscapes by Guy Laramee | Colossal - StumbleUpon. (click images for detail) For the better part of three decades multidisciplinary artist Guy Laramee has worked as a stage writer, director, composer, a fabricator of musical instruments, a singer, sculptor, painter and writer.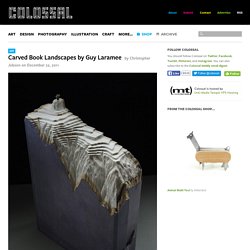 Among his sculptural works are two incredible series of carved book landscapes and structures entitled Biblios and The Great Wall, where the dense pages of old books are excavated to reveal serene mountains, plateaus, and ancient structures. Of these works he says: So I carve landscapes out of books and I paint Romantic landscapes. Mountains of disused knowledge return to what they really are: mountains. Bicycle chain sculptures. Feb 28, 2012 Bike chains are versatile, and not just because you can use them to propel a bicycle or as a wallet chain.
Roller bike chains—flexible, slinky, steel mechanisms—can also be used for fine art. South Korean Artist, Seo Young Deok, has fashioned an exhibit of bike chain figure sculptures, a few of which are shown below. Bubble. The drawings of Leonardo da Vinci - StumbleUpon.
---