Facebook
Chaîne de facebookmarketingtv. How-to-use-facebook-to-market-your-business.pdf (application/pdf Object) 32 Ways to Use Facebook for Business: Online Collaboration « Facebook's not just for keeping tabs on friends and filling out quizzes — it can also be used as a highly effective business tool.
It's great for marketing your products, landing gigs and connecting with your customers. Here are 32 ways to use Facebook in your business. Manage Your ProfileFill out your profile completely to earn trust.Establish a business account if you don't already have one.Stay out of trouble by reading the Facebook rules regarding business accounts.Install appropriate applications to integrate feeds from your blog and other social media accounts into your Facebook profile. 45% Employers use Facebook-Twitter to screen job candidates – Oregon Business News. Forty-five Percent of Employers Use Social Networking Sites to Research Job Candidates, CareerBuilder Survey FindsCareer Expert Provides DOs and DON'Ts for Job Seekers on Social Networking CHICAGO, August 19, 2009 – As social networking grows increasingly pervasive, more employers are utilizing these sites to screen potential employees.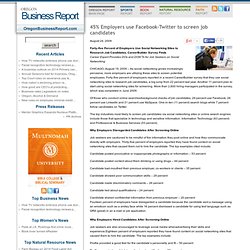 Forty-five percent of employers reported in a recent CareerBuilder survey that they use social networking sites to research job candidates, a big jump from 22 percent last year. Another 11 percent plan to start using social networking sites for screening. 11 Business Benefits of Using Facebook Applications - Marketing Jive - Discussions About Online Marketing & Organic Search. Yesterday, I posted an overview of Facebook that included links to a number of Facebook related resources.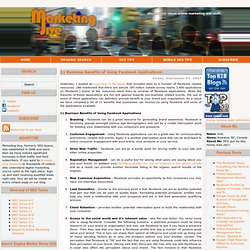 (We mentioned that there are almost 100 million installs across nearly 3,400 applications on Facebook.) Some of the resources were links to reviews of Facebook applications. While the majority of these applications are fun and geared towards non-business related events, the use of some of these applications can definitely provide benefit to your brand and organization. As a result we have compiled a list of 11 benefits that businesses can receive by using Facebook and some of the applications available. How To Use Facebook Places For Your Business. Want to have your own business show up within Facebook Places?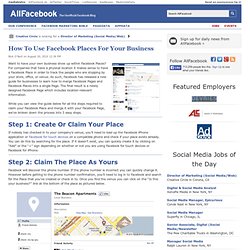 For companies that have a physical location it makes sense to have a Facebook Place in order to track the people who are stopping by your store, office, or venue. As such, Facebook has released a new guide for businesses to learn how to merge Facebook Pages and Facebook Places into a single Page. The final result is a newly designed Facebook Page which includes location-relevant information. Why Every Business Should Use Facebook. 30+ Apps for Doing Business on Facebook. Josh Peters is a freelance social media consultant from Salt Lake City, Utah.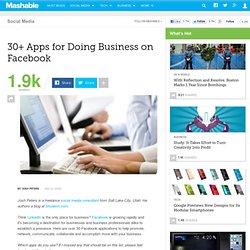 He authors a blog at Shuaism.com. Think LinkedIn is the only place for business? 50 Ideas on Using Twitter for Business. We really can't deny the fact that businesses are testing out Twitter as part of their steps into the social media landscape.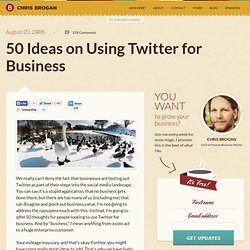 You can say it's a stupid application, that no business gets done there, but there are too many of us (including me) that can disagree and point out business value. I'm not going to address the naysayers much with this. Instead, I'm going to offer 50 thoughts for people looking to use Twitter for business. And by "business," I mean anything from a solo act to a huge enterprise customer. Your mileage may vary, and that's okay.
Should your business be on Facebook? - Mar. 18, 2008. Ask FSB Get small-business intelligence from the experts.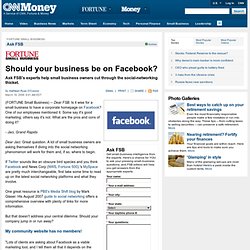 Here's a chance for YOU to ask your pressing small-business questions, and FSB editors will help you get answers from the appropriate experts. (FORTUNE Small Business) -- Dear FSB: Is it wise for a small business to have a corporate homepage on Facebook? How To Use Facebook To Market Your Business | Small Business Trends Radio | Small Business Advice. So, you haven't heard of Facebook yet?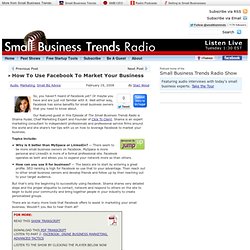 Or maybe you have and are just not familiar with it. Well either way, Facebook has some benefits for small business owners that you need to know about. Our featured guest in this Episode of The Small Business Trends Radio is Shama Hyder, Chief Marketing Expert and Founder of Click To Client. Shama is an expert marketing consultant to independent professionals and professional service firms around the world and she share's her tips with us on how to leverage Facebook to market your business.
Topics include: How do companies use facebook. Why Should Brick-and-Mortar Businesses Use Facebook? | Internet Entrepreneurship. Why you ask?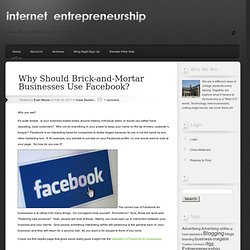 It's quite simple. Is your business based solely around making individual sales, or would you rather have repeating, loyal customers? Why not do everything in your power to keep your name on the tip of every customer's tongue? Facebook is an interesting beast for companies to tackle largely because its use is not the same as any other marketing tool. If, for example, you wanted to put ads on your Facebook profile, no one would want to look at your page. Facebook for Business: Opportunities and Limitations.
This is a guest post by Jesse Stay, author of FBML Essentials and blogger at staynalive.com.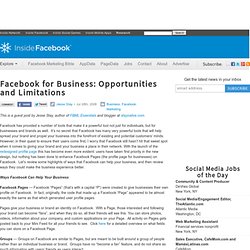 Facebook has provided a number of tools that make it a powerful tool not just for individuals, but for businesses and brands as well. It's no secret that Facebook has many very powerful tools that will help spread your brand and propel your business into the forefront of existing and potential customers' minds. However, in their quest to ensure their users come first, I worry that Facebook still hasn't hit that sweet spot when it comes to giving your brand and your business a place in their network. With the launch of the redesigned profile page this has become even more evident: users have taken first priority in the new design, but nothing has been done to enhance Facebook Pages (the profile page for businesses) on Facebook. 10 Things All Businesses Should Do to Market More Effectively on Facebook. Now that there are over 150 million active users on Facebook, more businesses large and small are actively reaching and engaging customers through Facebook and the Facebook Platform.
Global chains all the way down to the local pub are building social marketing strategies that leverage the strengths of Facebook to drive traffic to their pages and feet to their premises. However, many business owners are daunted by Facebook's sheer scale, and simply don't know where to start. Inside Facebook is here to help guide business owners and marketers through that process. Here are Inside Facebook's top 10 ways business owners can more effectively leverage Facebook to reach their target audience and drive more business. To dive deeper on the ways you can leverage Facebook for your marketing goals – including each of the tactics listed below – check out the Facebook Marketing Bible: The Guide to Marketing Your Brand, Company, Product, or Service Inside Facebook. Facebook for Business: Free How-To eBook. Editor's note: We've updated our How to Use Facebook for Business ebook for 2013! Click here to download it. More and more businesses are jumping into social media as the ROI of inbound marketing continues to show that online tools like Twitter and Facebook are an effective - and inexpensive - way to reach potential buyers.
How to Use Facebook for Business: Social Networking 101 for Entrepreneurs, Authors and Speakers. By Stephanie Chandler It seems the most popular question lately is, "Are you on Facebook?" Launched as a way for founder Mark Zuckerberg to connect with friends at Harvard, Facebook has exploded into the mainstream. How to Use Facebook for Business and Marketing. Welcome searchers! If you'd like help with your social media strategy, including Facebook and Twitter outreach, please feel free to contact me for social media consulting. As much as Facebook may not be kind to businesses, it's still a tremendously valuable business tool. After all, Facebook could eat the web.
More Facebook malware...
---