Por leer
Goya in The Metropolitan Museum of Art. ForewordPhilippe de Montebello Preface and Acknowledgments Goya in the Metropolitan: The Artist and His WorksColta Ives.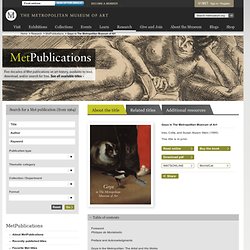 Cheapest cities in Europe in 2014 - 51 major European cities by price. Now in its fourth full year, the Europe Backpacker Index has been totally updated for 2014.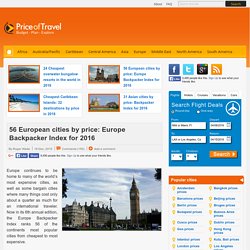 Primarily due to a few notable currency shifts, the rankings have changed on quite a few key cities so it's helpful to take a fresh look at each of them. The decline of the Turkish Lira has been dramatic to the point that Istanbul is back into the bargain category again, and everywhere else in that country is even cheaper. The other best bargains continue to be in the former East, with wonderful cities like Krakow, Budapest, and Prague still far cheaper than their counterparts a bit to the west. We've also added four new cities this year due to popular demand, bringing the total to 51. Travel and Work in Canada | Temporary Work Visa Application Step by Step Guide For Work Experience in Canada for Costa Ricans Ages 18-35 | International Experience Canada. As part of stage one of the application process to participate in the International Experience Canada (IEC) initiative, you will be required to submit a scanned or electronic copy of the following documents to IEC Kompass.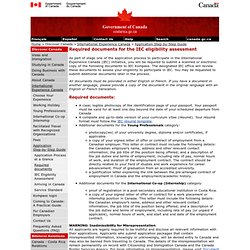 The designated IEC office will review these documents to assess your eligibility to participate in IEC. You may be requested to submit additional documents later in the process. All documents must be provided in either English or French. If you have a document in another language, please provide a copy of the document in the original language with an English or French translation. A clear, legible photocopy of the identification page of your passport. Cómo mudarse a otro país.
Mudarte a un nuevo país es emocionante al principio pero a menudo puede ser demasiado duro para ti (y para tu familia) emocionalmente y físicamente.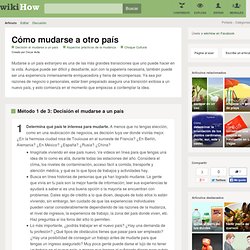 Prepárate para lo peor y está preparado para lo que sea.Tu experiencia es diferente a las de otros. Mientras es útil escuchar o leer las experiencias de otros, recuerda que su experiencia siempre va a ser única, así como la tuya, y no asumas que todo es bueno o terrible sólo porque ellos dicen. Haz tu propia investigación y mantente abierto.Te cuidado de que algunas personas te dirán cosas terribles porque odian otros países; esto puede ser común con los matrimonios. Ella o el puede querer quedarse en casa pero aún así ir, con una mente cerrada, y nunca dejar de odiarlo. Los amados muertos - H.P. Lovecraft. Es media noche.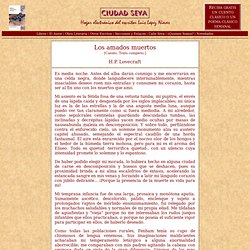 Antes del alba darán conmigo y me encerrarán en una celda negra, donde languideceré interminablemente, mientras insaciables deseos roen mis entrañas y consumen mi corazón, hasta ser al fin uno con los muertos que amo. Mi asiento es la fétida fosa de una vetusta tumba; mi pupitre, el envés de una lápida caída y desgastada por los siglos implacables; mi única luz es la de las estrellas y la de una angosta media luna, aunque puedo ver tan claramente como si fuera mediodía. A mi alrededor, como sepulcrales centinelas guardando descuidadas tumbas, las inclinadas y decrépitas lápidas yacen medio ocultas por masas de nauseabunda maleza en descomposición.
Y sobre todo, perfilándose contra el enfurecido cielo, un solemne monumento alza su austero capitel ahusado, semejando el espectral caudillo de una horda fantasmal. Vox Populi - Vox Populi. Paul Graham habla sobre la fotografía | Siéntate y observa... Es tan fácil que es ridículo.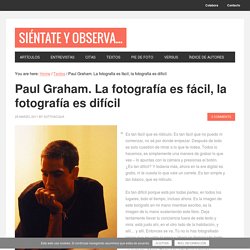 Es tan fácil que no puedo ni comenzar, no sé por donde empezar. Después de todo es solo cuestión de mirar a lo que te rodea. Todos lo hacemos, es simplemente una manera de grabar lo que ves – lo apuntas con la cámara y presionas el botón. ¿Es tan difícil? Y todavía más, ahora en la era digital es gratis, ni te cuesta lo que vale un carrete. Brian Hare and Vanessa Woods: The Secret Genius of Dogs. 10 Tips On Mastering the Art of Creating Killer Gigposters. My devotion to the gigposter is far from a secret (from both volumes of New Masters of Poster Design, to 1000 Indie Posters, and all the way back to Maximum Page Design) but it goes further than my writing.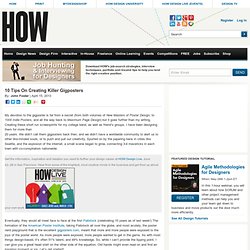 Creating these short run screenprints for my college band, as well as friend's groups, I have been designing them for more than 20 years. We didn't call them gigposters back then, and we didn't have a worldwide community to alert us to other like-minded souls, or to push and pull our creativity. Spurred on by the papering bans in cities like Seattle, and the explosion of the internet, a small scene began to grow, connecting 3-4 mavericks in each town with co-conspirators nationwide. Eventually, they would all meet face to face at the first Flatstock (celebrating 10 years as of last week!) Photography Prodigy Blurs Reality and Imagination: A Conversation with Taylor McCormick | PHOTOSHOP.COM BLOG. In only two years, Taylor McCormick has transformed herself from a budding photographer into a one-of-a-kind artist.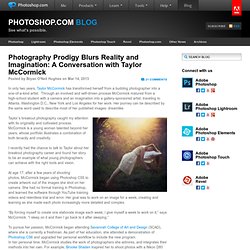 Through an involved and self-driven process McCormick matured from a high-school student with a camera and an imagination into a gallery-sponsored artist, traveling to Atlanta, Washington D.C., New York and Los Angeles for her work. Her journey can be described by the same word used to describe most of her published images: dreamlike. Galeria de Serigrafia a Color e Impresiones de Camisetas Costa Rica.
Fundación Telefónica Documenta. ¿Quién puede participar?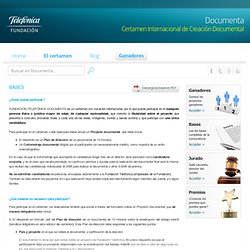 FUNDACIÓN TELEFÓNICA DOCUMENTA es un certamen con vocación internacional, por lo que puede participar en él cualquier persona física o jurídica mayor de edad, de cualquier nacionalidad, que ostente la titularidad sobre el proyecto que presenta a concurso (incluidas todas y cada una de las ideas, imágenes, sonido y banda sonora) y que participe con una única candidatura. Para participar en el certamen, cada realizador deber enviar un Proyecto documental, que debe incluir: El desarrollo de un Plan de dirección de un documental de 10 minutos.
Top Non-Destructive Photoshop Techniques. Advertisement The creative process is not a linear one.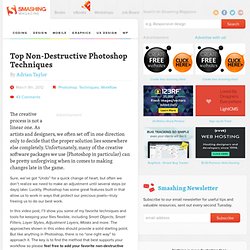 As artists and designers, we often set off in one direction only to decide that the proper solution lies somewhere else completely. Unfortunately, many of the creative software packages we use (Photoshop in particular) can be pretty unforgiving when in comes to making changes late in the game. Sure, we've got "Undo" for a quick change of heart, but often we don't realize we need to make an adjustment until several steps (or days) later. Luckily, Photoshop has some great features built in that allow us to work in ways that protect our precious pixels—truly freeing us to do our best work. 2013 T-Shirt Design Contest | Lollapalooza 2013 | August 2-4, 2013. How to destroy angels_: Welcome Oblivion | Advance. BECK - CHRIS MILK : HELLO AGAIN. Typefaces - Hydro74 | MCMLXXIV. Design Merch for Lollapalooza 2013! Contest: Design Official Merch for Lollapalooza 2013 Work: In celebration of the another year of Lollapalooza, aspiring graphic designers are invited to submit their best graphic artwork as inspired by the music, community, and art that sets Lollapalooza one step above other festivals.
Prizes: Now | Hello Again | Lincoln.com. Collections - Google Art Project. Convocatoria Abierta: Video Raymi, IV Muestra Internacional de Videoarte del Cusco. Blog  – Golden Ratio in logo designs. Golden Ratio in logo designs. Beauty and aesthetics have been praised from time immemorial. But little did people know that the most effective, perfectly balanced, and visually compelling creations followed the tid-bits of mathematics.
At least not until 1860, when German physicist and psychologist Gustav Theodor Fechner proposed that a simple ratio, an irrational number defines the balance in nature. The Golden Ratio! Fechner's experiment was simple: ten rectangles varying in their length-to-width ratios were placed in front of a subject, who was asked to select the most pleasing one. Grandes Maestros del Espíritu: William Blake. "I rest not from my great task! To open the Eternal Worlds, to open the immortal Eyes Of Man inwards into the Worlds of Thought, into Eternity." En lo personal me cuesta trabajo imaginar a una persona que reúna tantos y tan refinados talentos como William Blake.
Su exquisito diálogo con el lenguaje, su impecable lucidez para observar y enlazar realidades, su elegancia para venerar el pulso divino del hombre, la imaginación, y su virtuosismo como grabadista, hacen de Blake una figura tan radiante que puede iluminar (con la misma probabilidad que desquiciar) a aquel que profundiza en su obra. Midnight Soiree. Sign In - HYSTERICAL MINDS. New Album Releases. Home — Ten Dollar Fonts. Letras Anónimas… por Lucrecia Piedrahíta » 2010 » julio » 31.
Un proyecto de Lucrecia Piedrahita Objetos del Instante. La obra de Yosman Botero "Claro, a Uccello no le importaba nada la realidad de las cosas, sino su multiplicidad y lo infinito de las líneas; de modo que pintó campos azules y ciudades rojas y caballeros vestidos con armaduras negras en caballos de ébano que tienen llamas en la boca y lanzas dirigidas como rayos de luz hacia todos los puntos del cielo…Se limitaba a observar la dirección de las líneas, desde los cimientos hasta las cornisas, y la convergencia de las rectas en sus intersecciones, y cómo las bóvedas cerraban en sus claves, y la reducción en abanico de las vigas de techo que parecía unirse en la extremidad de las largas salas."
Marcel Schwob Conservar ideas para luego exponerlas forma parte del ejercicio intelectual y creativo. Startups, This Is How Design Works – by Wells Riley. News headlines: Batman Massacre: WHY and HOW and WHO. My Better Half Series. Los 101 pintores más importantes de la historia de la pintura occidental. Apreciación de las Artes. El Modernismo. Psicoterapia Gestalt. El Arte Del Color - Johannes Itten. Interacción del Color « Proyectacolor.
---