Comics
Comics Classified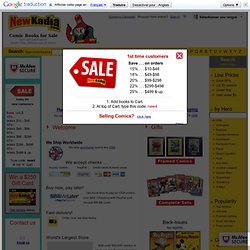 NewKadia
Welcome We accept checks ... money orders ... PayPal ... credit cards & debit cards. Buy now, pay later!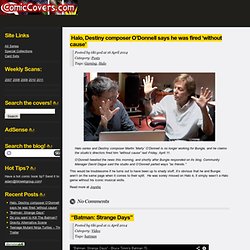 ComicCovers
75059 Sandcrawler™ Ages 14+ 3,296 Pieces US $299.99 – CA $349.99 – DE 299.99€ – UK £249.99 – DK 2,799.00 DKK *Euro pricing varies by country.
Lone Star Comics
Welcome to the Grand Comics Database! We're a nonprofit, Internet-based organization of international volunteers dedicated to building a database covering all printed comics throughout the world, and we're glad you're here! Give our search form a try, or take a look at the menu to the left to see how you can help us improve the site. New search ! We have added a new search capability. It searches the different data objects at the same time and allows easier combination of different search terms.
CPG
Comic Collector Live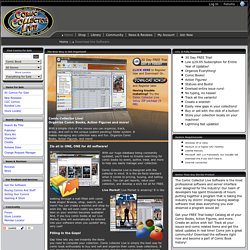 Its all in ONE, ONE for All software! With our huge database being constantly updated, you'll have no trouble searching for comic books by event, author, inker, and more to help you easily manage your collection. Comic Collector Live is designed with the collector in mind. It is the de-facto standard when it comes to pricing, buying, and selling comics. You can get reports, value your collection, and develop a wish list all for FREE. Live Market!
CBGXtra
Latest News F+W Announces Closure of Comics Buyer's Guide (24)F+W Media, Inc. announced today the closure of Comics Buyer's Guide effective with the March 2013 issue.Have you begun to fill in your 2013 calendar yet? (Beautiful Balloons, CBG #1699, March 2013) (0)Maggie shares suggestions for the year ahead in her Beautiful Balloons column from CBG #1699!Today's Comics Guide: January 8, 2013 (0)Wouldn't it have been interesting if an early Marvel/DC crossover would have pitted The Metal Master against The Metal Men? Probably would have been a short fight.Today's Comics Guide: January 7, 2013 (0)We suspect that January 7 was an auspicious date for launching comic strips as you'll learn in Today's Comics Guide!Today's Comics Guide: Weekend Edition — Jan. 5-6, 2013 (2)Kanjar Ro Ro Ro your boat into Today's Comics Guide!