DIY - Recyclage
Do-it-yourself decorating allows you to customize your home, apartment, condo, or room with DIY accents that transform your space on a budget without completing a full-scale remodel. Whether you're a beginner or an expert, we guide you… read more Do-it-yourself decorating allows you to customize your home, apartment, condo, or room with DIY accents that transform your space on a budget without completing a full-scale remodel. Whether you're a beginner or an expert, we guide you with instructions, tutorials, and step-by-step photos for indoor and outdoor projects and room makeovers. We have tips, techniques, and tools to get you started on paint projects, the easiest way to freshen up a space or decor item. But it doesn't stop there!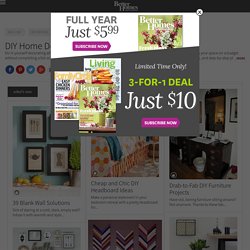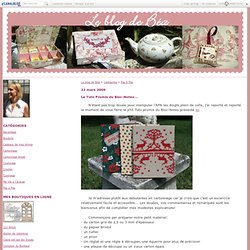 KaZeo - External
Le Tuto Promis du Bloc-Notes... N'étant pas trop douée pour manipuler l'APN les doigts plein de colle, j'ai reporté et reporté le moment de vous faire le p'tit Tuto promis du Bloc-Notes présenté ici. Je m'adresse plutôt aux débutantes en cartonnage car je crois que c'est un excercice relativement facile et accessible...
J'ai récupéré un panneau de sens interdit qui partait à la poubelle, car il était tout décoloré ( promis je n'ai rien piqué à la DDE). J'ai tout de suite eu envie de faire une table basse avec, pour mon fils de 16 ans (bientôt 17). L'idée plaisait bien à mon ado, donc au boulot ... J'ai découpé des disques dans des restes de contre plaqué, je me suis servi d'un plat et d'une grande assiette comme gabarit, j'ai aussi coupé un ronde de la taille de intérieur du panneau. Monsieur a coupé une poutre de 15/15 bien droit, un morceaux de 50 cm, il a vissé les disques à la poutre, attention il a mit de la graisse sur les vis pour éviter que ça ne les chauffe trop et que ça casse.
table basse - ma petite lili et compagnie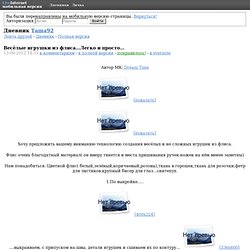 Мобильный LiveInternet Весёлые игрушки из флиса...Легко и просто... | Таша92 - Дневничок Таши Вист |
Автор МК: Dream Time [показать] [показать]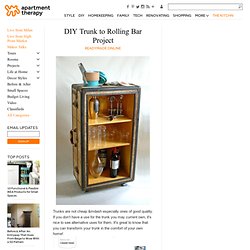 Trunks are not cheap &mdash especially ones of good quality. If you don't have a use for the trunk you may current own, it's nice to see alternative uses for them. It's great to know that you can transform your trunk in the comfort of your own home! We stumbled across this DIY on ReadyMade and we thought it was great. We've always wished we had an old trunk (we love them stacked up as a coffee or side table) and this is another reason why. You may not believe this, but transforming your own trunk into a rolling bar can happen in under 12 steps.
DIY Trunk to Rolling Bar Project ReadyMade Online
Bookcase Armoire - Martha Stewart DIY Decorating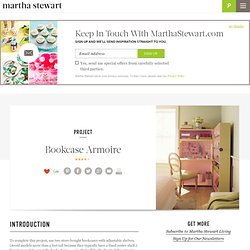 To complete this project, use two store-bought bookcases with adjustable shelves. (Avoid models more than 5 feet tall because they typically have a fixed center shelf.) You may want to cover the back of one -- one that will be the front of the armoire when closed -- with wallpaper or a higher-quality wood that's painted to match the project. Maximize your work space by using a deeper bookcase for the side that will serve as the desk. (We used a 36-by-60-by-16-inch bookcase for the desk side and a 36-by-60-by-12-inch bookcase for the other side.)
Transformer les ampoules en objets de décoration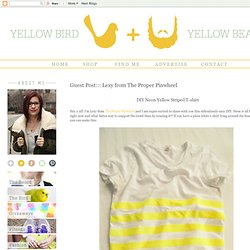 DIY Neon Yellow Striped T-shirt Hey y'all! I'm Lexy from The Proper Pinwheel and I am super excited to share with you this ridiculously easy DIY. Neon is all the rage right now and what better way to support the trend than by wearing it?!
Guest Post::: Lexy from The Proper Pinwheel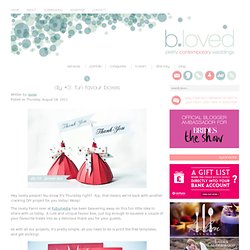 Written by: louise Posted on Thursday, August 18, 2011 Hey lovely people! You know it's Thursday right?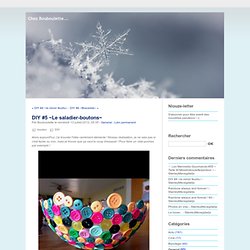 DIY #5 ~Le saladier-boutons~ - Toutes les nuances de Bouboulette
Alors aujourd'hui, j'ai trouvée l'idée carrément démente ! Niveau réalisation, je ne sais pas si c'est facile ou non, mais je trouve que ça vaut le coup d'essayer ! Pour faire un vide-poches par exemple !
par Rachel, le 11 mai 2012 Cadeau de fête des mères, projet d'art visuel sur le recyclage ou idée bricolage pour le printemps, les fleurs en bouteilles plastique offrent une multitude d'aspects pour permettre à chacun de laisser libre cours à sa créativité ! Voici deux des photos trouvées sur le Net qui m'ont inspirée ! (Liens vers les sites d'origine en cliquant sur les photos)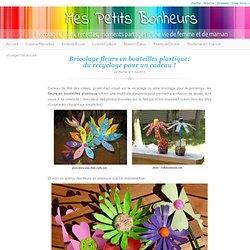 Bricolage fleurs en bouteilles plastique: du recyclage pour un cadeau !
Craftberry Bush: March of the penguins
It's Sunday afternoon and the snow is falling like powdered sugar over a sweet dessert. My kiddies noses are pressed against the window as they watch this magical confetti turn the ground into a soft white blanket. Their excitement fills the air as they quickly gather their snow gear and prepare to step into a winter wonderland. Sometimes creativity blossoms out of the blue; sometimes it takes a little more effort; but if you just let inspiration take you away, anything can happen, including something like this.......
Socktopus ∙ How To by Martha on Cut Out
Meet Bertie, their cousin! She has been very generous to agree to let me show you how she was made. You'll need: One men's sock (the bigger the better!)StuffingRibbon for the collarNeedle and threadButton for the nose (optional)Sewing machine (optional) So, here's what you're starting with.
Sock Dog Tutorial
Created by Jane from See Jane Blog . Edited by Amy Christie. Has the weather turned cold where you live?
Free_Project_Socks_Appeal.pdf
Animaux | 20/12/2010 Vous avez peut-être déjà un muret en pierres ou un tas de bois pour accueilir les petites bêtes dans votre jardin mais devenez un jardinier respectueux de la biodiversité en construisant des abris à insectes auxiliaires et pollinisateurs avec des matériaux de récupération du jardin. Matériaux de récupération pour construire un abri à insectes - F. Marre - Rustica
On retrouve souvent au fond des tiroirs de vieilles gommes inutilisées… Avec un peu d'imagination, un brin d'humour et de patience (+ un bon cutter) vous pourrez transformer ces objets destinés au rebut. Que diriez-vous de faire perdre leur sérieux aux lisses mannequins des magazines ? Nul besoin d'être très habile.
DYI : tuto tampons ou comment recycler vos vieilles gommes | La Pintade aixoise
★Les Tissus Colbert: Fabelhafte Geschenkidee mit Türchen N° 7 – ein DIY von Kelly
Stuffed Animal Toy Organizers
Wyldestone Cottage: How to Recycle Silverware into Art
DOUDOU CHAUSSETTE.
Macrame
DAV.I.SON.: Check Out My Moves!
Smilemonsters: Faux Silver Hearts
The pinkbird blog » Blog Archive » Fabriquer une lampe avec une boîte à thé
Défi café, défi relevé! - un rien, une idée, une bricole, Ma bricole !
Trucs à faire soi-même : des idées de décoration et loisirs créatifs à réaliser soi-même
Cadeau à faire soi-même : Un pèle mêle pour le bureau - Video sur Deco
Les récup'créations de Mentalo
techniques et matériel pour la gravure sur verre.
Tutorials with the family #1: How to make a thread rack Festotu
Cat Crib, A Hammock For Cats That Fits Inconspicuously Under a Chair
Détournement d'objets - Table palettes :… - Créer des patères… - Etiquettes pour un… - Un vase avec des… - Une frise avec des…
Clin d'oeil - La Machine à Bulles
Déco : Que faire avec des rouleaux de papier toilette ?