DIY - Recyclage
KaZeo - External
J'ai récupéré un panneau de sens interdit qui partait à la poubelle, car il était tout décoloré ( promis je n'ai rien piqué à la DDE). J'ai tout de suite eu envie de faire une table basse avec, pour mon fils de 16 ans (bientôt 17).
table basse - ma petite lili et compagnie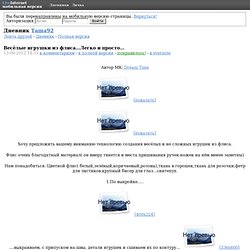 Мобильный LiveInternet Весёлые игрушки из флиса...Легко и просто... | Таша92 - Дневничок Таши Вист |
Автор МК: Dream Time [показать] Хочу предложить вашему вниманию технологию создания весёлых и не сложных игрушек из флиса.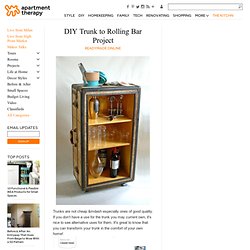 Trunks are not cheap — especially ones of good quality. If you don't have a use for the trunk you may current own, it's nice to see alternative uses for them.
DIY Trunk to Rolling Bar Project ReadyMade Online
Bookcase Armoire - Martha Stewart DIY Decorating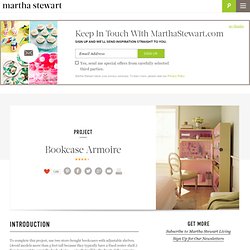 What may appear at first glance to be an unconventional armoire is actually a set of bookcases attached along one side. Opened, it's a compact, self-contained innovative crafts or office nook.
Transformer les ampoules en objets de décoration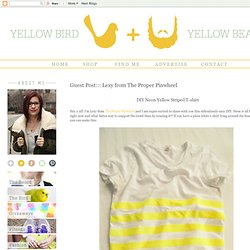 DIY Neon Yellow Striped T-shirt Hey y'all! I'm Lexy from The Proper Pinwheel and I am super excited to share with you this ridiculously easy DIY. Neon is all the rage right now and what better way to support the trend than by wearing it?!
Guest Post::: Lexy from The Proper Pinwheel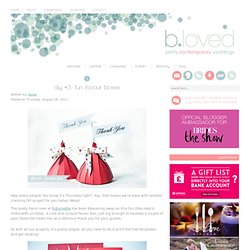 Written by: louise Posted on Thursday, August 18, 2011 Hey lovely people! You know it's Thursday right?
DIY #3: fun favour boxes | bloved weddings | UK Wedding Blog | Wedding Inspiration & Styling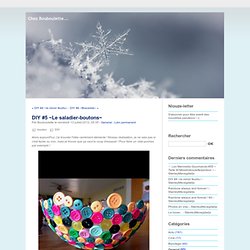 DIY #5 ~Le saladier-boutons~ - Toutes les nuances de Bouboulette
Alors aujourd'hui, j'ai trouvée l'idée carrément démente ! Niveau réalisation, je ne sais pas si c'est facile ou non, mais je trouve que ça vaut le coup d'essayer ! Pour faire un vide-poches par exemple !
par Rachel, le 11 mai 2012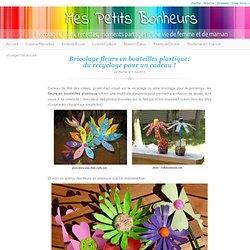 Bricolage fleurs en bouteilles plastique: du recyclage pour un cadeau !
Craftberry Bush: March of the penguins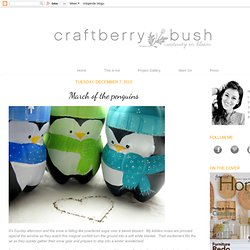 It's Sunday afternoon and the snow is falling like powdered sugar over a sweet dessert.
Socktopus ∙ How To by Martha on Cut Out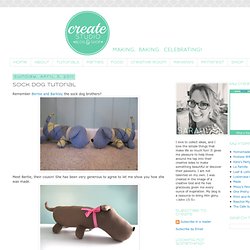 Meet Bertie, their cousin! She has been very generous to agree to let me show you how she was made.
Sock Dog Tutorial
Created by Jane from See Jane Blog . Edited by Amy Christie . Has the weather turned cold where you live?
Free_Project_Socks_Appeal.pdf
On retrouve souvent au fond des tiroirs de vieilles gommes inutilisées… Avec un peu d'imagination, un brin d'humour et de patience (+ un bon cutter) vous pourrez transformer ces objets destinés au rebut. Que diriez-vous de faire perdre leur sérieux aux lisses mannequins des magazines ? Nul besoin d'être très habile.
DYI : tuto tampons ou comment recycler vos vieilles gommes | La Pintade aixoise
…so haben meine Kinder die beiden getauft. Sie haben sie mir schon fast aus der Hand gerissen, als sie noch gar nicht fertig waren, so sehr haben sie sich in die beiden Socken-Tierchen verguckt.
★Les Tissus Colbert: Fabelhafte Geschenkidee mit Türchen N° 7 – ein DIY von Kelly
Stuffed Animal Toy Organizers
Wyldestone Cottage: How to Recycle Silverware into Art
DOUDOU CHAUSSETTE.
Macrame
DAV.I.SON.: Check Out My Moves!
Smilemonsters: Faux Silver Hearts
The pinkbird blog » Blog Archive » Fabriquer une lampe avec une boîte à thé
Défi café, défi relevé! - un rien, une idée, une bricole, Ma bricole !
Trucs à faire soi-même : des idées de décoration et loisirs créatifs à réaliser soi-même
Cadeau à faire soi-même : Un pèle mêle pour le bureau - Video sur Deco
Les récup'créations de Mentalo
techniques et matériel pour la gravure sur verre.
Tutorials with the family #1: How to make a thread rack Festotu
Cat Crib, A Hammock For Cats That Fits Inconspicuously Under a Chair
Détournement d'objets - Table palettes :… - Créer des patères… - Etiquettes pour un… - Un vase avec des… - Une frise avec des…
Shiny cans
Clin d'oeil - La Machine à Bulles
Déco : Que faire avec des rouleaux de papier toilette ?