Temp for infosec workshop
On networks that don't hide your IP or hostname automatically on connect, your IP is exposed for everyone to see and possibly abuse. Also there are many reasons you might not want to show everyone from what point of the world you are connecting from and/or want to add a little more anonymonity to your online activities. You can do so by connecting to IRC via TOR – dubbed "The Onion Router" – how exactly that works and is set up is shown in a small tutorial video we've put online.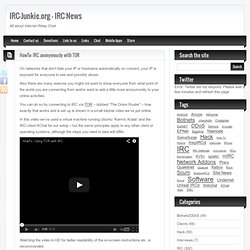 HowTo: IRC anonymously with TOR | IRC-Junkie.org - IRC News
Skype and Microsoft have managed to leapfrog common sense and build a backdoor into your favourite VOIP application. It is called Lawful Interception and is part of a new patent which Microsoft filed back in 2009, but is now preparing to unleash itself into our world due to its recent approval. Lawful Interception means that government agencies can, without your permission, begin tracking your Skype conversations. Calls can be covertly recorded and used against you in any circumstance. It is legal, it is frightening and it is coming to a voice over IP application near you. I understand where Microsoft is coming from.
Microsoft and Skype set to allow backdoor eavesdropping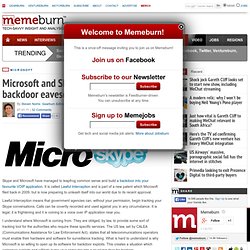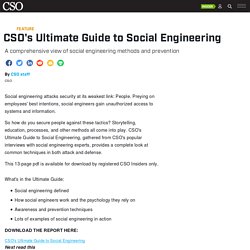 February 28, 2012 — CSO — Social engineering attacks security at its weakest link: People. Preying on employees' best intentions, social engineers gain unauthorized access to systems and information. So how do you secure people against these tactics? Storytelling, education, processes, and other methods all come into play.
CSO's Ultimate Guide to Social Engineering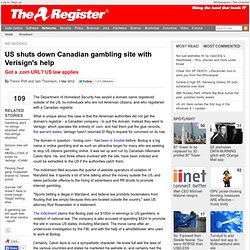 US shuts down Canadian gambling site with Verisign's help
A guide to transactional email The Department of Homeland Security has seized a domain name registered outside of the US, by individuals who are not American citizens, and who registered with a Canadian registrar. What is unique about this case is that the American authorities did not get the domain's registrar - a Canadian company - to pull the domain.
Anonymous Cowards, Deanonymized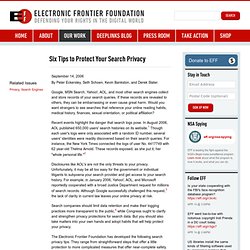 By Peter Eckersley, Seth Schoen, Kevin Bankston, and Derek Slater. Google, MSN Search, Yahoo!, AOL, and most other search engines collect and store records of your search queries. If these records are revealed to others, they can be embarrassing or even cause great harm. Would you want strangers to see searches that reference your online reading habits, medical history, finances, sexual orientation, or political affiliation?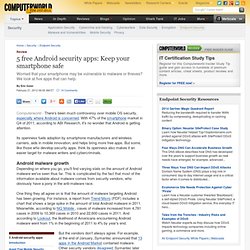 Review By Eric Geier
5 free Android security apps: Keep your smartphone safe
Security Tool HijackThis Goes Open Source
Secret GPS tracker terrifies Ontario man - Canada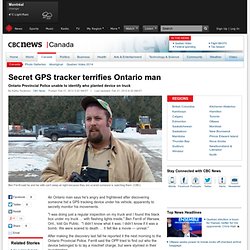 An Ontario man says he's angry and frightened after discovering someone hid a GPS tracking device under his vehicle, apparently to secretly monitor his movements. "I was doing just a regular inspection on my truck and I found this black box under my truck … with flashing lights inside," Ben Ferrill of Warsaw, Ont., told Go Public.
Why Deep Packet Inspection Is(n't) Being Talked About
With the on-going debate over net neutrality, privacy and the recent battles being fought over SOPA and ACTA, one technology lurks in the background.
Is the Government Scaring Web Businesses Out of the US?
UK Student Jailed For Facebook Hack Despite 'Ethical Hacking' Defense
FOIA Request Shows Which Printer Companies Cooperated With US Government
Unauthorized iOS Apps Leak Private Data Less Than Approved Ones
Magid: Latest iPhone and Android app privacy violations deeply troubling
By Larry Magid for the Mercury News Posted: 02/19/2012 02:41:00 PM PST | Updated: about a year ago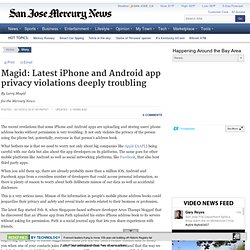 Tor Operations Security
13 December 2011 Tor Operations Security Date: Tue, 13 Dec 2011 18:39:22 -0500 From: wakeupneo555[at]Safe-mail.net To: tor-talk[at]lists.torproject.org Subject: [tor-talk] Tor OPSEC - Operational Security - Great Resource of Information!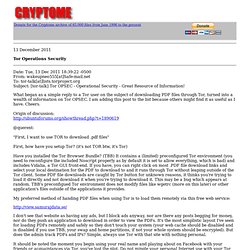 From OpenPCD OpenPICC 1 board Breaking into a Mifare Classic protected key vault that uses only anti collision as a security feature - no cryptography is used by that vault. Introduction This device is obsolete - please use OpenPICC SnifferOnly 13.56MHz instead for sniffing The OpenPICC project for Proximity Integrated Circuit Cards (PICC) is the counterpart to OpenPCD.
OpenPICC RFID Emulator and Sniffer Project - OpenPCD
Make a Faraday Cage Wallet
From Wired How-To Wiki You already have your tin foil hat, and you're pretty sure no one can find you on the Google. However, there's one detail you may not have thought of, and that's those pesky RFID chips.
HTTPS Everywhere is a Firefox, Chrome, and Opera extension that encrypts your communications with many major websites, making your browsing more secure. Encrypt the web: Install HTTPS Everywhere today.