Activism related
Colours of Resistance Archive | A collection of analysis and tools for liberatory organizing and movement-building.
Liberation Book Club: Becoming Allies
When I kicked off the Liberation Book Club back in May I posed the question: What would it take to have activist groups and social change organisations which genuinely reflect the diversity in the broader community, to be actively inclusive of difference? I think one part of the answer is the commitment to become active allies. What is an ally? In my view, an ally is someone outside an oppressed group or identity, who commits to standing alongside those people.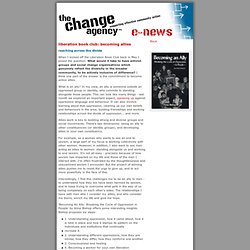 Receding Himalayan glaciers Almost six years ago, I was the editor of a single-topic issue on energy for Scientific American that included an article by Princeton University's Robert Socolow that set out a well-reasoned plan for how to keep atmospheric carbon dioxide concentrations below a planet-livable threshold of 560 ppm. The issue came replete with technical solutions that ranged from a hydrogen economy to space-based solar . If I had it to do over, I'd approach the issue planning differently, my fellow editors permitting. I would scale back on the nuclear fusion and clean coal , instead devoting at least half of the available space for feature articles on psychology, sociology, economics and political science.
Effective World Government Will Be Needed to Stave Off Climate Catastrophe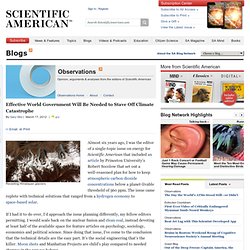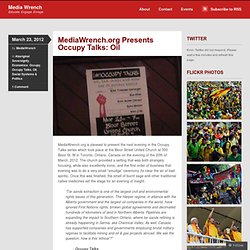 MediaWrench.org is pleased to present the next evening in the Occupy Talks series which took place at the Bloor Street United Church at 300 Bloor St. W in Toronto, Ontario, Canada on the evening of the 20th of March, 2012. The church provided a setting that was both strangely focusing, while also excellently ironic, and the first order of business that evening was to do a very small "smudge" ceremony (to clear the air of bad spirits).
MediaWrench.org Presents Occupy Talks: Oil « Media Wrench
404 Food for Thought This post is very relevant to our latest posts on GEO Group Inc. , the second largest for-profit prison operator in the United States where the private prison sector is a $3 billion, and swiftly growing, industry. Read more on GEO: Punishment For Sale: Deeply Rooted in Conservative Politics, GEO Knocks on Harper Government's Door Corrections Corp of America (CCA), a huge private prison business, has a presentation for investors that just might creep you out.
Private Prison Presentation For Investors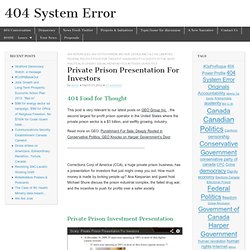 Youth in Revolt: The Plague of State-Sponsored Violence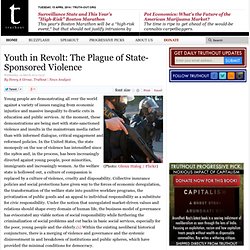 Young people are demonstrating all over the world against a variety of issues ranging from economic injustice and massive inequality to drastic cuts in education and public services. At the moment, these demonstrations are being met with state-sanctioned violence and insults in the mainstream media rather than with informed dialogue, critical engagement and reformed policies. In the United States, the state monopoly on the use of violence has intensified since the 1980s and, in the process, has been increasingly directed against young people, poor minorities, immigrants and increasingly women. As the welfare state is hollowed out, a culture of compassion is replaced by a culture of violence, cruelty and disposability.
The Agora Project • Index page
Pwnie Express :: Wired, wireless, and 3G pentesting dropboxes
The Sabu Double Play. How the real target is Julian Assange. | The Bat Country Word
Hector Monsegur, known as Sabu, leader of the Anonymous affiliated hacking group LulzSec, was arrested by FBI agents in his New York apartment on Monday, June 7, 2011, at 10:15PM.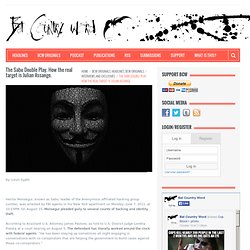 Blackthrow - Telecomix Crypto Munitions Bureau
Google Reader (80)
Canadian Anonymous | Cananon | Planning
Cananon Planning Center updated April 13th ,2012 11:00am EST At midnight (April 14th 12:00am EST) we are going to attempt to trend on twitter We need everyone to send questions to @mplauriehawn in attempt to create public awareness of our desire to debate laurie hawn publically. tweet examples: @mplauriehawn Do you think Canadians will forget about robocall scandal? #asklauriehawn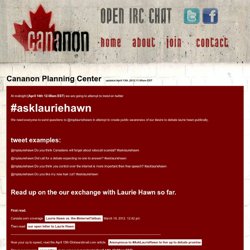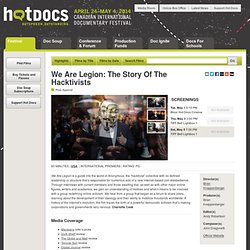 93 minutes | USA | International Premiere | Rating: PG We Are Legion is a guide into the world of Anonymous, the "hacktivist" collective with no defined leadership or structure that's responsible for numerous acts of a new internet-based civil disobedience. Through interviews with current members and those awaiting trial, as well as with other major online figures, writers and academics, we gain an understanding of motives and what it means to be involved with a group redefining online activism. We hear from a group that began as a forum to share jokes, learning about the development of their ideology and their ability to mobilize thousands worldwide. A history of the internet's evolution, the film traces the birth of a powerful democratic activism that's making corporations and governments very nervous. Charlotte Cook
Hot Docs | Film : Title : We Are Legion The Story Of The Hacktivists

Full Interview: Gabriella Coleman on Anonymous | Spark
Anonymous has been in the news a lot, lately, between the arrests , and various attacks (including an attack on a British abortion service website, in which the arrested man claimed to be connected to Anonymous). We wanted to get different take on Anonymous, exploring it from more of an anthropological point of view. Gabriella Coleman is Wolfe Chair in Scientific and Technological Literacy at McGill University. She's been studying Anonymous, and is currently writing a book on it. She has described Anonymous as being like a Hydra or a Rhizome: a decentralized set of nodes with different subgroups.
Anonymous revives LulzSec for new campaign of hacks and attacks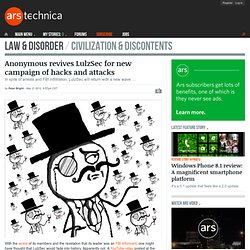 With the arrest of its members and the revelation that its leader was an FBI informant , one might have thought that LulzSec would fade into history. Apparently not. A YouTube video posted at the weekend has announced that LulzSec will return. On April 1st the group will be back, and attack corporations and governments, promising "epic operations and pranks."
Keep Your Friends Close, Especially If They Are Anonymous
"Commander X" talked to CBS News this summer on camera. But is the man behind the mask Chris Doyon? (Credit: CBS News ) A 47-year-old homeless man has pleaded not guilty to charges that he joined in an Anonymous-organized cyberattack that temporarily shut down Santa Cruz County servers. Chris Doyon was arrested yesterday and is being held until a bail hearing scheduled for Thursday in U.S. District Court in San Jose, Calif., his lawyer, Jay Leiderman, told CNET this afternoon.
Alleged 'Commander X' Anonymous hacker pleads not guilty | InSecurity Complex
Why Antisec matters
A couple of weeks ago the FBI announced the arrest of five members of the hacking group LulzSec. We now know that these arrests were facilitated by 'Anonymous' leader* " Sabu ", who, according to court documents, was arrested and 'turned' in June of 2011. He spent the next few months working with the FBI to collect evidence against other members of the group.
Read our UPDATES on GEO Group: Punishment For Sale: Deeply Rooted in Conservative Politics, GEO Knocks on Harper Government's Door In a period of declining crime rate and supposedly out of hand national deficit, Canadians are beginning to wonder why our government is so intent on passing such a costly legislation that challenges the most basic reasoning. There has not been one reasonable justification for the Harper Government's Omnibus Crime Bill. That is until one connects the dots… the Justice Policy Institute (JPI) released a report chronicling the political strategies of private prison companies "working to make money through harsh policies and longer sentences."
Lobbyists Behind Omnibus Crime Bill Aimed at Privatizing Prisons
Canada
Occupy Wall Street protesters in Liberty Plaza, 22 September 2011. Photograph: Stephanie Keith/Demotix/Corbis Defying harsh critiques from Stephen Colbert and slews of bloggers who scoffed last week at the "leaderless", "directionless", Frisbee-throwing hipsters camping out on cardboard at a random New York City park in the financial district, Occupy Wall Street appears to be gaining ground. From the modest 200 occupiers last week, numbers of protesters rose to an estimated peak of approximately 3,000 to 5,000 at the weekend's march. Media attention has grown exponentially. After taking their inspiration from the Egyptian "one demand" model, Occupy Wall Street have now released their list of "one" demands , bringing much-needed clarity to their objectives.
How Anonymous emerged to Occupy Wall Street | Ayesha Kazmi | Comment is free
From Anonymous to shuttered websites, the evolution of online protest - Canada
The days of screaming activists marching with signs in hand to voice their displeasure at a particular politician are changing rapidly – just ask Vic Toews. Canada's public safety minister was the latest in a string of public-policy lightning rods to feel the wrath of Anonymous, a loose coalition of web-based activists who went after Toews for his overly vociferous promoting of the government's online surveillance bill. Anonymous is one of the most prolific and infamous (depending on your point of view) groups operating in the "hacktivist" world. Yet it is far from alone. All over the globe, many people are availing themselves of new mediums and techniques to voice their dissent. From the "going dark" campaign in January, in which websites like Wikipedia shut down for a day to protest against a proposed U.S. web-piracy law, to the group of international academics who fought successfully for more publicly accessible research, the face of online protest is changing.
Why Anonymous is Winning Its War on Internet Infrastructure
The 16 Steps to Overcoming Denial Of White Privilege
Anarchism Is Not What You Think It Is -- And There's a Whole Lot We Can Learn from It
The Agent Provocateurs in Occupy's Midst
Oil & Gas
Project PM
Thom Hartmann: Why Fox News has the Right to Lie to Us
Concerning the Violent Peace-Police: An Open Letter to Chris Hedges | Truthout
Activists and Anarchists Speak for Themselves at Occupy Oakland | Truthout
John Zerzan: anti-civilization theorist, writer and speaker
Derrick Jensen
Home - GREEN ANARCHY
Latin American & Caribbean Solidarity Month February 2012 - LATIN AMERICAN AND CARIBBEAN SOLIDARITY NETWORK
Diversity of Tactics - 3 - Harsha Walia on Vimeo