Science
Théorie des groupes - Rubik's cube. Je suppose connus les rudiments de la théorie des groupes (niveau de licence de mathématiques), en particulier : homorphismes, noyaux, groupes quotients, groupes symétriques et alternés, signature d'une permutation, opération d'un groupe sur un ensemble, produits de groupes (direct, semi-direct).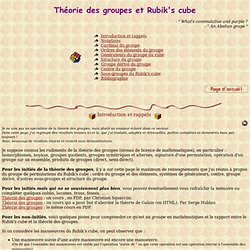 Pour les initiés de la théorie des groupes, il y a sur cette page le maximum de renseignements que j'ai réunis à propos du groupe de permutations du Rubik's cube : ordre du groupe et des éléments, systèmes de générateurs, centre, groupe dérivé, d'autres sous-groupes et structure du groupe. Pour les initiés mais qui ne se souviennent plus bien, vous pouvez éventuellement vous rafraîchir la mémoire ou compléter quelques oublis, lacunes, trous, fossés, ... :Théorie des groupes : un cours , en PDF, par Christian Squarcini.Théorie des groupes : un cours qui a pour but d'aborder la théorie de Galois (en HTML). Par Serge HublauThéorie des groupes : le même cours en PDF. TED: Ideas worth spreading.
Prochain tournage le samedi 15 mai ! Japan's boffins: Global warming isn't man-made. High performance access to file storage Exclusive Japanese scientists have made a dramatic break with the UN and Western-backed hypothesis of climate change in a new report from its Energy Commission.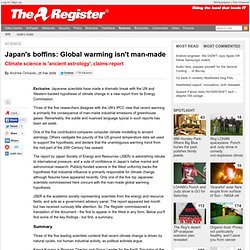 Three of the five researchers disagree with the UN's IPCC view that recent warming is primarily the consequence of man-made industrial emissions of greenhouse gases. Remarkably, the subtle and nuanced language typical in such reports has been set aside. One of the five contributors compares computer climate modelling to ancient astrology. Others castigate the paucity of the US ground temperature data set used to support the hypothesis, and declare that the unambiguous warming trend from the mid-part of the 20th Century has ceased.
---