Science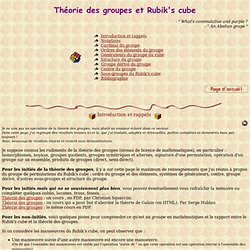 Je suppose connus les rudiments de la théorie des groupes (niveau de licence de mathématiques), en particulier : homorphismes, noyaux, groupes quotients, groupes symétriques et alternés, signature d'une permutation, opération d'un groupe sur un ensemble, produits de groupes (direct, semi-direct).
Théorie des groupes - Rubik's cube
Japan's boffins: Global warming isn't man-made
Spare us five minutes for a short survey about end user computing? Exclusive Japanese scientists have made a dramatic break with the UN and Western-backed hypothesis of climate change in a new report from its Energy Commission.