Mind Mapping
Main Page. List of concept- and mind-mapping software. Concept-mapping and mind-mapping software are used to create diagrams of relationships between concepts, ideas or other pieces of information.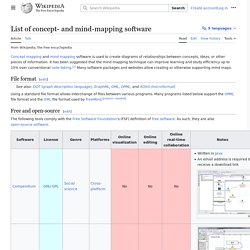 It has been suggested that the mind mapping technique can improve learning/study efficiency up to 15% over conventional note taking.[1] File format[edit] Twitter integration comes to the world of mind mapping software via MindTweet. Twitter intergration has finally come to the world of mind mapping software, thanks to CS Odessa's new MindTweet plug-in for ConceptDraw MINDMAP 7.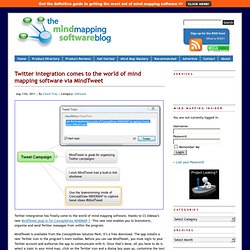 This new tool enables you to brainstorm, organize and send Twitter messages from within the program. MindTweet is available from the ConceptDraw Solution Park; it's a free download. The app installs a new Twitter icon in the program's main toolbar. Before you can use MindTweet, you must login to your Twitter account and authorize the app to communicate with it. DropMind makes impressive debut on the iPad. Seavus, the developers of DropMind mind mapping software and a corresponding web application, recently expanded its family of mind mapping applications with the launch of a DropMind app for the Apple iPad.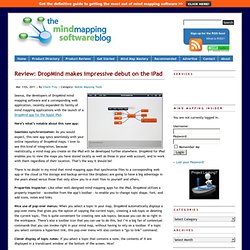 Here's what's notable about this new app: Seamless synchronization: As you would expect, this new app syncs seamlessly with your online repository of DropMind maps. I love to see this kind of integration, because realistically, a mind map you create on the iPad will be developed further elsewhere. DropMind for iPad enables you to view the maps you have stored locally as well as those in your web account, and to work with them regardless of their location. That's the way it should be! Internet Mind Maps on Biggerplate.
---