Sociology in social media
Social media use across the globe has exploded. As more and more people flock to social networking platforms like Facebook, Twitter and Google Plus, it's becoming clear that social media is having a profound effect on not only our lives but also on our brains.
How Social Media is Ruining Our Minds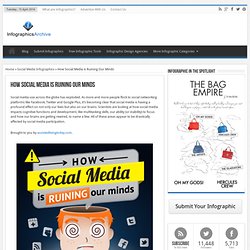 Les marques doivent mieux cibler leurs discours en fonction de leurs cibles. Voici l'un des principaux enseignements de l'étude Digital Life, publiée ce matin par TNS Sofres .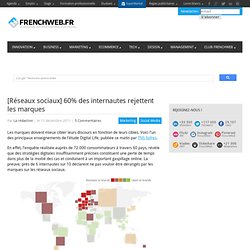 [Réseaux sociaux] 60% des internautes rejettent les marques
[Infographie] 44% des ados mentent pour accéder aux réseaux sociaux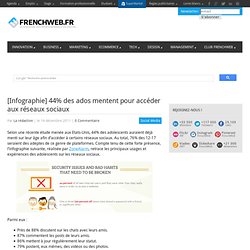 Selon une récente étude menée aux Etats-Unis, 44% des adolescents auraient déjà menti sur leur âge afin d'accéder à certains réseaux sociaux. Au total, 76% des 12-17 seraient des adeptes de ce genre de plateformes.
Teens' Cruel World of Social Networking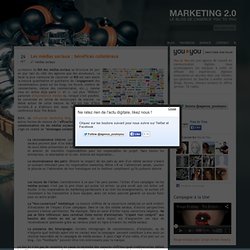 Les médias sociaux : bénéfices collatéraux
29 oct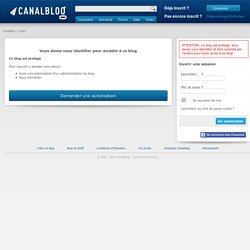 Lorsque l'on parle de participation sur Internet, on a tendance à ressortir deux données : La règle des 90 / 9 / 1% (90% d'internautes spectateurs, 9% qui réagissent sur des contenus et 1% qui produisent des contenus.
media//Files/Reports/2011/Why Americans Use Social Media.pdf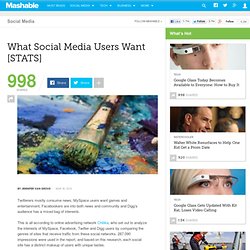 Twitterers mostly consume news, MySpace users want games and entertainment, Facebookers are into both news and community and Digg's audience has a mixed bag of interests. This is all according to online advertising network Chitika , who set out to analyze the interests of MySpace, Facebook, Twitter and Digg users by comparing the genres of sites that receive traffic from these social networks. 287,090 impressions were used in the report, and based on this research, each social site has a distinct makeup of users with unique tastes.
What Social Media Users Want [STATS]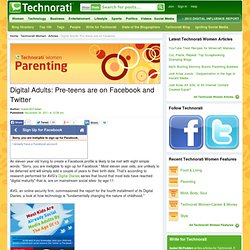 Digital Adults: Pre-teens are on Facebook and Twitter - Technorati Technorati Women
An eleven year old trying to create a Facebook profile is likely to be met with eight simple words: "Sorry, you are ineligible to sign up for Facebook."