Social travel recommendations
TravelAvenue wants to be the Pinterest for travel, with a few twists. Pinterest launched quietly into the world of social networking in 2010, but then made one hell of a thud a year or so later – with obvious ramifications for travel.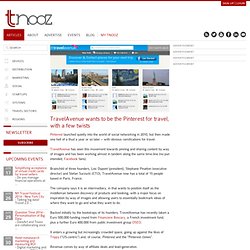 TravelAvenue has seen this movement towards pinning and sharing content by way of images and has been working almost in tandem along the same time-line (no pun intended, Facebook fans). Brainchild of three founders, Loic Dupont (president), Stephane Pinatton (executive director) and Stefan Surzucki (CTO), TravelAvenue now has a total of 15 people based in Paris, France. The company says it is an intermediary, in that wants to position itself as the middleman between discovery of products and booking, with a major focus on inspiration by way of images and allowing users to essentially bookmark ideas of where they want to go and what they want to do. Personalized Travel Recommendations | Online Travel Guide | Travel Tips | TripSay.com. Gogobot move over -- Uptake goes social with unstructured Facebook data. Uptake joined the social, trip-planning crowd, but it says its new feature is superior because it mines unstructured data from Facebook.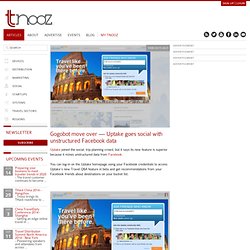 You can log-in on the Uptake homepage using your Facebook credentials to access Uptake's new Travel Q&A feature in beta and get recommendations from your Facebook friends about destinations on your bucket list. But Uptake believes its solution is superior to those of other social travel sites, such as Gogobot, because Uptake's search technology goes beyond analyzing structured data (i.e. check-ins and places people have lived) and retrieves unstructured data (status updates, photo tags and comments) from Facebook.
"It is interesting and a good place to start," says Yen Lee, Uptake co-founder and President, of Gogobot's allegedly more limited approach, "but how many places have you lived and how many places have you checked-in?" Uptake.com - Your First Step to a Great Trip. The Best Way to share and showcase your travel. - www.tripntale.com. [Social Travel] Wipolo, la plateforme française choisie par Facebook. Un site – un seul en Europe – a été choisi parmi trois autres partenaires voyage par Facebook sur sa nouvelle plateforme : Wipolo.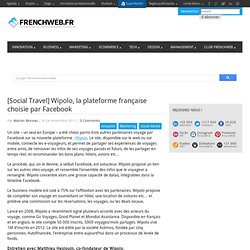 Le site, disponible sur le web ou sur mobile, connecte les e-voyageurs, et permet de partager ses expériences de voyages entre amis, de retrouver les infos de ses voyages passés et futurs, de les partager en temps réel, et recommander les bons plans: hôtels, avions etc… Le procédé, qui, on le devine, a séduit Facebook, est astucieux: Wipolo propose un lien sur les autres sites voyage, et rassemble l'ensemble des infos que le voyageur a renseigné. Wipolo concentre alors une grosse capacité de datas, intégrables dans la timeline Facebook. Le business modèle est calé à 75% sur l'affiliation avec les partenaires.
Gogobot. Gogobot Partners With Flipboard To Turn Your Travel Photos Into A Digital Magazine. Since launching early last year, young social travel site Gogobot has been off to a pretty good start, or at least it has, shall we say, been hitting all the stops.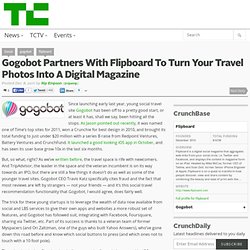 As Jason pointed out recently, it was named one of Time's top sites for 2011, won a Crunchie for best design in 2010, and brought its total funding to just under $20 million with a series B raise from Redpoint Ventures, Battery Ventures and CrunchFund. It launched a good looking iOS app in October, and has seen its user base grow 10x in the last six months.
But, so what, right? Social travel: Gogobot gets $15M, new Delta Air Lines app on Facebook. A lot of people, including investors in Gogobot and Delta Air Lines management, are betting on social travel — or at least playing around with it.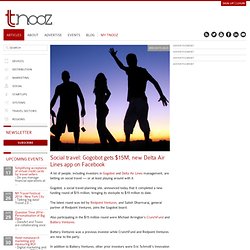 Gogobot, a social travel-planning site, announced today that it completed a new funding round of $15 million, bringing its stockpile to $19 million to date. The latest round was led by Redpoint Ventures, and Satish Dharmaraj, general partner of Redpoint Ventures, joins the Gogobot board. Also participating in the $15 million round were Michael Arrington's CrunchFund and Battery Ventures. Battery Ventures was a previous investor while CrunchFund and Redpoint Ventures are new to the party. Gowalla.
---