Social Shopping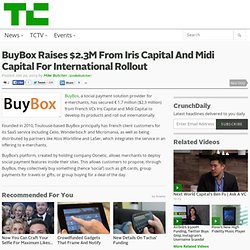 BuyBox Raises $2.3M From Iris Capital And Midi Capital For International Rollout
BuyBox, a social payment solution provider for e-merchants, has secured € 1.7 million ($2.3 million) from French VCs Iris Capital and Midi Capital to develop its products and roll out internationally. Founded in 2010, Toulouse-based BuyBox principally has French client customers for its SaaS service including Celio, Wonderbox.fr and Micromania, as well as being distributed by partners like Atos Worldline and LaSer, which integrates the service in an offering to e-merchants.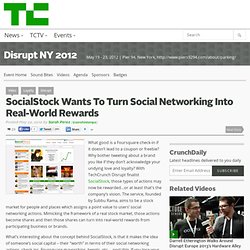 What good is a Foursquare check-in if it doesn't lead to a coupon or freebie?
SocialStock Wants To Turn Social Networking Into Real-World Rewards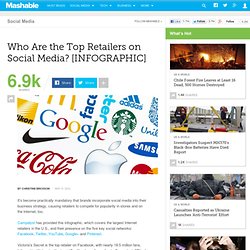 It's become practically mandatory that brands incorporate social media into their business strategy, causing retailers to compete for popularity in stores and on the Internet, too. Campalyst has provided this infographic, which covers the largest Internet retailers in the U.S., and their presence on the five key social networks: Facebook, Twitter, YouTube, Google+ and Pinterest.
Who Are the Top Retailers on Social Media? [INFOGRAPHIC]
[Infographie] Botticca.com compare les effets Facebook et Pinterest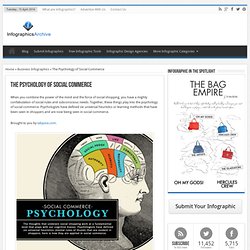 The Psychology of Social Commerce
When you combine the power of the mind and the force of social shopping, you have a mighty confabulation of social rules and subconscious needs. Together, these things play into the psychology of social commerce.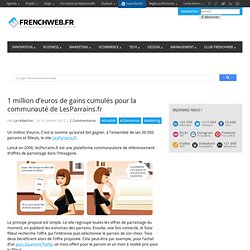 Un million d'euros. C'est la somme qu'aurait fait gagner, à l'ensemble de ses 36 000 parrains et filleuls, le site LesParrains.fr.
1 million d'euros de gains cumulés pour la communauté de LesParrains.fr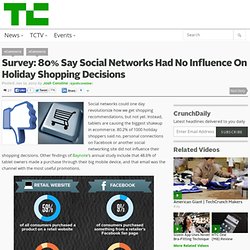 Social networks could one day revolutionize how we get shopping recommendations, but not yet. Instead, tablets are causing the biggest shakeup in ecommerce. 80.2% of 1000 holiday shoppers said no, personal connections on Facebook or another social networking site did not influence their shopping decisions.
Survey: 80% Say Social Networks Had No Influence On Holiday Shopping Decisions
The Psychology of Social Commerce
Well, what a year it's been in social commerce.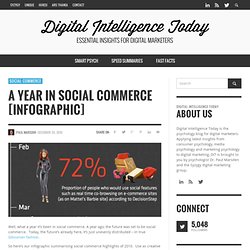 A Year in Social Commerce [infographic
I want to buy based on feedback from friends like me.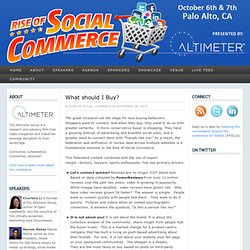 The great recession set the stage for new buying behaviors.
The State of Social Commerce
10 Social Ways to Find and Send Gifts Online
Social Commerce Today
4 Steps to Selling With Social Media
Are you wondering why your social media efforts aren't working? Social media success sometimes appears arbitrary. Perhaps you've wondered, "Why does company X generate leads and business from their social activity while my company wastes resources on blogs that don't get read and tweets that go unanswered?"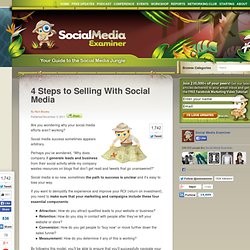 Another take on Facebook social shopping comes from across the pond in the form of the U.K.'s Shopcade application for the social network.
Shop With Your Friends On Facebook Using Shopcade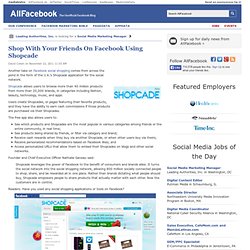 When I wrote about sneakpeeq in September, I mentioned that its approach to selling high-end items online was genius.
Social Shopping Site sneakpeeq Sees 30% Growth
Log into Sneakpeeq on sneakpeeq
24h00, spécialiste du e-commerce féminin, vient de publier son deuxième observatoire sur les e-shoppeuses, consacré à l'étude des « femmes cyberacheteuses assidues ». Baptisée, « De la e-shoppeuse à la f-shoppeuse », cette deuxième édition s'est attachée à réaliser un focus sur le comportement des e-shoppeuses sur les réseaux sociaux et les smartphones.
[Infographie] Portrait robot d'une e-shoppeuse sur Facebook