Social Shopping
BuyBox Raises $2.3M From Iris Capital And Midi Capital For International Rollout. BuyBox, a social payment solution provider for e-merchants, has secured € 1.7 million ($2.3 million) from French VCs Iris Capital and Midi Capital to develop its products and roll out internationally.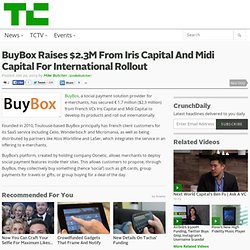 Founded in 2010, Toulouse-based BuyBox principally has French client customers for its SaaS service including Celio, Wonderbox.fr and Micromania, as well as being distributed by partners like Atos Worldline and LaSer, which integrates the service in an offering to e-merchants. BuyBox's platform, created by holding company Oonetic, allows merchants to deploy social payment features inside their sites. This allows customers to propose, through BuyBox, they collectively buy something (hence 'social') such as gift cards, group payments for travels or gifts, or group buying for a deal of the day.
SocialStock Wants To Turn Social Networking Into Real-World Rewards. What good is a Foursquare check-in if it doesn't lead to a coupon or freebie?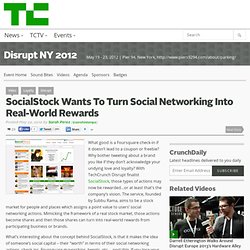 Why bother tweeting about a brand you like if they don't acknowledge your undying love and loyalty? With TechCrunch Disrupt finalist SocialStock, those types of actions may now be rewarded…or at least that's the company's vision. The service, founded by Subbu Rama, aims to be a stock market for people and places which assigns a point value to users' social networking actions. Mimicking the framework of a real stock market, those actions become shares and then those shares can turn into real-world rewards from participating business or brands.
Who Are the Top Retailers on Social Media? [INFOGRAPHIC] It's become practically mandatory that brands incorporate social media into their business strategy, causing retailers to compete for popularity in stores and on the Internet, too.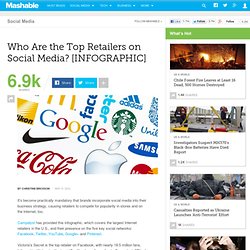 Campalyst has provided this infographic, which covers the largest Internet retailers in the U.S., and their presence on the five key social networks: Facebook, Twitter, YouTube, Google+ and Pinterest. Victoria's Secret is the top retailer on Facebook, with nearly 18.5 million fans, followed by Walmart with about 15 million fans. According to Campalyst, 97% of the Top 250 Internet Retailers are on Facebook, and average number of fans there is close to 1 million. On Twitter, Major League Baseball is the leading Internet retailer account with 1.9 followers. The brand also has the most on Google+, boasting more than 600,000 followers. [Infographie] Botticca.com compare les effets Facebook et Pinterest. The Psychology of Social Commerce. When you combine the power of the mind and the force of social shopping, you have a mighty confabulation of social rules and subconscious needs.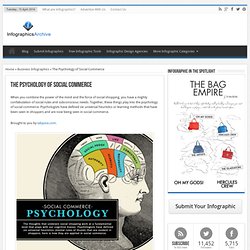 Together, these things play into the psychology of social commerce. Psychologists have defined six universal heuristics or learning methods that have been seen in shoppers and are now being seen in social commerce. Brought to you by tabjuice.com. Brought to you by tabjuice.com. 1 million d'euros de gains cumulés pour la communauté de LesParrains.fr.
Un million d'euros.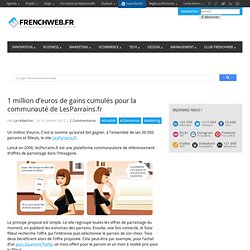 C'est la somme qu'aurait fait gagner, à l'ensemble de ses 36 000 parrains et filleuls, le site LesParrains.fr. Lancé en 2006, lesParrains.fr est une plateforme communautaire de référencement d'offres de parrainage dans l'Hexagone. Le principe proposé est simple. Le site regroupe toutes les offres de parrainage du moment, en publiant les annonces des parrains. Ensuite, une fois connecté, le futur filleul recherche l'offre qui l'intéresse puis sélectionne le parrain de son choix. Survey: 80% Say Social Networks Had No Influence On Holiday Shopping Decisions. Social networks could one day revolutionize how we get shopping recommendations, but not yet.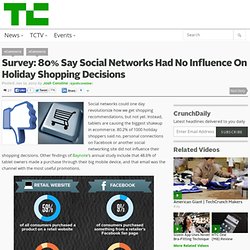 Instead, tablets are causing the biggest shakeup in ecommerce. 80.2% of 1000 holiday shoppers said no, personal connections on Facebook or another social networking site did not influence their shopping decisions. Other findings of Baynote's annual study include that 48.6% of tablet owners made a purchase through their big mobile device, and that email was the channel with the most useful promotions. Baynote's entire 2011 holiday shopping survey of 1,000 shoppers between Cyber Monday and Christmas Eve (2.9% margin of error) is available in exchange for an email address. Baynote provides ecommerce personalization services to companies including Dell, AT&T, and StubHub. It's technology compares a site visitor's browsing patterns to those of other shoppers to power recommendations of relevant products to view next. The Psychology of Social Commerce. A Year in Social Commerce [infographic.
Well, what a year it's been in social commerce.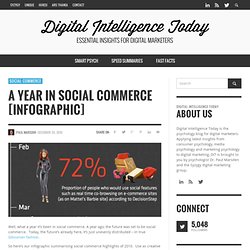 A year ago, the future was set to be social commerce. Today, the future's already here, it's just unevenly distributed – in true Gibsonian fashion. So here's our infographic summarising social commerce highlights of 2010. Use as creative stimulus for your 2011 social commerce initiatives, or as proof-points to persuade budget holders that the future of social media is here, and it's called social commerce. I want to buy based on feedback from friends like me. The great recession set the stage for new buying behaviors.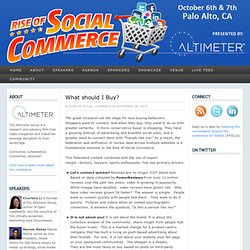 Shoppers want to connect; and when they buy, they want to do so with greater certainty. A more conservative buyer is shopping. They have a growing distrust of advertising and branded social sites; and a greater need to connect them with "friends like me!" As a result, the federation and unification of review data across multiple websites is a foundational element to the Rise of Social Commerce. The State of Social Commerce. 10 Social Ways to Find and Send Gifts Online. Social Commerce Today. 4 Steps to Selling With Social Media. Are you wondering why your social media efforts aren't working?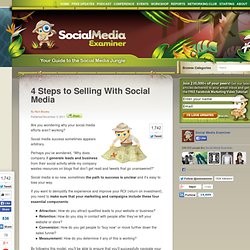 Social media success sometimes appears arbitrary. Perhaps you've wondered, "Why does company X generate leads and business from their social activity while my company wastes resources on blogs that don't get read and tweets that go unanswered?" Shop With Your Friends On Facebook Using Shopcade. Another take on Facebook social shopping comes from across the pond in the form of the U.K.'s Shopcade application for the social network.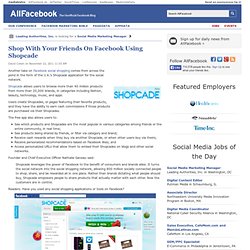 Shopcade allows users to browse more than 40 million products from more than 20,000 brands, in categories including fashion, beauty, technology, music, and apps. Users create Shopcades, or pages featuring their favorite products, and they have the ability to earn cash commissions if those products are purchased via their Shopcades. The free app also allows users to: See which products and Shopcades are the most popular in various categories among friends or the entire community, in real time;See products being shared by friends, or filter via category and brand;Receive cash rewards when they buy via another Shopcade, or when other users buy via theirs;Receive personalized recommendations based on Facebook likes; andAccess personalized URLs that allow them to embed their Shopcades on blogs and other social networks.
F-commerce. Social Shopping Site sneakpeeq Sees 30% Growth. When I wrote about sneakpeeq in September, I mentioned that its approach to selling high-end items online was genius. The basic idea is this: You see an item that you like, and you click a "Peeq" button to flip the price tag around. It's an action that you do every single time you shop in stores.
Last week, the site launched out of beta with the addition of badges and a point system, and has seen over 30% growth in engagement. Log into Sneakpeeq on sneakpeeq. [Infographie] Portrait robot d'une e-shoppeuse sur Facebook. 24h00, spécialiste du e-commerce féminin, vient de publier son deuxième observatoire sur les e-shoppeuses, consacré à l'étude des « femmes cyberacheteuses assidues ». Baptisée, « De la e-shoppeuse à la f-shoppeuse », cette deuxième édition s'est attachée à réaliser un focus sur le comportement des e-shoppeuses sur les réseaux sociaux et les smartphones.
L'infographie suivante nous offre une synthèse des principaux résultats. On y apprend, entre autres, qu'une majorité des e-choppeuses (52%) utilisent Facebook pour optimiser leur consommation. Parmi les autres chiffres clefs : On dénombre 3M d'e-shoppeuses en France.Aujourd'hui les e-shoppeuses représentent une cyberacheteuse sur cinq.La e-shoppeuse est âgée de 39 ans en moyenne.Plus de la moitié des e-shoppeuses achètent sur internet plusieurs fois par mois.Elles transforment en moyenne 11 paniers par semestre auprès de 4 sites différents.70% ont fait des études supérieures.
---