General - social media
Social Media Infographics. [Infographie] Le tableau de bord des réseaux sociaux. Social media in Asia: understanding the numbers. The Asia edition of our Internet Statistics Compendium saw significant expansion through 2011.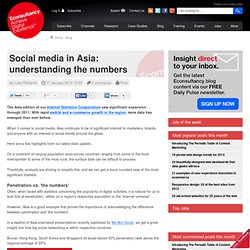 With rapid mobile and e-commerce growth in the region, more data has emerged than ever before. When it comes to social media, Asia continues to be of significant interest to marketers, brands and anyone with an interest in social trends around the globe. Here are a few highlights from our latest stats update... 20 Stunning Social Media Statistics Plus Infographic. Do you wonder why your productivity has dropped over the past 2 – 3 years?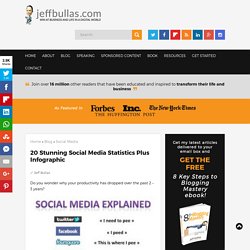 There is a time sink and it's not television! Those of us who are connected to the internet and that is 2 billion of us, have been distracted by social multi-media publishing machines that are pumping out staggering amounts of content with enticing high definition images and videos! You cannot escape their allure as they tempt you to log in when you are out and about with either with your laptop, iPad or smart phone. These enticing, tempting distractions are robbing us of time that should be spent doing productive work like washing your car, cleaning the house or doing your tax… and I know how much you all enjoy those activities!
These figures reveal the huge black hole that our time disappears into when we visit Facebook, Twitter or YouTube or other social media sites. [Infographie] Dernier état des lieux des médias sociaux en 2011. L'infographie suivante nous offre un dernier aperçu de l'état des lieux des médias sociaux en 2011.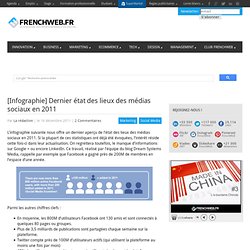 Si la plupart de ces statistiques ont déjà été évoquées, l'intérêt réside cette fois-ci dans leur actualisation. On regrettera toutefois, le manque d'informations sur Google + ou encore LinkedIn. Ce travail, réalisé par l'équipe du blog Dream Systems Media, rappelle par exemple que Facebook a gagné près de 200M de membres en l'espace d'une année. Parmi les autres chiffres clefs : Vers l'émergence d'un Web post-social. En matière de Web, terre de débats où les convictions peuvent remplacer les doutes en quelques mois (et inversement), il est très souvent intéressant d'écouter les avis qui divergent de l'enthousiasme ambiant.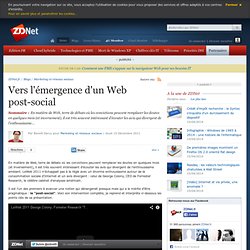 LeWeb 2011 n'échappait pas à la règle avec un énorme enthousiasme autour de la consommation sociale d'Internet et un avis divergent : celui de George Colony, CEO de Forrester Research, le célèbre cabinet d'analyses américain. Il est l'un des premiers à avancer une notion qui dérangerait presque mais qui a le mérite d'être pragmatique : le "post-social". Voici son intervention complète, je reprend et interprète ci-dessous les points clés de sa présentation. Les réseaux sociaux arrivent à saturation. Six Social Media Trends for 2012 - David Armano.
By David Armano | 10:25 AM December 12, 2011 Each year at this time, I look forward and predict trends in social media for the coming year.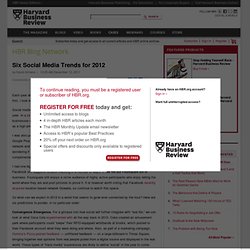 But first, I look back at my predictions from last year. How'd I do? Not bad. Social media continues to move forward toward business integration, a trend that I identified last year. Www.performics.fr/articles/Marques_et_internautes_quelles_interactions_sur_les_média_sociaux.pdf.
The State of Social Media in Small Business [Infographic] Small business owners can benefit from using social media.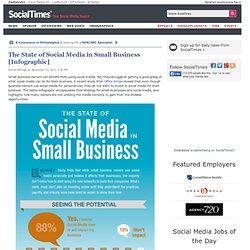 Yet, they struggle at getting a good grasp of what social media can do for their business. A recent study from Office Arrow reveals that even though business owners use social media for personal use, they do not want to invest in social media for their business. The below infographic encapsulates their findings for small businesses and social media, and highlights how many owners are not utilizing the media correctly to gain from the endless opportunities. How Small Business Is Using Social Media [STATS] The University of Maryland's Smith School of Business looked at the relationship between social media and small businesses and found that the technology adoption rates in the U.S. have doubled in the past year from 12% to 24%.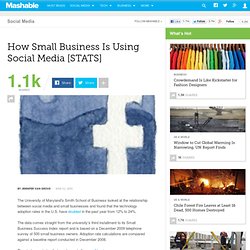 The data comes straight from the university's third installment to its Small Business Success Index report and is based on a December 2009 telephone survey of 500 small business owners. Adoption rate calculations are compared against a baseline report conducted in December 2008. User-generated content. Many commercial websites rely on UGC.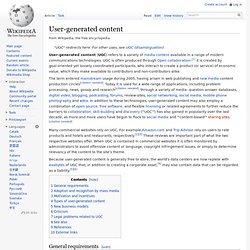 For example,Amazon.com and Trip Advisor rely on users to rate products and hotels and restaurants, respectively.[2][3] These reviews are important part of what the two respective websites offer. When UGC is contained in commercial websites it is often monitored by administrators to avoid offensive content or language, copyright infringement issues, or simply to determine relevancy of the content to the site's theme. Because user-generated content is generally free to store, the world's data centers are now replete with exabytes of UGC that, in addition to creating a corporate asset,[4] may also contain data that can be regarded as a liability.[5][6] General requirements[edit] OECD/UCC study.
Www.cloud-and-go.com/docs/etude-lightspeed-research-consommateurs-facebook.pdf. Global social networking revenues to double by 2016, report says. Did you know that Facebook was gaining ground in all emerging markets, including Brazil where one-time champion Orkut seems less and less unbeatable?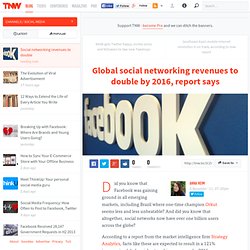 And did you know that altogether, social networks now have over one billion users across the globe? According to a report from the market intelligence firm Strategy Analytics, facts like these are expected to result in a 121% increase in global social networking revenues by 2016. Growing in emerging markets, maturing elsewhere According to the firm's 2011 Global Social Network Market Forecast, this revenue should reach $12.6 billion in 2016, doubling this year's figures. This growth will come both from emerging and developed markets. Www.cloud-and-go.com/docs/IBM-CRM-2011-Etude-From-Social-Media-to-Social-CRM.pdf. New "Science of Sharing" Study Uncovers What Influences the Social Consumer.
Scienceofsharing/ScienceofSharing_WhitePaper.pdf. Scienceofsharing/ScienceofSharing_Infographic.pdf. Social media around the world : 2011. [Infographie] Les chiffres clefs des médias sociaux à travers le monde. L'équipe de sociabakers a récemment publié une infographie complète, basée sur ses outils d'analyse, qui dresse un état des lieux des médias sociaux à travers le monde.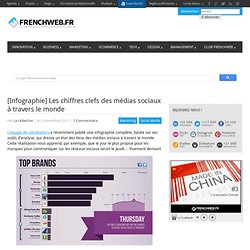 Cette réalisation nous apprend, par exemple, que le jour le plus propice pour les marques pour communiquer sur les réseaux sociaux serait le jeudi… Vivement demain! Au menu également, de nombreuses statistiques « mises à jour ». (Au regard de l'évolution des réseaux sociaux, ces statistiques valables aujourd'hui, seront sans doute déjà quelque peu dépassées demain). The World of Social Media 2011 - VideoInfographs.com. State of the Blogosphere 2011: Introduction and Methodology - Technorati Blogging.
Welcome to Technorati's State of the Blogosphere 2011 report. Since 2004, our annual study has followed growth and trends in the blogosphere. This year's topics include: blogging and social media, bloggers and traditional media, traffic and analysis, brands and marketing in the blogosphere, bloggers' motivations and consequences, monetization, and changes within the blogosphere over 2011. The Blogosphere is constantly changing and evolving.
---