General data
Twitter, Amazon, Instagram, Others Are Making No Profits. Twitter's long-awaited initial public offering is expected to arrive next week.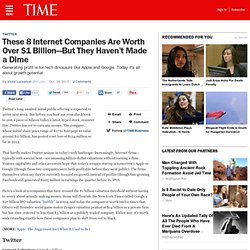 But before you bust out your checkbook to own a piece of Silicon Valley's latest hyped stock, consider this: Twitter has yet to earn any money. The company, whose initial share price range of $17 to $20 pegs its value around $11 billion, has posted a net loss of $134 million so far in 2013. That hardly makes Twitter unique in today's tech landscape. Increasingly, Internet firms—typically with a social bent—are amassing billion-dollar valuations without earning a dime. Here's Why Google and Facebook Might Completely Disappear in the Next 5 Years. World Internet Usage Statistics News and World Population Stats. NOTES: (1) Internet Usage and World Population Statistics are for June 30, 2012. (2) CLICK on each world region name for detailed regional usage information. (3) Demographic (Population) numbers are based on data from the US Census Bureau and local census agencies. (4) Internet usage information comes from data published by Nielsen Online, by the International Telecommunications Union, by GfK, local ICT Regulators and other reliable sources. (5) For definitions, disclaimers, navigation help and methodology, please refer to the Site Surfing Guide. (6) Information in this site may be cited, giving the due credit to www.internetworldstats.com.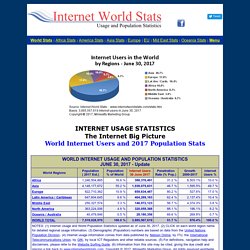 Copyright © 2001 - 2013, Miniwatts Marketing Group. All rights reserved worldwide. What Are People Doing Online? This post was written by Jenny Urbano, our Social Media Manager.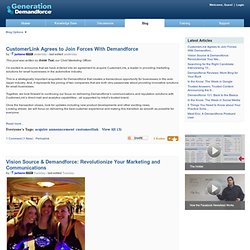 Here at Demandforce, we love seeing and celebrating your ideas! And more than that, we love to hear from YOU. We want to bridge the gap between us and you, so that's why we're offering a once in a lifetime opportunity to win a trip to San Francisco, sightsee in this amazing city, visit Demandforce headquarters and share your ideas with us! Defining Earned, Owned And Paid Media. The terms "earned, owned and paid (aka bought) media" have become very popular in the interactive marketing space today.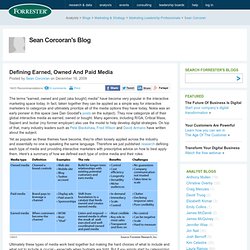 In fact, taken together they can be applied as a simple way for interactive marketers to categorize and ultimately prioritize all of the media options they have today. Nokia was an early pioneer in this space (see Dan Goodall's posts on the subject). They now categorize all of their global interactive media as earned, owned or bought. Many agencies, including R/GA, Critical Mass, Sapient and Isobar (my former employer) also use the model to help develop digital strategies. Think Insights with Google. Www.fevad.com/uploads/files/Etudes/fevad2011_chiffres.pdf.
[Infographie] Les chiffres clés de la nouvelle bulle internet ?
---