Economics
John H. Cochrane is the AQR Capital Management Distinguished Service Professor of Finance at the University of Chicago Booth School of Business. His recent finance publications include the book Asset Pricing, and articles on dynamics in stock and bond markets, the volatility of exchange rates, the term structure of interest rates, the returns to venture capital, liquidity premiums in stock prices, the relation between stock prices and business cycles, and option pricing when investors can't perfectly hedge. His monetary economics publications include articles on the relationship between deficits and inflation, the effects of monetary policy, and on the fiscal theory of the price level. He has also written articles on macroeconomics, health insurance, time-series econometrics and other topics.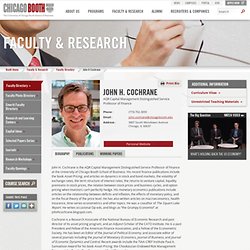 John H. Cochrane - Chicago Booth Faculty
Welcome to my web page. Here you can find just about anything I've ever written. The Short Bio has a few paragraphs describing me and my work. If you have to introduce me, please don't read it all.
John H. Cochrane - Homepage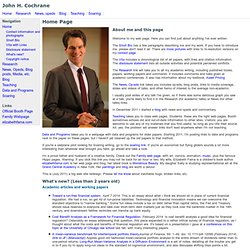 Walter J. "John" Williams was born in 1949. He received an A.B. in Economics, cum laude, from Dartmouth College in 1971, and was awarded a M.B.A. from Dartmouth's Amos Tuck School of Business Administration in 1972, where he was named an Edward Tuck Scholar. During his career as a consulting economist, John has worked with individuals as well as Fortune 500 companies.